It's that time of year again, and autumn leaves are beginning to turn, as the "winds of September remember…" according to the Gordon Lightfoot verse in the '75 song hit, The Wreck of the Edmond Fitzgerald. But for the folks over at Apple, September means only one thing, their imminent flagship iPhone product launch event.

The event comes complete with coveted invitations to those in the press deemed "worthy" by Apple"s marketing gods (homo deus, who – yes, passed me over on the invite, once again this year – Dang!) While the confab schedule for Sept 12th, at the new polished "Ring" that is Apple's circle-shaped corporate monolith (in the new Steve Job's Theater) – on cue, a host of rumors have begun flooding the traditional and social media network (either intentionally or not…). All this ia leading up to the titanic event with leaked images as part of the company's tried and true recipe for maximum exposure. This time we expect three (count em, three) new X iPhones one with a larger (Plus?) 6.5″ diagonal OLED display (from LG Display in Vietnam?) to join the already standard 5.8″ (S?) model, and one lower cost (XC?) version, expected to have a 6.1″ diagonal AMLCD display, purportedly from Japan Displays Inc. (JDI). All of this is at the rumor stage you understand.
A recent hint confirming the new iPhone sizes came two months ago (July 17, 2018) from Apple's supply chain. Images of glass sizes that were sampled to Apple were picked up from a tweet by Ben Geskin and published on the MacRumors web site showing not just the three different sizes, but a slightly thicker bezel used to house the AMLCD 6.1″ version display (see image). It is reasonable to conclude that any device with this degree of component complexity is difficult to keep totally under wraps. Details of product specs must be released to a host of vendors with varying degrees of security and (relatively low paid) employee's with access to the coveted information. So from one perspective it's surprising that any details remain secret by the launch date.
We had first hints of a change in display size going back as far as February from LG display in Viet Nam, where an image of the touch sensor digitizer component developed for the 6.5-inch OLED display purported to be supplied by LG. Further evidence cites the numbering format like the one used by Apple on this glass display and digitizer component.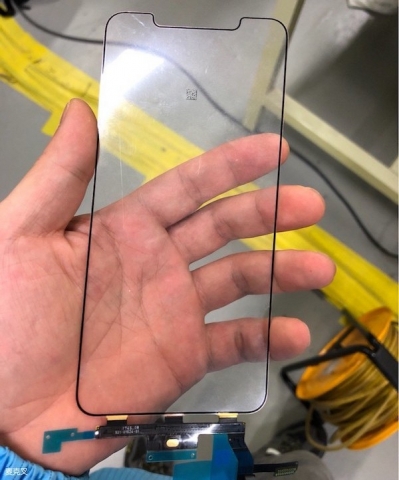 Glass digitizer component from LG Display Viet Nam leaked in February, 2018
Back in June Apple began shipping schematics for iPhone case manufacturers, a supplier source ripe with past Apple leaks. This year, the story broke on June on a Russian site, Wylsa.com complete with drawing and specs for the new devices.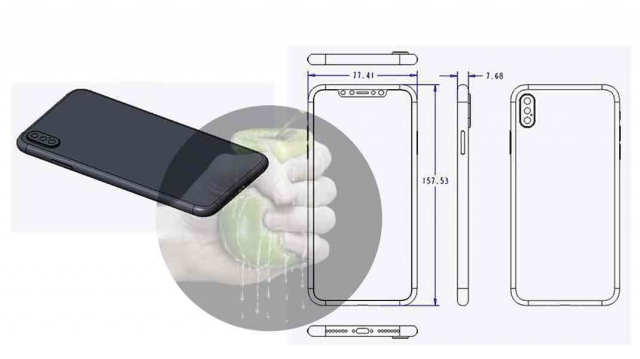 Russia site that exposed first look at new iPhone XS specs used for phone case design in June 2018, Source: Wylsa.com
So it's Christmas in the Fall once again with Apple on the cusp of a fresh iPhone flagship product launch, complete with gale force winds of device component and design rumors strong enough to sink – well the Edmond Fitzgerald perhaps. But with the changing seasons it's somehow nice to know the Apple product launch is just days away. Steven Sechrist
Image Said to be of Genuine Apple Watch Series 4 Leaks Online
Huawei Beat Apple to Number-Two Smartphone Vendor Spot in 2018 Q2
Apple May Introduce LTPO TFT Backplanes to Prolong Battery Life
Apple Patent Details New Touch ID Technology for Future iPhones
Bloomberg Reveals More Details Surrounding 2018 iPhone Lineup
Image Reported to be of New LCD iPhone Leaked Online
Could This Be Our First Proper Look at the 2018 iPhone Range?