AMD has released new APUs in its Ryzen series that integrate Zen microprocessors and the latest Vega GPUs and expects them to be used in high end ultrabooks. The company claims that its 15W Ryzen 7 2700U can beat a 91W Intel Kaby Lake Core i5-7600K desktop CPU using the Cinebench benchmark.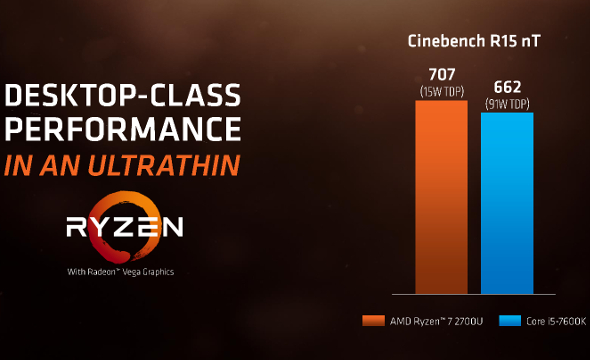 There are two versions of the chip, with details in the chart below. The first companies to adopt the chips are expected to be Acer, HP and Lenovo.

Compared to previous AMD versions, the CPU is claimed to be three times as fast, with 128% more GPU performance and using 58% less power. Cynical observers have pointed out that probably says more about the previous generation than the current one.
Analyst Comment
AMD points out that its integration is likely to lead to better thermal management than having to deal with a CPU from Intel and a GPU from Nvidia. (BR)