When Steve Jobs first introduced the iPhone some thirteen years ago, Samsung, Motorola, Nokia and others were riding high, with both the candy bar (remember this) and flip phone designs leading the pack. Jobs chose instead to shake things up with new design elements unique to the industry including a completely virtual keyboard, and one multi-function touch button on the same surface as the screen.

Now it's not uncommon to see cedar plank-sized phones that barely fit in farmer John's overalls much less portable hand holdable sizes that conveniently slip into a pocket or purse.
With the introduction of the Samsung Galaxy Flip, Galaxy Fold, not to mention others found in worldwide markets, including Huewai Mate X, Xiaomi Mi MIX Alpha and now the newest Motorola Razr along with its hot design elements based on a flexible screen technology, what's old is new again. Motorola owner Lenovo, is marketing the phone as: "The pocket-ready size of a flip phone fused with the intelligence of a modern smartphone." They characterize it as a "radically different" device, yet we've definitely seen this design before.
In support of flexible display growth, according to our OLED display sage, Barry Young, from the OLED Association:
[F]lexible displays are expected to grow by 62% while rigid OLEDs drop by 18%.
Shipments of AMOLED panels used in smartphones are set to soar to 513 million units this year, up from 471 million in 2019, as reported by the Omdia OLED Display Market Tracker. In contrast, worldwide smartphone shipments are expected to plunge by 13 percent in 2020 as the coronavirus impacts both consumer demand and supply-chain availability. This indicates that the penetration of AMOLED panels will rise sharply this year.
This growth is entirely driven by demand for flexible AMOLEDs, whose shipments are expected to increase by 62% in 2020.
Add to this that flexible displays usually use two OLED panels per device, we expect that ship number to be inflated a bit by comparison. Young asserts the fixed OLED display is on track for a 12% decline in 2020 (largely due to Corona) with fierce competition from LTPS (polysilicon TFT LCDs as well. (See details in charts below.)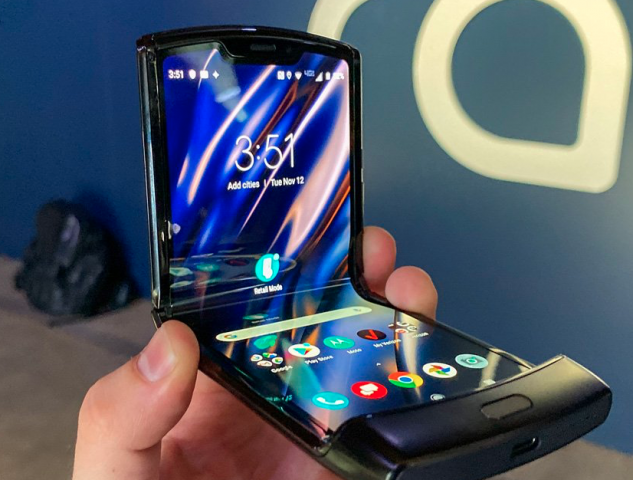 Motorola Razr Source: company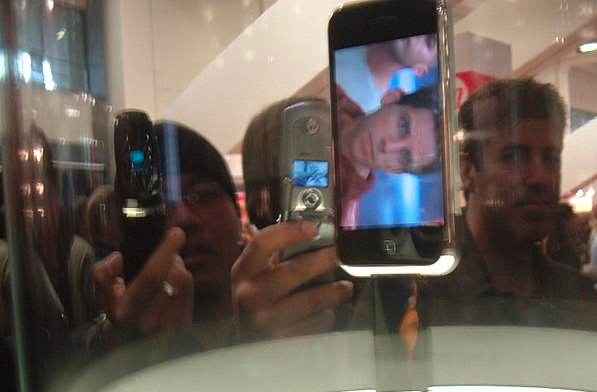 Take a look at the background phones being used to snap images of the brand new iPhone 1, Source: Arnold Reinhold Wikimedia Commons, used with permission
When one considers the convenience of a foldable device, it's hard to imagine they are not on the future roadmap of once innovation leader Apple whose smartphone design seems as fixed the Ford Model T. That innovative, ground breaking product of last century remained mostly unchanged from its launch in 1908 to 1927. And while Job's iPhone was arguably just as transformative as the "Tin Lizzie", only time will tell if Apple is going after Ford's 19 year record… — Stephen Sechrist
BOE and Qualcomm Announce Strategic Collaboration
OLED Flexible Smartphone Panel Shipments Projected to Grow 62% Y/Y in 2020
Holst Centre Shows Next Step Towards Cheaper Flexible Electronics