OLEDs World Summit in September this year gave a glimpse of advances in OLED display technology that will shape next generation products. Flexible AMOLEDs continue to gain significant shares in the smartphone market. Large size OLED has also achieved strong position on premium TV market.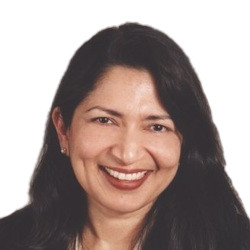 Foldable OLED smartphones are expected to gain strong market shares in 2021 due to aggressive pricing by top brands. New form factors (foldable, rollable, stretchable) combined with better materials, process and designs will create new usability of products in future, opening up new application opportunities for OLED display technology.
Flexible, Bendable, Stretchable
Flexible OLED form factors are shifting from foldable to rollable and scrollable. At CES this year suppliers such as LG Electronics and TCL/CSOT showcased rollable screens that can roll from smartphone to tablet. The introduction of 5G-based products needing slimmer displays to accommodate 5G-enabling components will increase flexible OLED demand. Integration of new technology such as fingerprint under display, touch display, power savings, variable refresh rates, and other features to reduce border & increased screen-to-body-ratio can make flexible OLED more critical for next generation products.
Royole (the first supplier of foldable phones): Peng Wei CXO from Royole, presented on "Advance in the development of flexible AMOLED display & End product innovations". Flexible AMOLED is a complex system for display technology with several layers including: cover film, adhesive, touch, polarizer, display and support layers. Each layer needs to be designed to get higher performance and reliability. Flexible AMOLED module needs material innovations. The company uses an ULT-NSSP backplane instead of LTPS technology. This helps to simplify the process resulting in: ultra thin, higher reliability, higher yield and lower cost products with higher performance and longer lifetime. More advanced form factors (stretchable display) not only need flexibility but also needs to be pullable and twistable, enabling spherical and dome shapes that can have potential uses in automotive, public display, wearable and biomedical applications. Royole has demonstrated a 2.7-inch microLED stretchable and transparent display. According to the company, the ultra low aperture ratio and simple or non-encapsulation requirement lead to high stretchability, fine pitch and high transmittance.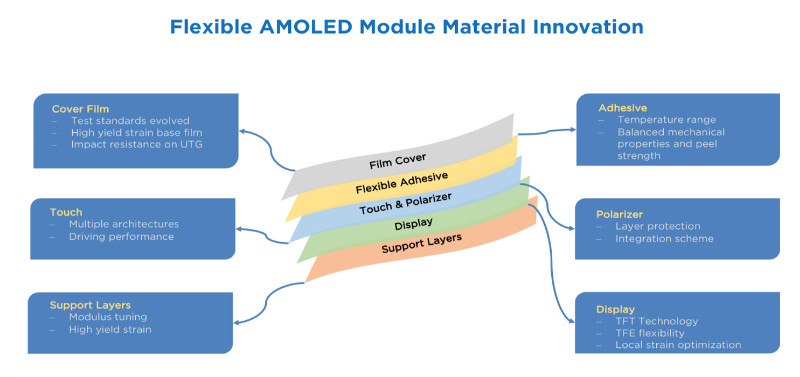 Source:Royole OLED Summit
EMD Electronics (OLED@Merck KGaA, Germany): For free form, bendable and stretchable products, new display materials are very important. According to Michele Ricks' presentation, the company is developing state of the art materials for the full OLED stack addressing processing technology, vapor and printing. The presentation pointed out that, OLED Hole Transport Material (HTM) is a critical layer in the OLED stack to adjust energy barriers from the anode to the emissive layer. With a proper HTM, driving voltage, lifetime and efficiency can be significantly improved. The company said its (HTM+B prime) material combination results in strong performance improvement in lifetime and voltage combined with low lateral current for the best quality panel. EMD Electronics has developed "liviflexTM" a polymerizable hardcoat solution for flexible, foldable and rollable displays. The company's "liviflexTM-H" solutions can be coated on to flexible substrate by a roll to roll coating process. The solutions are suitable for in-folding and out-folding, have high scratch resistance, tuneable thickness at high hardness level (2H to 9H), suitable for different substrates (colorless PI (CPI) or ultrathin glass (UTG)).
Ink Jet Printing: IJP for RGB OLED printing has been challenging due to material issues and manufacturing complexities. According to the EMD Electronics' presentation IJP needs: "OLED material compatible with solution printing, ink formulation optimized for application and through understanding and optimization of full device stack. In 2020 the company achieved excellent performance in all three colors of an RGB ink set. Now, the new generation blue emissive layers (EML) are leading to significant performance improvement (lifetime & efficiency). For the new generation of Red EML, significant EQE increase is achieved with optical emitter orientation. Ink formulations for inkjet printing and a tailored ink formulation for flat, uniform film profiles can lead to excellent pixel homogeneities also for high resolution application".
According to Barry Young's, OLED Association presentation, OLED material performance is improving. Recent examples of performance improvements are:
LGD TV Panel Luminance with EVO 20% up,
Samsung Display (SDC) Smartphone panel luminance without a CP (circular polarizer) is 30% up
Apple's smartphone panel power consumption – using LTPO – is down 25%.
OLED Microdisplays (for AR/VR)
Amal Gosh, COO of eMagin Corporation presented on OLED microdisplays for AR/VR applications.
Microdisplays are very small in size (<1-inch in diagonal). Typically they are used in indirect view displays where a lens is needed to view them and are primarily used in near-to-the-eye applications. According to the presentation, "the company has the brightest OLED commercially available- monogreen with peak luminance over 40,000 cd/m². It also has a full color microdisplay with 7500cd/m² brightness, and target 10,000 cd/m² in 2021. Their micro display features: very high contrast (>1,000,000:1), low power consumption (longer battery life), compact form factor, light weight solution, field tested for reliability and performance, nausea-free operation, superior performance, and a competitive cost at higher volumes".
Their OLED on silicon microdisplay is based on a CMOS backplane using white OLED with color filter technology. According to the presentation, it has been able to achieve brightness up to 3000 cd/m² (no tandem, no micro lens). AR/VR has four major challenges: display, optics, content and price. For the display the key requirements are the following: angular resolution to match the eyes, large field of view (FOV), no screen door effect, fast speed–no motion artifacts, high contrast, brightness to match the eye's requirement, and realistic color. To fullfill all these requirements for a better AR/VR experience, microdisplays are needed, as high fill factor and high resolution eliminate the screen door effect, leading to asuperior experience.
Very high resolution, very high brightness and very high contrast microdisplays are key to the success for AR/VR applications. In a device based on an OLED with color filter, there is a loss of brightness (the color filter absorbs 80% of the useful light). eMagin has developed a new direct patterned OLED microdisplay without the color filter. According to the company, direct patterned RGB microdisplays outperform white OLED with color filter versions: there is 4x more luminance at comparable current density, 15x more luminance at comparable voltage. The product has achieved 7500cd/mcd/m² maximum luminance. They are on target to achieve 10,000 cd/mcd/m² by the year-end 2021.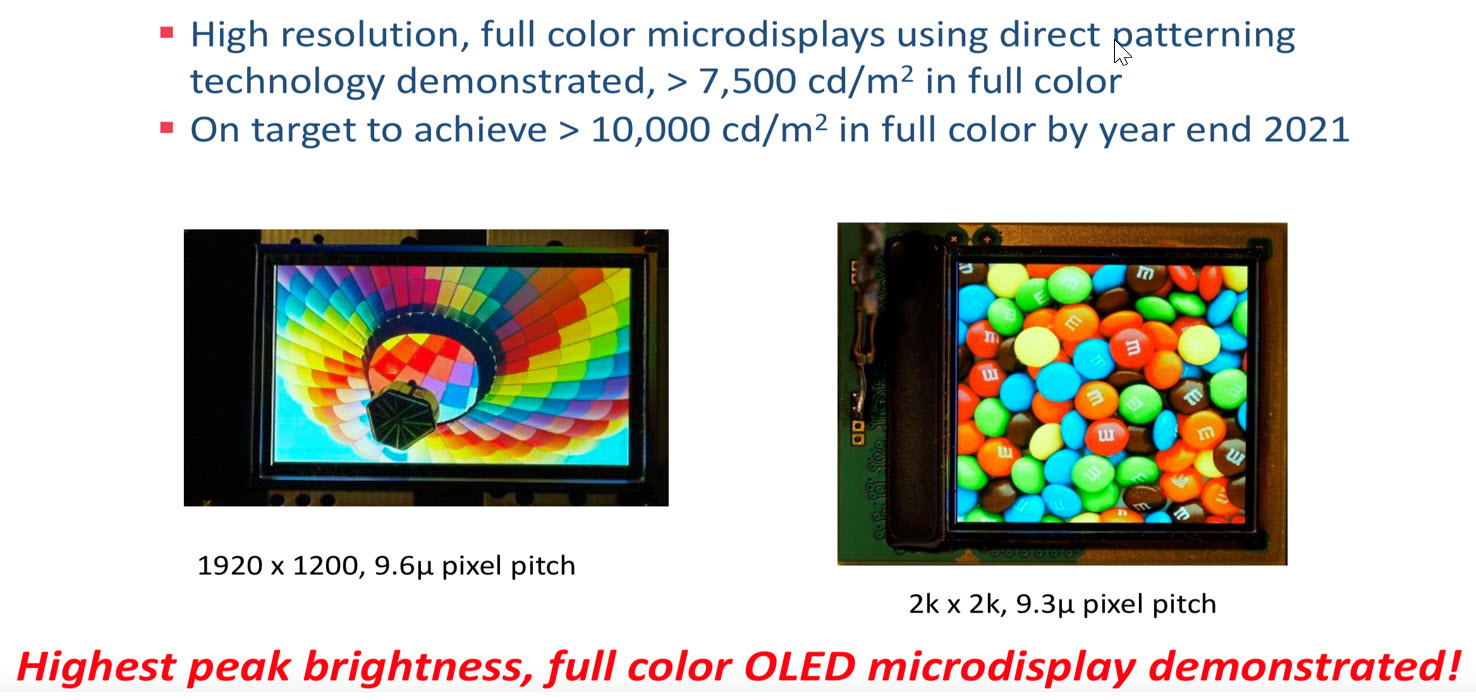 Source; eMagin OLEDs Summit
OLED for Automotive
Some premiums OEMs have shipped cars with OLED display in small quantities. The major issues for OLED in automotive are generally in luminance, temperature and lifetime. Prof. Dr.Karlheinz Blankenbach, presented "OLED on the passing lane of Automotive".
Automated driving provides the freedom for radically different vehicle interiors transforming cars into locations for work and play. Still many challenges exist including high quality display and seamless integration. The automotive display is expected to grow in the next several years. The OLED working group of the Deutsche Flachdisplay Forum (DFF) is working on the standardization of OLED for automotive use.
According to the presentation, there are several fundamental requirements for automotive displays:
outstanding optical display,
outstanding display quality and reliability,
lifetime 8,000 to 30,000 hours over 15+ years,
readability (depends on luminance and reflection),
LCD viewing angle (luminance, gamma and color),
temperature characteristics (at high temperatures, OLED lifetime is reduced and there is polarizer degradation).
The presentation pointed out that lifetime & burn-in and viewing angle have been challenges for automotive applications. Flexibility, curved and transparent design can enable better integration for automotive displays. Flexible curved display also has challenges with small radius bends and plastic substrate. Transparent displays on windshields can provide information for drivers and passengers. That applications also has challenges such as a need for high brightness >2000 cd/m², >70% transparency and issues from a 'rainbow effect'. As the presentation pointed out, OLED has the potential to be the best display for automotive due to high image quality, perfect black, fast response time, flexibility and transparency. However, they need to be well engineered by manufacturer with sufficient lifetime, standardization and have competitive pricing.
Advances in OLED display technology will open up new opportunities for next generation products. (SD)
Sweta Dash, President, Dash-Insights
Sweta Dash is the founding president of Dash-Insights, a market research and consulting company specializing in the display industry. For more information, contact [email protected] or visit www.dash-insights.com