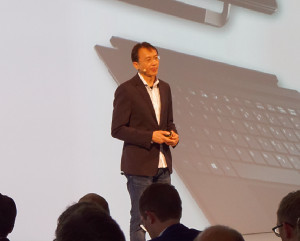 Acer held the first press conference at IFA, a couple of hours before the main IFA press event. CEO, Jason Chen, started by talking about Pawbo, a new service which is for tracking and interacting with pets. The company is also getting involved in cycling systems (with GPS and camera connections and also bike cadence). The company also said that it sees an opportunity for elderly care and the first project is in Switzerland with Swisscom. (Chen raised a smile in the row of journalists that I was with, when he described an elderly person as 66 – the journalists were not far from this age!).
After quite a session talking about these peripheral issues, he got back to the core business of computing. The company launched the Switch Alpha 12 2 in 1 notebook some months ago and has done very well in the US market and Acer claims a lot of top positions in the retail market, including the sub-€500 segment. The company has also done well with AIOs.
A new product is the Swift 1 which is a new 14″ display budget notebook that is 17.9mm thick with weight of 1.58kg, and battery lifetime of 14 hours. There is a Swift 3 that has a larger touchpad, a fingerprint reader and also a 14″ display. The Swift 5 has a 13.9″ LCD in the chassis previously used for 13.3″ notebooks and is similar to the previous Alpha 13. At the top of the range is the Swift 7 which has a 13.3″ FullHD display but is just 9.98 mm thick. It is based on an aluminium unibody display and also features Gorilla Glass. Chen said that he challenged his product group to get under 10mm. It is based on the latest Intel 7th generation Core i5 processor. There are dual type-C ports and 2×2 802.11ac MU-MIMO Wi-fi. Pricing is reported to be $999.
Intel then came on stage to talk about the new generation of Kaby Lake processors. Intel believes that there are still over 400 million PCs that are more the five years old and are overdue to be upgraded. The new processor is reckoned to be 70% faster. UltraHD video and 360 degree video is reckoned to be eight times faster on the new processors. Graphics are three times better than five years ago.
The Spin 7 is a 10.98mm thick system unit with touch on its 14″ FullHD display and Gorilla Glass in a 13.3″ equivalent chassis. There is up to 8 hours of battery life and the notebook is one of the thinnest of the 2 in 1 category. This category is growing 40% per year according to Intel and people are buying 8-12 months ahead of their plans because of the attraction of the latest technology. Microsoft also appeared to endorse the Spin series which (in the Spin 1) support Windows ink. Microsoft said it is 'thrilled about eye tracking in gaming". It is also happy that Acer is supporting the Continuum technology for phone/PC integration.
Chen said that gaming has become a big segment for Acer. It has been the first year for Acer in this segment and it claims to have got into top positions in some markets with its Predator products (although, Chen admitted, not in the US). It claims a market share of 37% in gaming monitors in the world (although no source for the claim was given) and it claims to be #1 or #2 in many countries.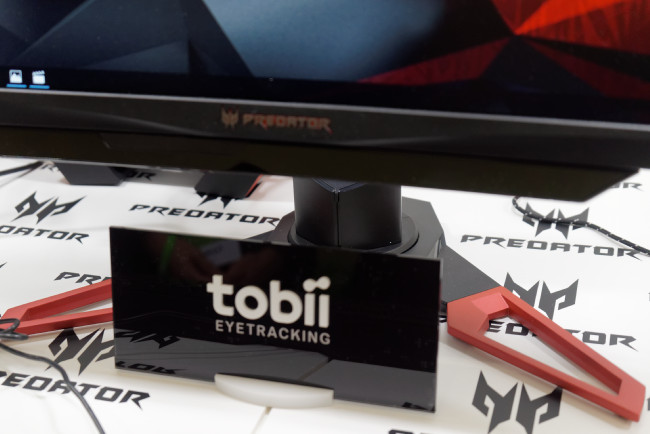 Acer Tobii monitor – Image:Meko
The Predator Z271T is a new concept for the company as it includes a Tobii eye tracking system in the bottom edge of the monitor. The monitor (which is one of three that will have eye tracking) was being demonstrated outside the event and we had a quick try. The tracking seemed better than the development system that we had previously used. Chen talked about the things you can do with eye tracking, such as adjusting brightness automatically to ensure that content is visible. The window can also scroll automatically as your eye reaches the edge of the screen (a feature that Acer is calling 'infinite screen'). The eye recognition can also be used with Windows Hello.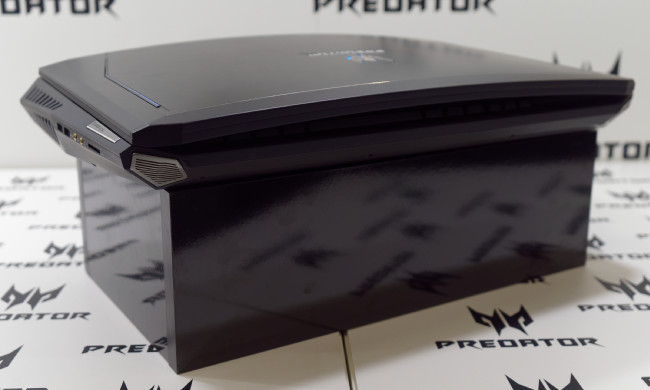 Acer 21 in notebook looks strange when closed. Image:Meko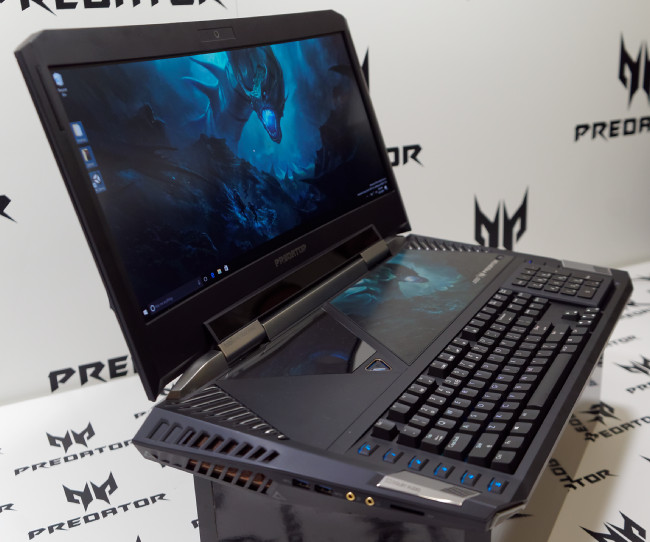 The Acer notebook is really a 'folding AIO'. Image:Meko
Finally, Chen announced a new Predator 21X which is basically a desktop PC in performance (it has a dual GGTX1080 SLi Nvidia GPU setup and five cooling fans!) in a 21″ notebook featuring a curved monitor. Like the monitor, it has eye-tracking and also has a mechanical 'Cherry' keyboard and a big touch pad (which is reversible to add a numeric keypad instead). There is a 'maintenance hatch' next to the keyboard to allow access for upgrades. There's a glass top so you watch the fan. It's really more of a 'foldable AIO' than a notebook. Pre-orders will be taken later in 2016.
Next to talk was Bo Andersson of Starbreeze Studios which is working with Acer on a VR partnership. Starbreeze had developed a new VR headset, and when Acer saw it, they said 'We can do that better'. The companies have formed a joint venture to develop the headset. The version shown at the event had dual 2560 x 1440 displays (Starbreeze wouldn't confirm it clearly, but from what was said, we believe these are OLED). The dual displays allow a very wide field of view – claimed at 210 degrees. The product is now shipping (www.starvr.com). The company is working with iMax, which is developing 'VR experience centres' attached to iMax theatres, or in shopping malls or other destinations, where those that have watched a movie can then go to 'play the game of the movie' in a VR setting. iMax calls it location-based VR and these will be opened before the end of the year in LA (the first), London, Shanghai and New York.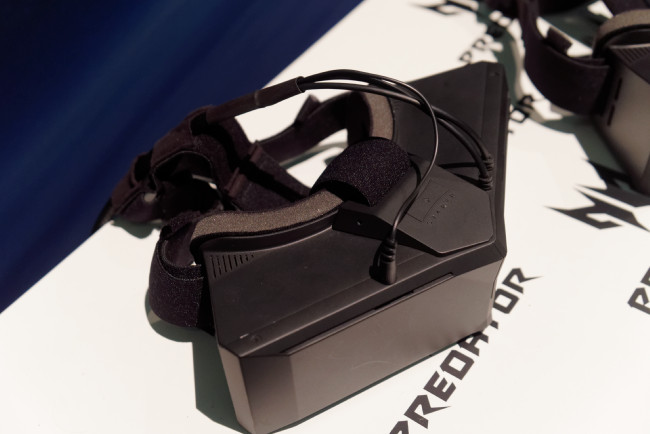 Starbreeze headset is a bit 'clunky'. Image:Meko
Google is also involved in this project and iMax is working with the company to develop professional quality 360 degree cameras. Acer wants to 'create the Matrix'.
iMax VR wants to follow its policy of delivering the most immersive experiences in entertainment. There are 1,000 iMax sites and there will be 1,500 in three year's time. iMax releases 50 movies per year from global studios and its China box office is now over $300 million. Many movie makers use iMax cameras to create their products and iMax is in discussion with studios in Hollywood and China about VR movies.
Chen then wrapped up the event.
We went to look at the monitors and PCs. We looked at the 27" Predator Z271T with a curved 300 cd/m² FullHD VA panel, 144 Hz refresh and contrast of 3,000:1. The XB251HQT is a 24.5" monitor with 2560×1440 resolution and up to 240Hz refresh rate. The third monitor is the 27" XB271HUT with 2560×1440 resolution and 165 Hz refresh on its 350 cd/m² TN panel. Contrast is 1000:1 The HQT and HUT models are flat and have slim bezels, which Acer calls "ZeroFrame". Nvidia's GSync is supported on all three monitors.
There were a lot of new products, so we are grateful to Acer's UK PR department for the following table:
| | | | |
| --- | --- | --- | --- |
| Model | Category | Pricing from | Availability in UK from |
| Chromebook R13 | Chromebooks | €399 | October 2016 |
| Iconia Talk S | Phablets | £159.99 | September 2016 |
| Liquid Z6 | Smartphones | €119 | November 2016 |
| Liquid Z6 Plus | Smartphones | €249 | December 2016 |
| Predator 15 | Gaming | €1799 | October 2016 |
| Predator 17 | Gaming | €1899 | October 2016 |
| Predator 21X | Gaming | TBC | Q1 2017 |
| Predator XB251HQT | Gaming | TBC | TBC |
| Predator XB271HUT | Gaming | €899 | October 2016 |
| Predator Z271T | Gaming | €799 | October 2016 |
| Revo Base | Desktop | £379 | Q1 2017 |
| Spin 1 | Notebook | €299 | November 2016 |
| Spin 3 | Notebook | €599 | September 2016 |
| Spin 5 | Notebook | €599 | September 2016 |
| Spin 7 | Notebook | €1299 | October 2016 |
| Swift 1 | Notebook | €349 | October 2016 |
| Swift 3 | Notebook | €499 | October 2016 |
| Swift 5 | Notebook | €749 | November 2016 |
| Swift 7 | Notebook | €1299 | October 2016 |
In its 'fortress' booth (see comments below) Acer was showing some new UltraHD monitors in 28″ (TN-based), 24″ and 23″ (IPS) with 'edge to edge' designs. The company also had new professional colour monitors in 27″ and 32″ with support for sRGB/Rec. 709.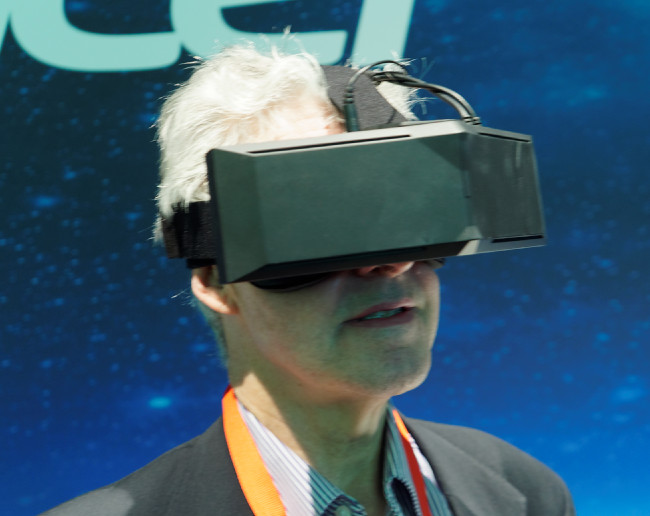 Starbreeze VR being worn by the author, who was unimpressed. Image:Meko
Analyst Comment
Overall, I thought that Acer's apparent switch 'sticking to the knitting' (despite the pets and geriatrics) of delivering good IT and gaming hardware seems to be going well. The new PCs look slick and the company is confident that it is doing well with gamers.
We tried the Starbreeze headset but didn't find it as 'awesome' as was suggested. The way the dual displays are arranged means that there are some funny effects of occlusion by the nose, because of the angles of the displays. Also, the fresnel optics were weak (although understandable given the wide field of view). The headset was very heavy and hard to get comfortable. Despite the high resolution displays, stretching them over that wide area meant that the pixels were still visible, which was disappointing. The design needs a continuous (and probably curved) single display surface and even more resolution, I think.
On the booth, the company told us that it is starting to make some progress on LFD sales, especially in Germany, where it has been able to sort out some early service issues as it learned how to support this B2B market.
Acer's booth was slightly strange. Years ago, our reporters used to talk about 'fortress Medion' as the company didn't show much and made it hard even to make a meeting (before the acquisition by Lenovo). Acer was better at this, but had a stand that was closed to users, although open to dealers and press. This is slightly strange given that it is trying to appeal to gamers who are very loyal to the brands that they love. Others (such as Lenovo) had open areas where gamers could try the products, but Acer only had products behind glass for users. (BR)