There's a new model joining the extensive portfolio of Philips monitors, one that meets new standards for video calls: the 34″ (86.36 cm) Philips 34E1C5600HE. This model from Philips monitors is designed to meet the specific needs and challenges that come with a hybrid working style, enabling users to be as productive working from home as they would be at the office.
Rich in features and capabilities, the Philips 34E1C5600HE provides everything the remote work environment requires and more, all in one sleek and attractive package.
Philips 34E1C5600HE – designed to meet the specific needs and challenges of a hybrid working style
Key features
34″ (86.36 cm) VA LCD technology for stunning images with wide viewing angles

CrystalClear UltraWide Quad HD (3440 x 1440) resolution for superlative precision

USB Type-C technology for intuitive one-cable connections

Integrated 5MP webcam with noise-cancelling microphone for optimal collaboration

Built-in stereo speakers for rich multimedia

MultiView for hassle-free multi-device connectivity

LowBlue mode and Flicker-free technology for easy-on-the-eyes viewing
"The Philips 34E1C5600HE monitor is the ideal 'work from home' solution. It contains everything today's employees need to get the most out of this new working reality, whether in terms of image quality, collaboration, security, connectivity, or comfort." – says Carlos Sanchez, Senior Product Manager for Europe at MMD Monitors & Displays.
A one-stop shop for remote work productivity
The Philips 34E1C5600HE has features for all professions, from graphics-oriented fields like photography and CAD-CAM to numbers-oriented fields such as accounting and finance. With its 34″ (86.36 cm) high-performance panel, its CrystalClear UltraWide QHD 3440 x 1440 resolution and its Ultra Wide-Color technology, this monitor offers an exceptionally vibrant and satisfying visual experience. Wide viewing angles of 178°/178° combined with a generous 21:9 format result in greater productivity with plenty of space for side-by-side comparisons, large spreadsheets and comfortable collaboration with co-workers.
Beyond its outstanding visual performance, the Philips 34E1C5600HE equips professionals working from home with convenient, intelligent features to support their focus and productivity. For example, video conferencing is now a mainstay of telework and this monitor offers the quality, reliability and security users seek. A built-in 5MP webcam, certified for Windows HelloTM, delivers high quality images while a noise cancelling microphone and 5-watt integrated speakers provide clear communications and optimal interaction. For further peace of mind, the camera's physical switch ensures user privacy when not in use.
Flexible connectivity is an absolute must in today's workplace, no matter where that may be, which is why the Philips 34E1C5600HE includes an array of convenient features for multi-taskers. For example, MultiView technology allows users to work with several devices simultaneously, while a USB-C connector with power delivery provides an easy, one-cable solution for high-speed data transfer and time-saving power charging at once.
In addition to all of these features, Philips 34E1C5600HE users can rest assured that their physical comfort is taken care of as well, thanks to eye-friendly LowBlue Mode and FlickerFree technology, combined with posture-friendly stand height and tilt adjustment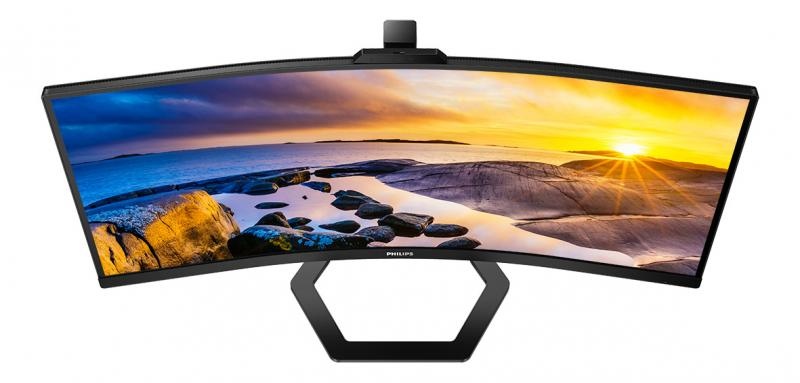 The built-in 5MP webcam, certified for Windows HelloTM, delivers high quality images
Pricing and availability
The Philips 34E1C5600HE will be available for purchase from July 2022 at the price of £479.99.