I was really looking forward to this year's NAB Show, specifically to see what was happening in the world of UHD acquisition, production, and distribution. Alas; COVID-19 brought everything to a screeching halt, and the show organizers first tried to re-schedule the April event for late summer, eventually giving up and opting for an online presence exclusively this month.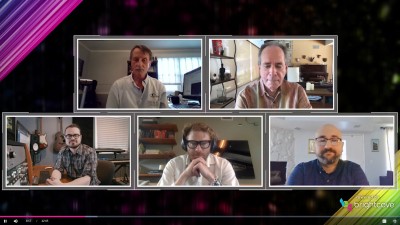 The resulting NAB Express virtual trade show featured a number of online product showcases and webinars, all of which are archived for on-demand streaming since their original release dates. I decided to sit in on two of them, both offered by the 8K Association and moderated by Chris Chinnock of Insight Media and a contributor to Display Daily. The first webinar was titled, "Delivering 8K Content to Consumer Homes," while the second focused on "Tools and Strategies for Creating 8K Content."
In the first Webinar, panelists Thierry Foutier of Harmonic, Bill Mandel of Samsung, and Scott Smyers of Xperi discussed the challenges presented by the large file sizes and high data rates of 8K video, and how to format it for home delivery over wide area networks (WANs). In addition to a discussion about various codecs suitable for the task (H.265 HEVC, AV-1, and the upcoming Versatile Video Codec, a successor to H.265), there was a nice give-and-take about upscaling and downscaling resolutions to conserve bandwidth.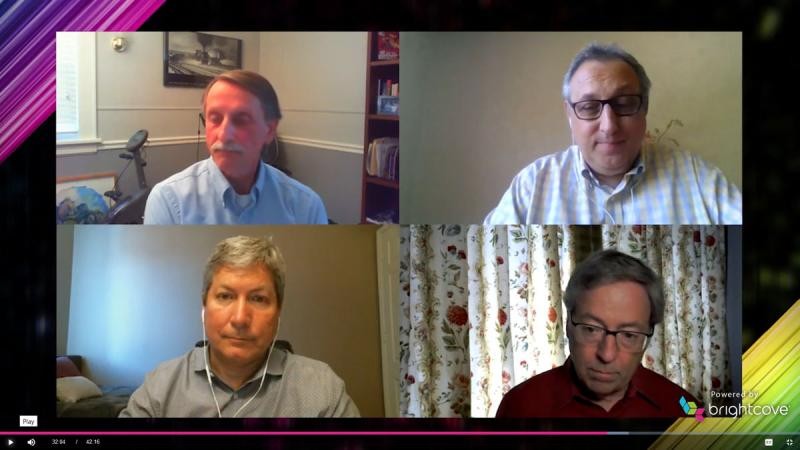 Figure 1. Participants in the 8K Association Content to the Home Webinar included (clockwise from top left) Chris Chinnock of Insight Media, Thierry Foutier of Harmonic, Scott Smyers of Xperi, and Bill Mandel of Samsung.
Given the advances made in fast processors and artificial intelligence, one practical option is to have finished 8K content down-converted to 4K for network transit, using equally-smart AI in consumer televisions to upscale it back to 8K for viewing. Samsung is doing a lot of work in this era with a process they eventually plan to make open-source for others. They're not alone – TV brands like LG and Sony are also working on AI-based image down-and-upconversion.
The advantage to transporting 8K as a compressed 4K file is in significantly lower bit rates. At just about every demo of 8K/60 4:2:2 transport using H.265 at NAB 2019, the effective bit rates were in the 160 – 200 Mb/s range. By simply reducing the image resolution to 4K, those bit rates are cut by 75% and become a lot easier to get across today's "last mile" broadband pipes. Using the next-generation VVC codec would drop that bit rate even lower from around 40-50 Mb/s to 20 – 25 Mb/s, which is easy to deliver to the home. And by employing forms of variable bit rate (VBR) encoding, even more bandwidth can be saved, particularly in the evening when video streaming consumes a great deal of bits.
A Fly in the Ointment
It all sounds good, but there's one possible economic fly in the ointment: A recent story on the CNN Business site stated that consumers have cut way, WAY back on spending (particularly using credit cards) since most of the economy shut down in mid-March, and are socking money away due to job and health insurance insecurity fears.
Why is this important? Because for many people, a new television is a discretionary purchase and not an essential. A quick glance at the Best Buy Web site showed that the least-expensive 8K TV currently available, a 55-inch Samsung QN55Q900, would currently set you back $2,500. In contrast, several 55-inch 4K TVs with HDR support (static and dynamic) were available for well under $500, although many were out of stock as of this writing, likely due to stores being closed except for curbside pickup and having limited inventory. That's five 4K sets for the price of one 8K set.
And for the majority of viewers, there would be no obvious benefit. The average person sits far enough away from their television that the improvement in pixel resolution would be undetectable, even on much larger screens. Instead, enhancements such as high dynamic range and its associated wider color gamut are more readily apparent and available on big, inexpensive 4K TVs, begging the question as to why anyone would really feel the need to purchase an 8K TV right now, or even several months from now.
Content Mastering & Acquisition
Which brings us to the second webinar. Panelists Michael Cioni of Frame.io, Dan Duran of RED Digital Cinema, Bruce Markoe of IMax, and cinematographer Eric Messerschmitt all agreed on the need to acquire and master content at 8K resolution, if for no other reason than that it provides a better-looking image than 4K content acquired and processed natively.
In addition to the obvious advantage of future-proofing video content; 8K program masters, down-converted to 4K, do result in a noticeable improvement in image detail in side-by-side tests. (A similar argument has been advanced by Hitachi to acquire footage and post in 4K HDR, then down-convert to 2K for broadcast.) Since delivery to the home remains mostly a codec challenge, the 8K-to-4K approach makes a lot of sense right now, particularly since you'd need a very large screen, viewed at close range, to see the differences in spatial resolution…a screen such as you'd find in an IMax theater.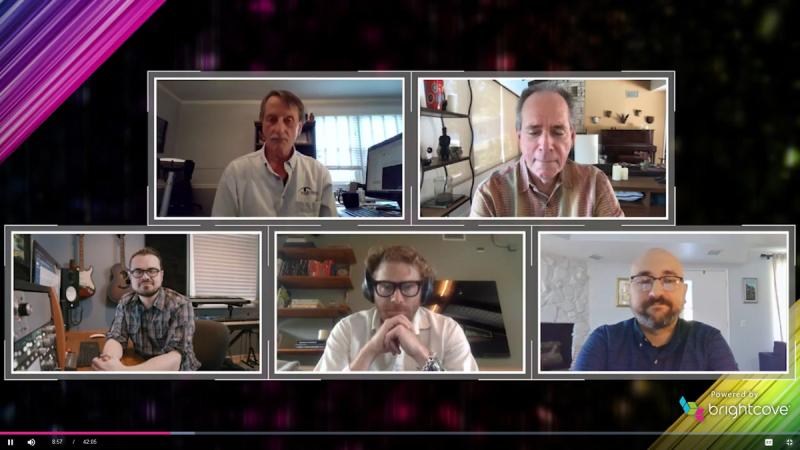 Figure 2. Participants in the 8K Workflows webinar (clockwise from top left): Chinnock, Bruce Markoe of IMAX, Dan Duran of RED Digital Cinema, cinematographer Eric Messerschmitt, and Michael Cioni of Frame.io
Cioni mentioned several obstacles to adopting 8K production workflows, which he attributed to old-school "Hollywood thinking." That is; having to deal with very large files and long render times on a local level, as opposed to moving all post and editing work to cloud storage and working from modest terminal-style computer workstations. With this approach and given typical broadband speeds, it's easy enough to generate 2K proxy files for editing and posting all original 8K footage and conform later. No 8K assets need be stored locally at all.
The Lens is the Limit
Markoe pointed out the irony in that many tentpole movies, being logical candidates for 8K production and currently screened in 4K cinemas, still feature visual effects created and rendered at 2K resolution. Messerschmidt is currently lensing Mindhunters for Netflix in 8K, and spoke favorably of having enough spatial resolution in camera sensors so he can see any resolution limitations being in lenses alone.
And Duran and Cioni stated that moving to 8K production workflows is mostly a challenge of changing mindsets – just five years ago, 4K production was challenging and often tape-based, whereas powerful workstations and laptops and the widespread use of cheap solid-state memory with fast write/read speeds has simplified that process considerably. According to both panelists, 8K production workflows aren't really any more difficult technically or logistically these days than 4K was initially.
Other Content Creation Issues
Some additional observations: The COVID-19 outbreak has forced many of us to work from home. So, creative types have come up with some clever solutions to the problem, including animation used for 50% of the scenes in the season-ender of NBC's The Blacklist, with actors recording their spoken parts at home. And last Saturday night's special, all-network "virtual graduation" telecast for American high school students made extensive use of students' mobile phone and laptop footage, green screens, visual effects, and virtual collaboration to result in an impressive, quality production.
Based on the current work environment, I'd say that the steady migration of production workflows to the cloud does offer multiple, real advantages over old ways of working locally. Look at how Saturday Night Live used its ensemble cast to create two episodes with everyone recording video to mobile devices, laptops and camcorders. It shouldn't be a stretch to acquire footage in 8K and make the entire post-production process virtual, using proxies and metadata. And the finished 8K product is indeed future-proof – it's hard to imagine we'd need to move much past that resolution for home and even theatrical viewing.
Getting 8K content reliably to the home presents some obstacles, but with evolving codecs and increasing use of AI for up and down-scaling, solutions should come readily. The biggest challenge remains convincing people to spend a substantial premium to buy an 8K television when 4K sets are such bargains and will deliver picture quality sufficient for probably 95% of home viewers. It will take some aggressive price discounting to get John Doe to buy into 8K TV, and that's not going to happen any time soon. – PP