Back in 1986 when Top Gun first hit the screen, we heard those oft quoted words spoken, "I feel the need, the need for speed." And when our daughter walks out of the theater after seeing Maverick and pulls out her iPhone to connect with the world, she might say the same thing. Getting blistering 5G performance will be a crapshoot at best.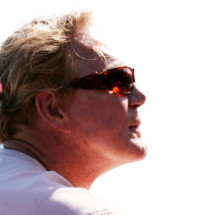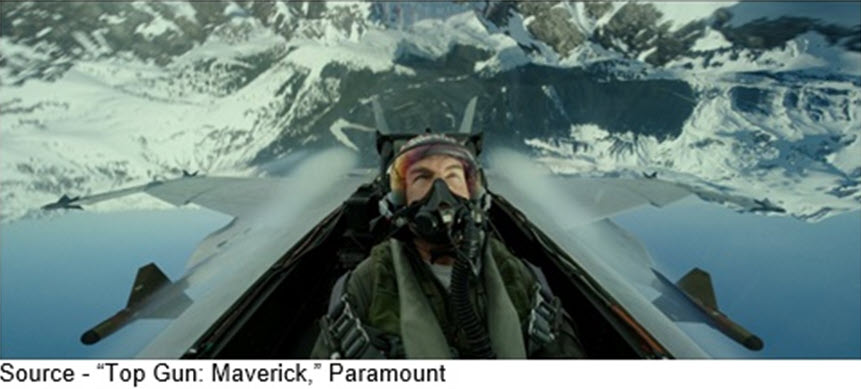 "My dad believed in you. I'm not going to make the same mistake." – Lt. Bradley "Rooster" Bradshaw, Top Gun: Maverick, Paramount, 2021
Back in 1986 when Top Gun first hit the screen, we heard those oft quoted words spoken, "I feel the need, the need for speed." And when our daughter walks out of the theater after seeing Maverick and pulls out her iPhone to connect with the world, she might say the same thing. Getting blistering 5G performance will be a crapshoot at best. Sure, the 5G icon may light up but big deal, our phone will light up its 5GE icon (eventually) and we'll both be on a 4G LTE network.
That's sorta okay because good marketing is good marketing. Despite the sluggish year, CCS Insight projects 5G networks worldwide will triple this year to 670 million and are on track to reach 3.6 billion in 2025. Our issue is we'd rather be like people in other parts of the world and pay for performance, not their brilliant, persistent marketing.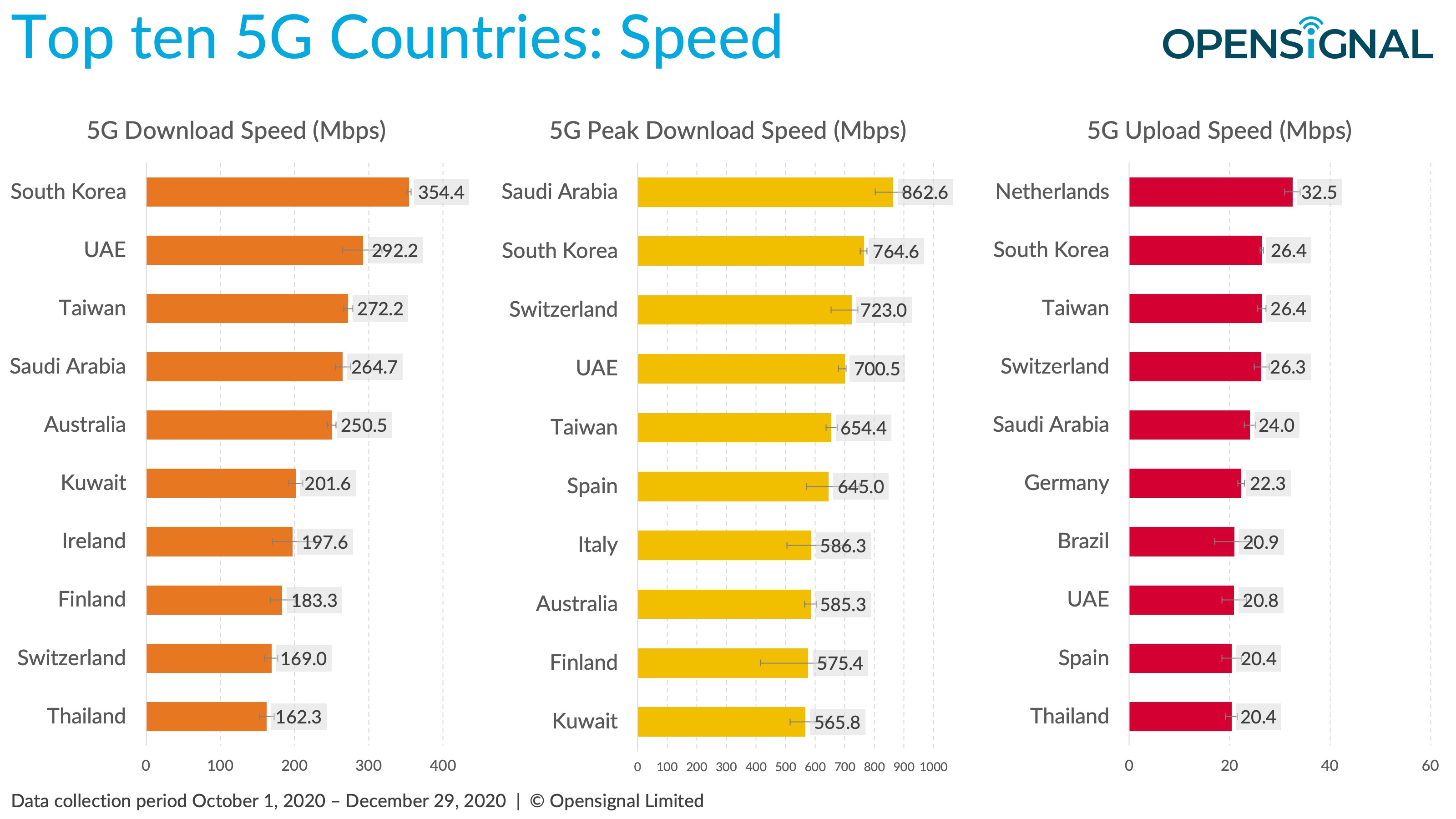 Performance – Even during the pandemic, wireless service providers around the globe built out their country's telecommunications infrastructure to meet users' growing bandwidth/speed demands.
Flavors of 5G are steadily spreading around the globe with considerable progress made this past year in Canada, Mexico, Brazil, Chile, Austria, France, Turkey, India, Vietnam, Hong Kong, Singapore, South Africa, Japan, South Korea, Russia and well, everywhere including the U.S. The problem is there are three kinds of 5G — low-band, mid-band and high-band. While the US put its bet on low and high, CCS analysts and others believe mid-band may be the best way to do the faster, more reliable service.

Differences – 5G isn't simply 5G because there are multiple bands of speed and capacity with each flavor.
Low-band 5G operates below 2GHz (the older cellular and TV frequencies), so it performs like 4G.
Mid-band 5G is in the 2–10GHz range that covers most of today's cellular and wi-fi frequencies commonly used around the globe.
High-band 5G or mmWave is mostly airwaves in the 20-100GHz range with very short range – 800 +/- feet between towers – and very fast speeds (Verizon's ultra-wideband 800MHz) but very limited coverage.
It may be true that the industry was a little overly aggressive/optimistic with its marketing but in no time, you'll be wondering how people lived with the old 4G. Technology implementation/integration takes time.
After all, the vision for 4G was laid out in 2002, the infrastructure was tested in 2007, the first 4G phones hit the U.S. market in 2010, apps became popular in 2013 and now you take it for granted. 5G is an investment for the next decade, and in previous mobile transitions, we've seen most of the big changes happening years after the first announcement.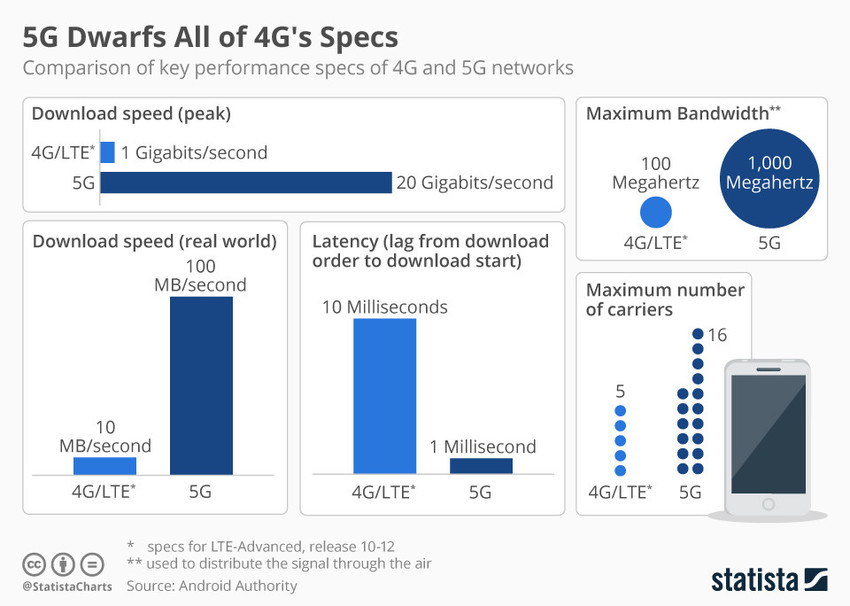 Massively Better – The performance improvements of 5G compared to 4G technology provides major advances and opportunities.
Despite the pall of this past year, the benefits and potential applications for 5G were so far reaching that technology producers, service providers and application developers continued to make progress with more than 100 service providers around the globe commercializing the technology.
As the world entered 2021:
8 countries had shown download speeds in excess of 40 Mbps
15 countries had tested and proven excellent video experiences (75+)
Thailand had shown video experience improvement of 16.9 points
Canada had increased download speed to 59.6 Mbps
27 countries had 4G availability in excess of 90 percent
Indonesia and the Philippines had shown the largest improvement in download speed and video experience
Czech Republic, Netherlands, Austria, Norway lead the world in video experience
Uruguay, Costa Rica, Argentina, Colombia improved download speeds in excess of 33 percent
The U.S. still lags other G7 countries in video experience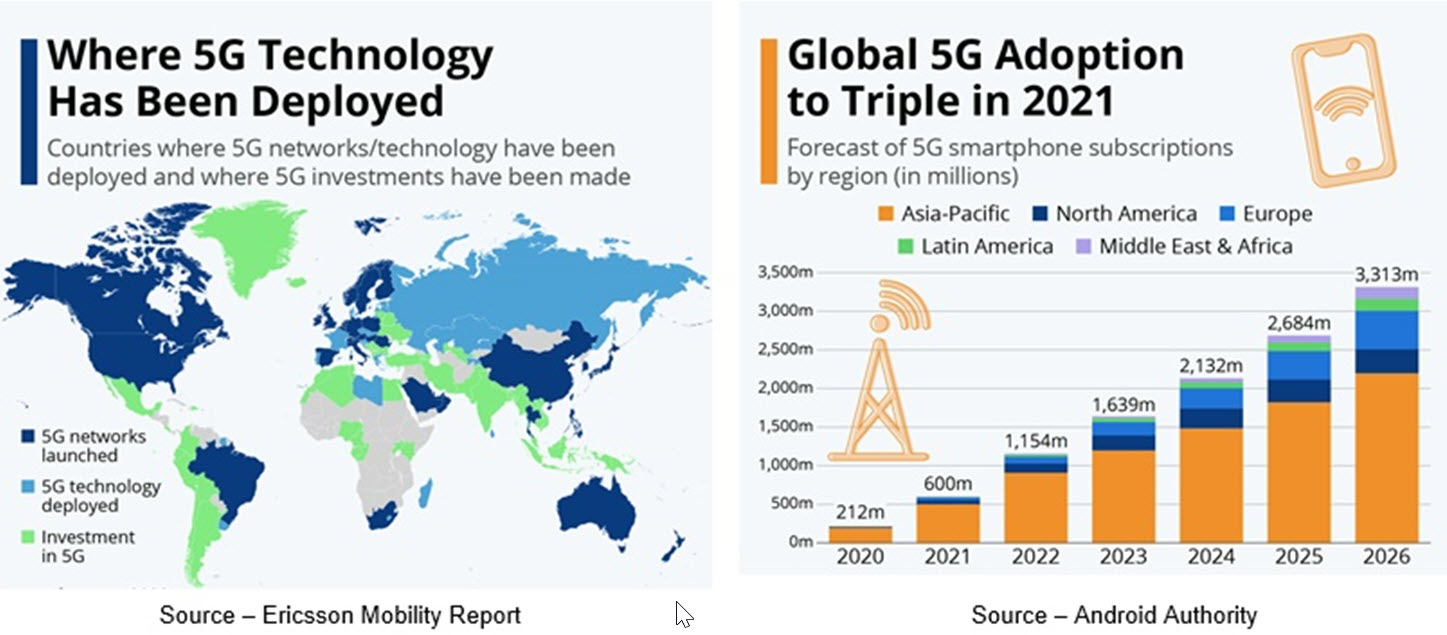 Deployment, Adoption – Every country is moving quickly to get their 5G infrastructure in place for the wide range of applications that are possible.
In some of the pioneering countries, 5G is already approaching mass market. As people want increased connectivity, key country providers are rapidly rolling out their networks and smartphones are increasingly affordable. South Korea and China have been aggressive in their 5G deployment with a fifth of mobile phones in South Korea already on 5G networks. China is set to reach that point this year. In China, seven out of 10 smartphones sold early this year were 5G-enabled
While US providers were the first to launch 5G and have been promoting it for two years, they are only now beginning to deliver thanks to the availability of Apple's 5G-ready iPhone. Western Europe has been mixed because of a delay in spectrum auctions and governmental issues regarding the use – or non-use – of Huawei gear. It's O.K. though because alternate providers were happy to fill the void.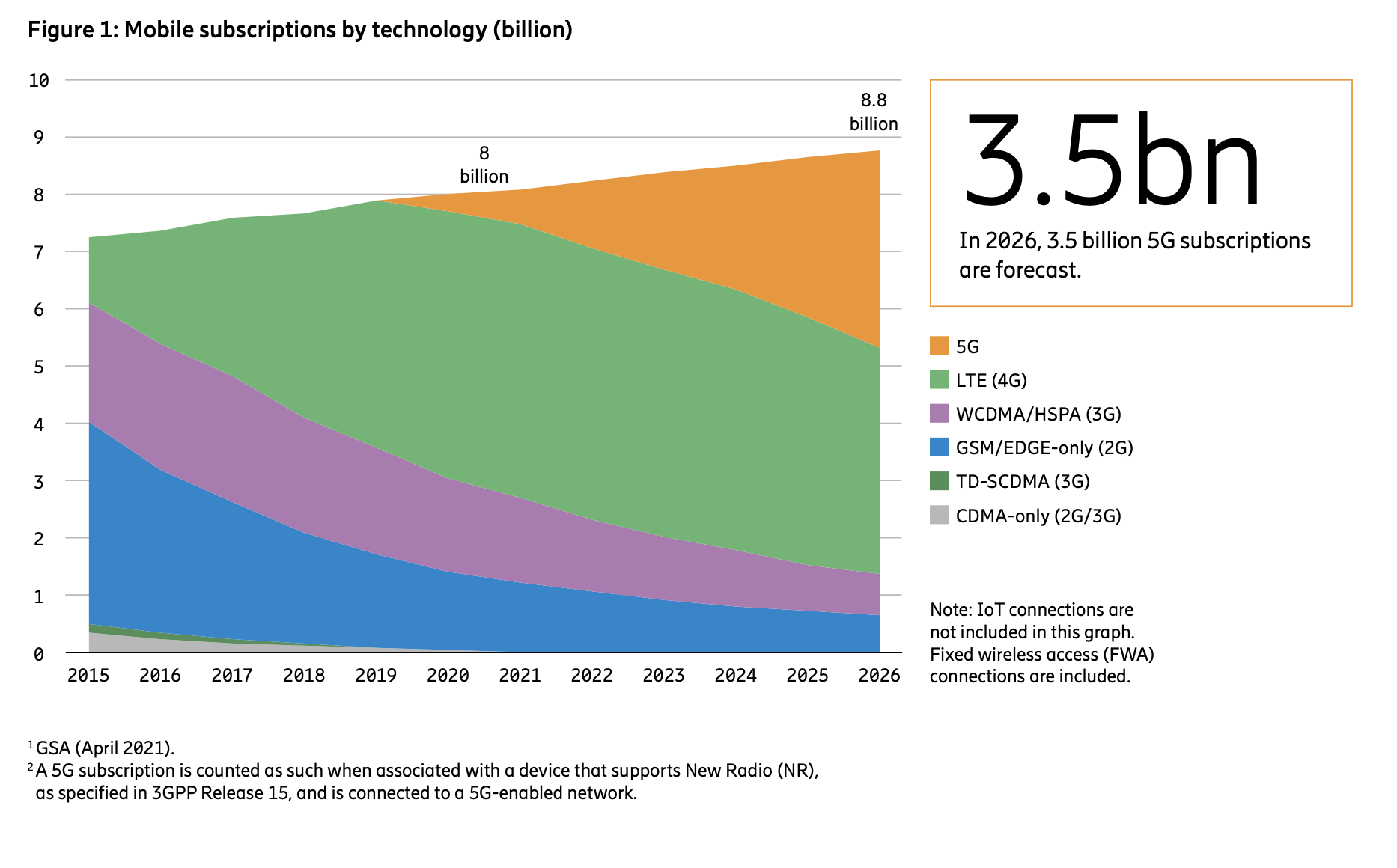 Rapid Demand – With the recent introduction of high-speed, high-performance, economic smartphones such as Apple's iPhone; consumers will quickly move to 5G subscriptions.
By 2025, it is projected that more than 75 percent of phones in the Americas, Western Europe and APAC will be 5G ready. As a result, one in three mobile phones sold worldwide this year will be 5G ready. Two aspects of 5G growth that will affect the M&E will be the IoT area which was delayed because of standards and deployment as well as low-cost 5G fixed wireless.
IoT proved to be of material assistance in the production/post work for filmmakers while cable service providers with direct connection to the last 10 feet to the home have maintained an iron-clad grip on the household connection.
The M&E Focus
A key benefit of 5G networking will be lower latency in remote shoots as well as in live production. It increases the quality of the data for the content creator as well as the consumer. 5G live sports production was proven back in 2018 at the U.S. Open, NBA Summer League games by Ericsson, Fox Sports and Fox Innovation Lab.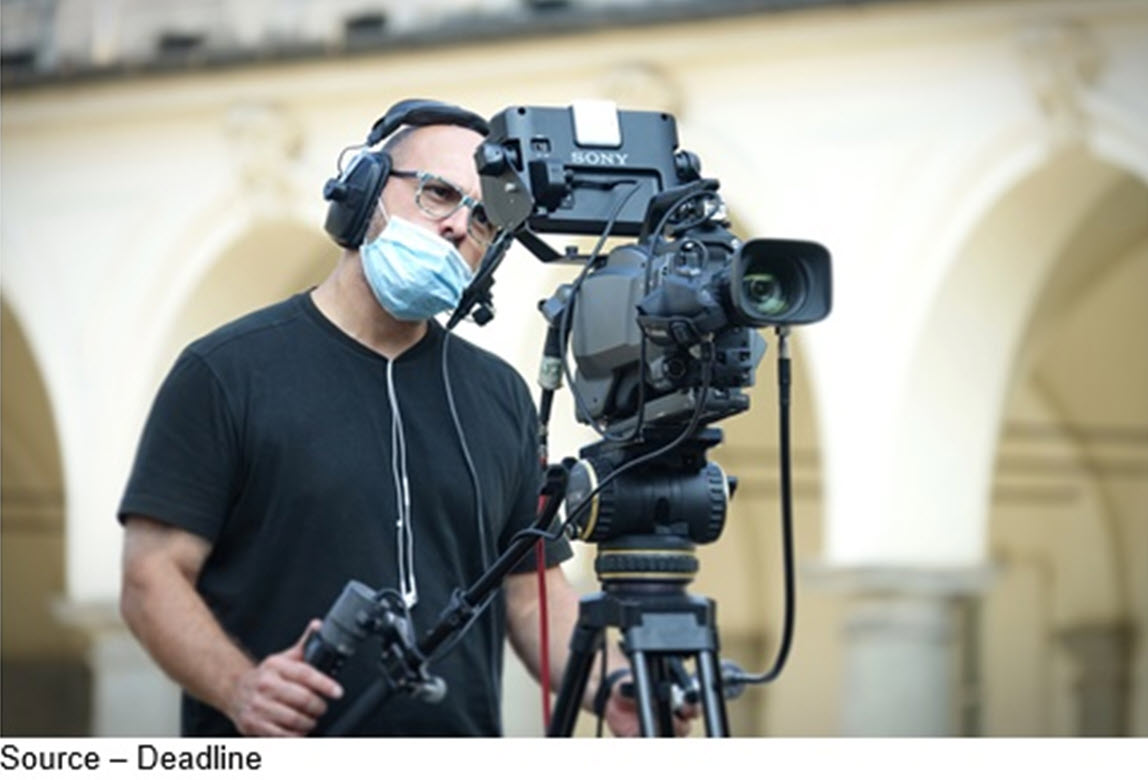 Rolling – Despite new restrictions for video productions last year, the use of advances in communications and hyperconnectivity enabled project directors to more quickly and easily move video content from the camera to remote storage/production.
Prior to the pandemic lockdown, 5G also proved its value in Disney's Star Wars: The Rise of Skywalker by Disney Studio LAB and ILMxLAB. DITs (digital imaging technicians) note that it's not just about the bandwidth with 5G but the ability to slice the bandwidth into separate virtual networks with bandwidth reservation. The guaranteed bandwidth has been proven with live as well as remote production, opening the door for a wide range of production opportunities.
With fast, reliable 5G performance, film crews don't have to carry a lot of added cables or extra gear with them – less gear, less limitations, less added support time required. All that's needed is a reliable network signal which 5G provides. US media companies are already partnering with carriers to experiment with 5G and its remote and live production potential.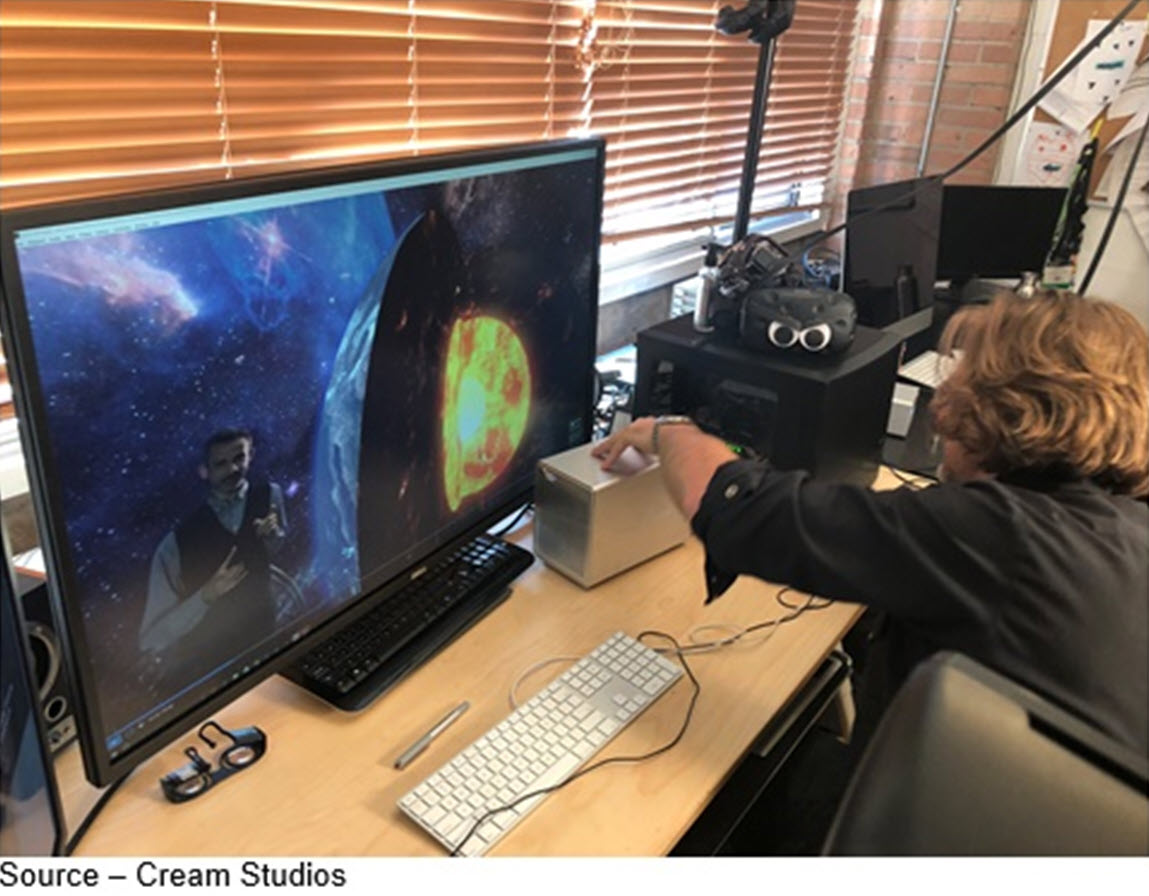 Distant Post – Editors, special effects professionals, colorists and other post production personnel were able to work on projects from their distant locations and immediately communicate with each other thanks to robust 5G wireless, high-speed broadband internet and cloud services.
While robust 5G offers considerable opportunities for live streaming events, it proved to be one of the right tools at the right time for post-production during the lockdown. To stay on time, financial budget directors, editors, special effects folks and other members of the postproduction teams were able to develop a seamless production experience regardless of where team members were located. With a number of projects, producers could be hunkered down at home in the Midwest and work in near real-time with post team members in England, New Zealand and Hollywood.
As Movielabs officials noted at this year's virtual HPA (Hollywood Production Association) retreat, all assets from the first script to captured files, computer-generated assets and associated metadata is being stored immediately in the cloud and appropriate crew members are collectively working on their workflow activities collaboratively to reduce rework and speed project completion.
Joachim Zell, production/post-production workflow consultant and volunteer crews around the globe, produced films on four continents in locations as dispersed as Hollywood, Dubai, Brisbane, London, Mexico City and Ulaanbaatar (Mongolia). It was tangible proof that cross-town, cross-country and global production/post really worked.
Delivery, Consumption
But content production only affects a small portion of the 8B plus people on the planet. What people of all ages want to know is what's in it for me; and for the younger crowd it is having instant contact with anyone anywhere and blinding fast access to their content. We are already well on the path to hyperconnectivity as 5G, satellite constellations, stratospheric balloons and fiber infrastructure converge for business, the home and individuals.
And what will speed the arrival of 5G? Consumers have consistently ranked video streaming first followed by video calling, social media, mobile gaming, VR and AR.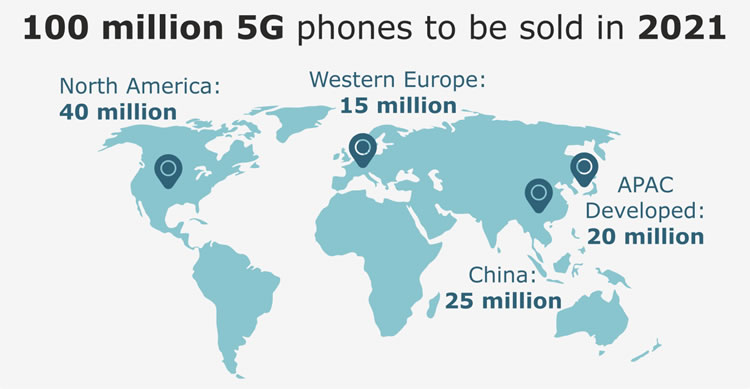 Source 5G.co.uk
Phone Upgrades – Smartphone manufactures such as Apple and Samsung are promoting brisk, 5G-ready devices because of the obvious performance enhancements and more economic pricing.
With the promise of faster video streaming, people are quickly updating their phones this year and by next year, analysts project that video usage will be 70 percent of mobile network traffic and will drive the demand for sports/live event viewing as well as 4K UHD content.
Morning Consult recently reported:
45 percent of people globally watch an hour or more of online video content daily
50 percent of people 18-34 drop current asks to watch new YouTube video
50 percent of people watch videos, product demos before a purchase
40 percent of millennials trust YouTube for high-quality video
50 percent of YouTube content consumed is done via mobile devices
90 percent of Twitter video views are done on mobile
The key is for reality to keep pace with the promise of next-generation technology–especially in the U.S. where Wi-Fi is currently 59.8Mbps, faster than in many countries and 5G averages only 52.3Mbps.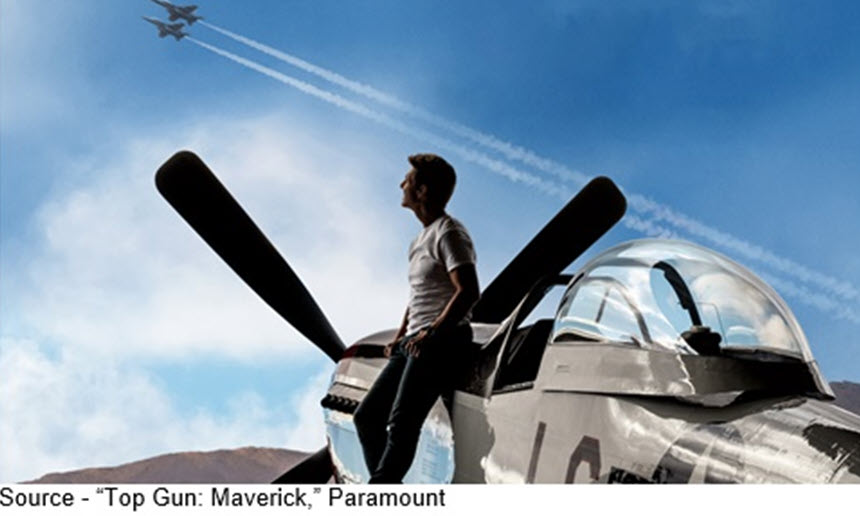 In addition, many parts of the country are still saddled with sluggish cellular speeds–well below the 5G standard's capabilities. The challenge will be for service providers to invest more aggressively in infrastructure than in marketing. Those that don't will understand the Maverick words of the Rear Admiral when he said,
"The end is inevitable, Maverick. Your kind is headed for extinction."
5G will fly high, fast and will change the way we live, work, learn and play and especially how we produce and consume video content. Now all providers need to do is successfully land it on their carrier. (AM)
# # #
Andy Marken – [email protected] – is an author of more than 700 articles on management, marketing, communications, industry trends in media & entertainment, consumer electronics, software and applications. He is an internationally recognized marketing/communications consultant with a broad range of technical and industry expertise especially in storage, storage management and film/video production fields. This has led to the development of an extended range of relationships with consumer, business, industry trade press, online media and industry analysts/consultants.