Market Intelligence – IDTechEx focuses a good portion of its research on flexible sensors and flexible displays. This includes, but is not limited to, printed electronics and OLED displays.
With many successful technologies in the past few years, sensors are a key in making them do the things we expect. Turn your smartphone, swipe versus tap, look up or down, run versus walk and so on. Sensors are still mostly hard parts even if they are attached to a flexible substrate. This is going to change with more and more electronic components being printed with organic materials that allow new form factors. While there are some sensors already available, more will arrive in the future enabling completely new user interfaces. This may in turn enable new consumer electronic devices including wearable devices in the future.
Another important aspect in the research is flexible displays. The first successful flexible display in consumer electronic devices was the electrophoretic display used in ereaders. Released ahead of the tablet, its success was somewhat short lived. Even with declining sales numbers the market success of the ereader may have enabled electrophoretic displays to be mass produced, even though most ereader displays were not flexible at all, as they were built on a rigid backplane. IDTechEx sees sales numbers for ereaders continuing to decline, falling to under 20 million units in coming years.
Source: IDTechEx
There will be very little argument about this trend based on what is called the "iPad effect".
The future of the OLED display, on the other hand, seems to be bright as far as market forecasts go. Many devices already use AMOLED displays either on a flexible or a rigid substrate and the market is more or less capacity limited as very few manufacturers are able to supply OLED displays. Apart from existing technology challenges, for example, with the water vapor barrier technology, IDTechEx is very bullish on the prospects of flexible AMOLED displays. New developments are still shown regularly at display conferences, which indicates that some developments are not really ready for prime-time yet.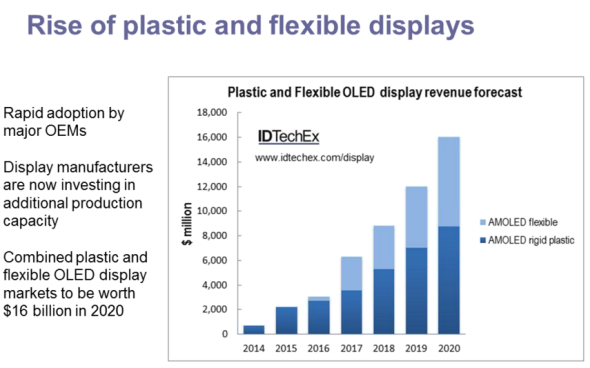 Source: IDTechEx
According to the forecast, the OLED display market will be dominated until 2015 by rigid AMOLED displays. This will change strongly in 2017 when half of the market will be in flexible AMOLED displays. Overall the market will reach $16 billion by 2020 – a good size, but still only a small portion of the total display industry.
IDTechEx has published several reports on these subjects.  For more information contact the presenter of the webinar directly at [email protected] – Norbert Hildebrand