TCL has released a report on its first half of 2023 business performance. Revenues were HK$34.92 billion ($4.45 billion), a 3.7% YoY growth in sales. Gross profit margins went up by 1.4% to 18.6% and inventory turnover was 70 days an improvement of 16 days YoY. TCL shipped 25.74 million TVs that are 65 inches and larger, a 67.8% YoY increase.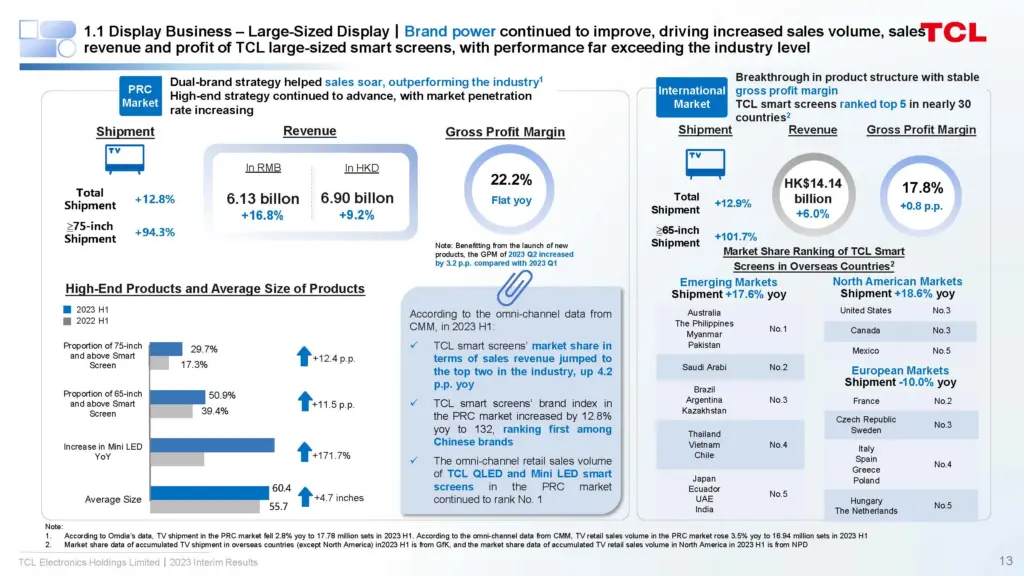 The good news for the company centers around the shift to higher end products. Compared the last year, the proportion of quantum dot products is now 22.5%, an increase of 7.4 percentage points and the proportion of screens that are 65 inches and above is 11.46 million sets, a 12.9% incre. The proportion of 4K products has increased to 63.2%, a rise of 8.3 percentage points while the average screen size has grown to 49.9 inches, which is an increase of 3.6 inches. Revenues for large sized displays were HK$21.04 billion ($2.68 billion), and HK$3.4 billion ($433.5 million) for small to medium sized displays. Smart commercial display sales rose by 66.2% YoY to HK$410 million ($52 million).
In China, TCL has seen a 94.3% increase in the shipment of 75+ inch TVs with QLED and MiniLED products performing well in the market. The company is maintaining a dominant brand position in the country, as well as being among the top 3 TV brands worldwide. The company is also claiming to be the number one consumer grade AR seller in China, ranking top in online sales volumes and revenue.