Zotac is not a company that we have often spoken to. From a start making Nvidia-based graphics cards, which it was also showing at CeBIT (with all of the water cooling and other high end features), the company had also used experience it gained in 2007 in developing mini-ITX motherboards to develop new mini-PCs in 2008, by putting the connectors around three sides of the boards. The company introduced the NanoXS, which preceded the Intel NUC (and which in Zotac's view, considerably influenced the design of the NUC).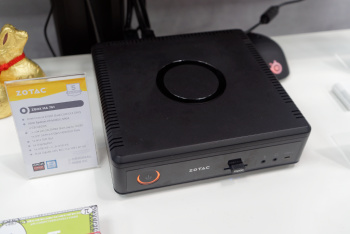 At the show we looked at a new mini-PC, the MA761, that has six DisplayPort outputs and is 'passive', having no fan, and is based on an Intel Skylake Core i5. The box uses an AMD Radeon graphics processor and supports the AMD Eyefinity technology.
The box is not a high end solution and Zotac plans to sell it at €500. Other features include dual ethernet and dual USB Type C outputs.
The company also sells under the PC Partner brand (and was at ISE under that name), and has developed 12 and 24 output systems. These are 'pizza box' (think of a 1U rack server – Man. Ed.) systems and the 12 output version uses HDMI. It exploits the AMD Eyefinity board which supports 6 outputs and, again, splits each out to two monitors.
As we understand it, the company has developed a circuit that splits out DisplayPort multi stream signals to present them on separate outputs. That is to say, it can double the standard number of outputs from a graphics card.
The next development is to split each output into three. The three way version can be offered with Nvidia GPU (12 outputs as 3 x 4), AMD GPU (18 outputs as 3 x 6) or Matrox (24 outputs as 3 x 8).
Zotac told us that it has won some interesting projects with the technology including a 12 display system that is installed in the soon to be opened Terminal 3 at Munich airport.
The company was also showing its high end graphics cards including a GTX980-based high end board that is qualified to meet the computing demands of VR platforms such as the Oculus Rift.