IDC released its latest forecast for the smartwatch and wearables market and expects the total market to reach 20 million units by 2020. The company defines smartwatches as those that can run third party applications. Examples include Apple's Watch, Samsung's Gear S3, Motorola's Moto 360, and Pebble's Watch. Smartwatches are part of the larger category of Smart Wearable devices, which also includes smart glasses and certain wristbands. IDC expects total smart wearable volumes to reach 21.5 million units shipped in 2016. By volume, smartwatches account for the largest part of the category, and are expected to reach a total value of $17.8 billion dollars in 2020.
Basic wearables are those that can't run third party apps and includes wristbands, clothing and watches. The expectation is that these devices will reach 80.7 million units this year.
Worldwide Wearables Market, Shipments by Product Category, 2016 and 2020 (Units in Millions)

Product Category

2016 Shipment Volumes*

2016 Market Share*

2020 Shipment Volumes*

2020 Market Share*

5-year CAGR

Basic Wearables

80.7

78.9%

147.8

65.9%

20.2%

Smart Wearables

21.5

21.1%

76.6

34.1%

30.6%

Total

102.2

100.0%

224.4

100.0%

23.2%

Source: IDC Worldwide Quarterly Wearable Device Tracker, September 15, 2016
"To date, smartwatches have remained in the realm of brand loyalists and tech cognoscenti, but we expect that to change over the next few years," noted Ramon Llamas, research manager for IDC's Wearables team. "First, smartwatches will look and feel like traditional watches, appealing to those who put a premium and design and style. Second, once the smartwatches get cellular connectivity, they'll disconnect from the smartphone, making them more useful. Third, smartwatch applications will build on this cellular connection, and connect with other devices within the home and at work. Finally, smartwatch prices will come down, making them more affordable to a broader market."
"… Consumers are not willing to deal with technical pain points that have to date been associated with many wearable devices," said Ryan Reith program VP for IDC's Mobile Device Trackers. He identified battery life, the need for a smartphone and limited use cases as the key barriers. However, he believes that these factors will improve and fashion will overtake technology appeal to become dominant.
watchOS (Apple) will remain the dominant OS, but Android and Android Wear will grow fastest. Tizen is Samsung's OS and will stay in third place, IDC believes. RTOS is used by vendors including Garmin and will have the second highest growth. The remains of the market will include Linux and proprietary operating systems including Pebble OS.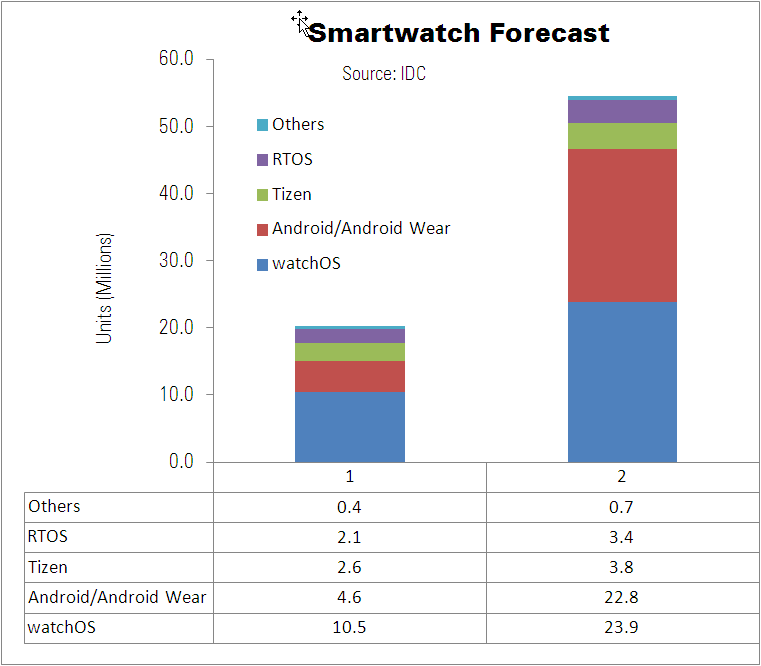 Top Five Smartwatch Platforms, Shipments, Market Share, and 5-Year CAGR (Units in Millions)

Smartwatch Platform

2016 Shipment Volumes*

2016 Market Share*

2020 Shipment Volumes*

2020 Market Share*

5-year CAGR

watchOS

10.5

52.3%

23.9

43.8%

15.5%

Android/Android Wear

4.6

22.9%

22.8

41.8%

44.4%

Tizen

2.6

12.7%

3.8

6.9%

9.4%

RTOS

2.1

10.2%

3.4

6.2%

35.7%

Others

0.4

1.8%

0.7

1.2%

-7.1%

Total

20.1

100.0%

54.6

100.0%

23.0%

Source: IDC Worldwide Quarterly Wearable Device Tracker, September 15, 2016