Technology in the palm of your hand has hit an inflection point in retail with high quality displays, faster processing and wi-fi broadband now good enough to boost Thanksgiving day online shopping into preeminent status, as the "…biggest online spending period of the year," according to Adobe Digital Insights. The group said as of 5pm on Thanksgiving evening, online sales hit plus $1.5B.

Online sales were growing at a whopping 17% with smartphone purchases up 15% year over year. The growth came, in part, as consumers used smartphones to research prices and availability, resulting in higher conversions (sales) than in years past, with streamlined ordering, including one-click purchasing and automated delivery options perfected by Amazon and other online retail giants.
We've seen evidence of this trend in past years with the shift from online buying on 'cyber Monday', the day when, in times past, most office workers used the faster internet and higher processing power at the office to do their online Christmas shopping. In 2016, "Cyber Monday" ceded its top shopping day dominance to "Black Friday" with growth in online sales up nearly 20% according to Salesforce.com's commerce cloud tracking of some 500M shoppers. Overall, the 2016 Thanksgiving weekend hit 109M online versus 99M in-store shoppers, as reported by the National Retail Federation here in the US. Those numbers aren't improving; a Deloitte's survey shows 55% of respondents said the internet is the top place that customers expect to shop, with far less than one-third (28%) planning to go to department stores in 2017, down from 32% last year.
For its part, Amazon claims some 40% of mobile e-commerce spend (this year on average) with the company racking up a whopping $0.42 of every $1.00 spent based on data from Slice Intelligence.
But for brick and mortar retail, "Black Friday" is losing all connection with its roots, and the day after Thanksgiving retail bonanza in the USA to kick off the holiday shopping season. Ads and in-store promotions began the Monday before Thanksgiving as shoppers were busy filling up their carts with sacks of sweet potatoes and frozen 20 pound birds in preparation for the traditional Autumn cornucopia feast.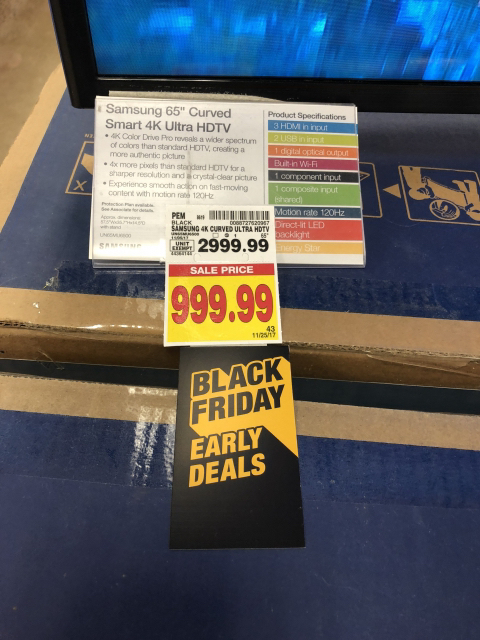 Black Friday sales hit the shop floor at our local Kroger on Monday before Thanksgiving, Image source: Sechrist 2017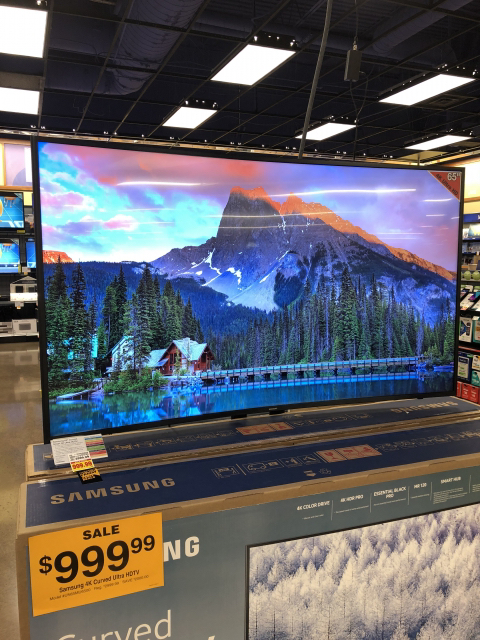 Samsung 65″ curved UHD set at sub-$1K Black Friday prices on the Monday before Thanksgiving, Image source: Sechrist 2017
Meanwhile, Adobe published its Adobe Digital Insights 2017 Holiday Prediction with these five points.
The 2017 U.S. online holiday season is poised to be the first to break $100 billion. Online revenues during the holiday season are 13.8% higher in the U.S. than last year (compared to 3.8% for all U.S. holiday retail)
Big and small retailers are the winners, beating out the middle. Big retailers have higher order values and desktop conversion rates while small retailers have the highest mobile conversion rates
Consumers are buying more and buying cheaper: for toys and consumer electronics (amongst others), unit growth is outpacing revenue growth
Mobile is key to winning. Fast mobile growth is closely correlated with fast revenue growth, but desktop orders remain the biggest single segment
Novelty and nostalgia drive top product buzz. The most buzzed about products on social media include throwbacks to the 80s and 90s (like Teddy Ruxpin and the Super Nintendo Classic) and new offerings like the Nintendo Switch
Today's high speed home wi-fi coupled with image perfect OLED smartphone displays and a plethora of one-click buy shopping apps are proving a formidable shopping force that challenge in-store retail sales, no matter what they do, or how soon they start the process. And with trends like these, we may soon see the national Thanksgiving day parade that kicks-off the Christmas buying season sponsored, not by the 34th St. Macy's, (2017 was its 91 year) but Amazon, with UPS and FedX trucks instead of floats, and delivery drones with packages instead of giant balloons filling the sky. Dang! – Stephen Sechrist
So When do We See a $25 32″ TV on Black Friday?
Good Deals on Samsung & LG on Black Friday
LG OLED TVs on Offer in the US for Black Friday
LG OLED 4K Smart TVs To Reach 'Best Price Ever' During 2017 Black Friday Season