I don't quite get why people are so wild about watching sports. I just know they have since before the Roman Empire. Back then people would sit in the bleachers and cheer as two guys whack away at each other or worse yet one guy was pitted against a mean, hungry wild animal. Either way there was one winner and one…not.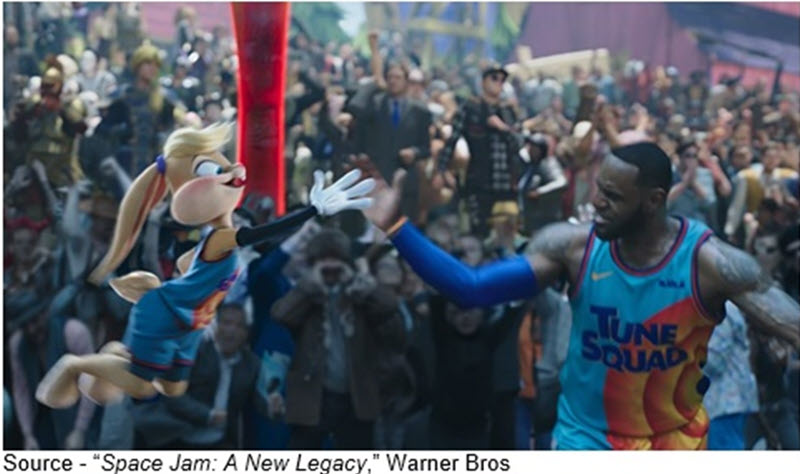 "It's the same story it's always been: there's the heroes, and there's the villains." – Narrator, "Space Jam: A New Legacy," Warner Bros., 2021
Today, we're more civilized:
we pit two groups of folks against each other with or without a bunch of padding
we put two people in a ring to punch each other silly
we watch a bunch of actors jumping around in a ring faking mayhem
True, I'm not a rabid or ultra-devoted fan … more of a casual "okay" fan. Not like my wife who suffers/celebrates through every Golden State Warriors game. The only thing better/worse is when our sister-in-law is visiting, and the Chicago Blackhawks are playing.
Friends in Europe, South America, Asia–everywhere but here–agree there is only one football but can't agree as to which team(s) really deserve the FIFA award honors or which player deserves the Ballon d'Or. But real football (not the one with all the protective gear) is the one that has a true global audience with tournaments regularly gathering 2 billion+ people (U.S. football an anemic 50 million+) and the biggest/best advertising expenditure – check the best football ads for yourself.
Works of art!
This was to be a quiet year for sports but with the attempted reset of the Olympics, the UEFA European Football Championship and the 43rd Ryder Cup plus other titanic international events, it became a packed year of live and broadcast events. Sports of almost any kind have always been big business. eSports, MLS, MLB, NASCAR, NBA, NFL, NHL, WFTDA, WNBA, golf, billiards, everything that's inside and outside of the Olympics has its heroes and followers.
A contest of any size draws a crowd, even extreme underwater ironing (Google it).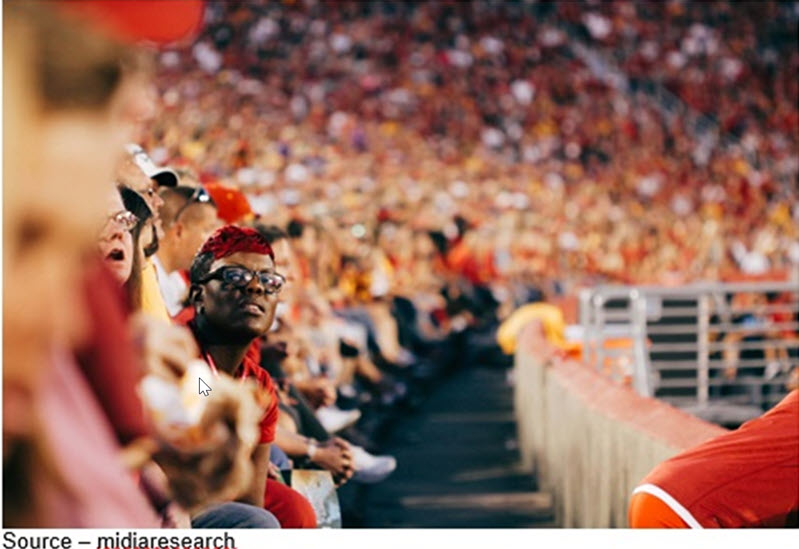 Shared Excitement – Watching a sporting event alone is okay but not as much fun as it is with a crowd. The best way to watch the event is live and in person. Second best is with friends.
Sports is a big – profitable – business. Keeping fans in touch and involved with the sports, teams and players is a bigger, more profitable, business — game coverage, round-the-clock channels, radio broadcasts, podcasts and, coming out of the shadows … gambling.
Riding on the back of both is an even bigger business – sponsorships/advertising to reach the fanatic, love it, casual and 'yeah, okay' fans. The video content arena has shifted rapidly and dramatically as folks cut their overweight/expensive TV cable cord for anywhere, anytime, any screen streaming. Sports is one of the few content genres that folks feel can only be consumed live.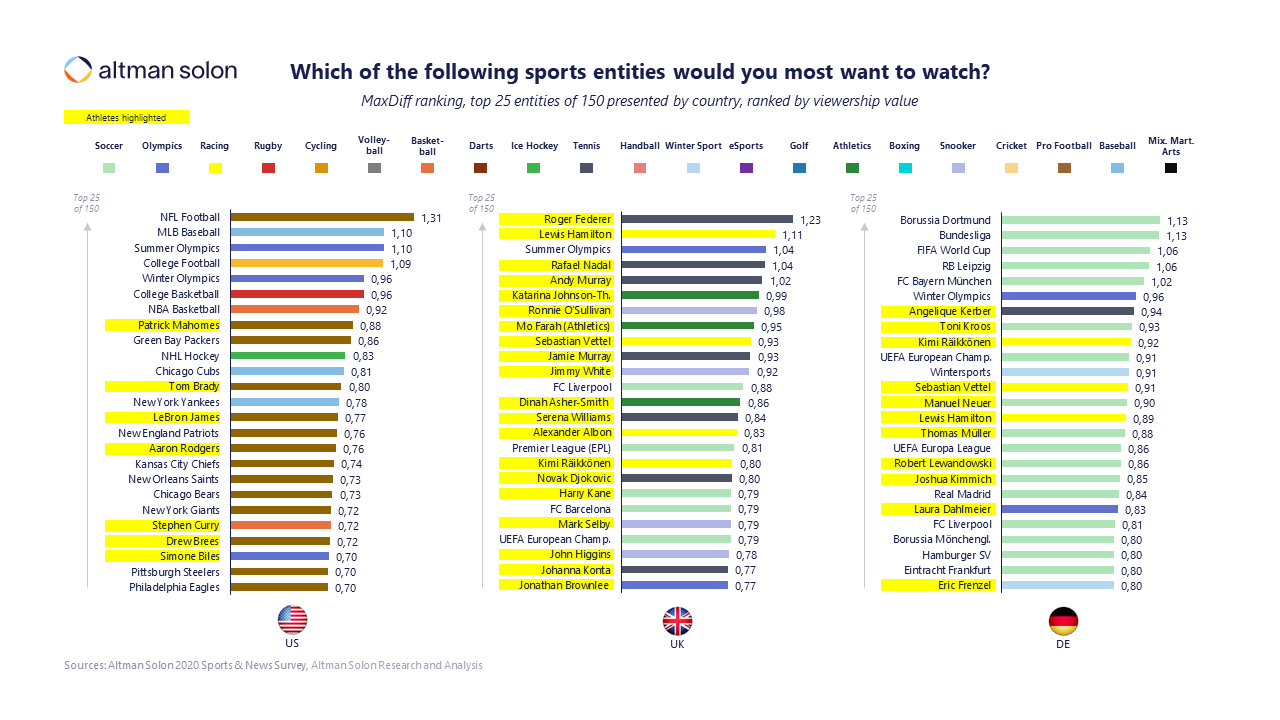 And the Winner – Real football (soccer) is the most popular sports activity around the globe. It beats other entities hands down. And most people have their favorite team and player.
Distribution Shift
Sports takes up a majority of today's broadcast and streaming media consumption. It is one of the few genres where quality of viewing the event is not just important, it's critical. According to a recent Deloitte report, overall broadcast/OTT satisfaction was only 39%, which means there is plenty of room for improvement with technical advances. More than 75% of all fans prefer cable and satellite TV for viewing.
With Millennials, streaming options are edging up with only 61 percent still preferring cable/satellite viewing and screen convenience becoming increasingly important. Fans want to watch their sports on their mobile devices–both at home and away.
Can't be there – Sports fanatics will fly across country, even halfway around the globe to watch their favorite team or their athlete. The majority of the people will settle for watching it on a large home screen but increasingly, Millennials and Gen Zs want the convenience of watching with the screen in their hands.
As 5G connectivity and improved screen quality improve, fans – especially the younger generation – will increase their use of mobile devices to follow their sports, teams and players. More than 20% of Millennials use their tablets/phones today and all fans report the devices will enhance their sports viewing going forward.
Fans are also looking for more advanced technology features/capabilities including basics such as fast-forward, pause and rewind and are very interested in customized options such as VR to enrich their experience.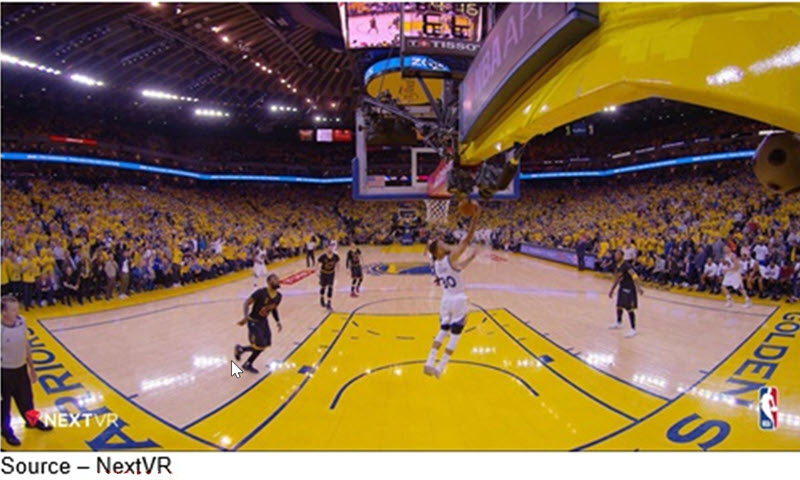 Being there – Fans are increasingly wanting to feel as though they are participating in the event so organizations are working with AR and VR to put them in the center of the action. Perhaps by 2023 you'll be able to score the winning point in your game.
Enhancing digital fan engagement will increase their likelihood to watch. A multi-year project with the Golden State Warriors and Accenture found that more than 54% of fans indicated that VR front-row seats would increase their likelihood to watch a game.
Accenture and NextVR – producers of the system – are continuing to work with the NBA, Turner Sports and other services to enable fans to view live professional sports.
But it's still a work in progress!
While ESPN has launched its streaming service, ESPN+, DAZN and Fubo have entered the U.S. market to stream soccer and lacrosse. Bellator events and other services are entering into national streaming agreements with country teams. The dominant viewing option for the next few years will be cable and large-screen TVs.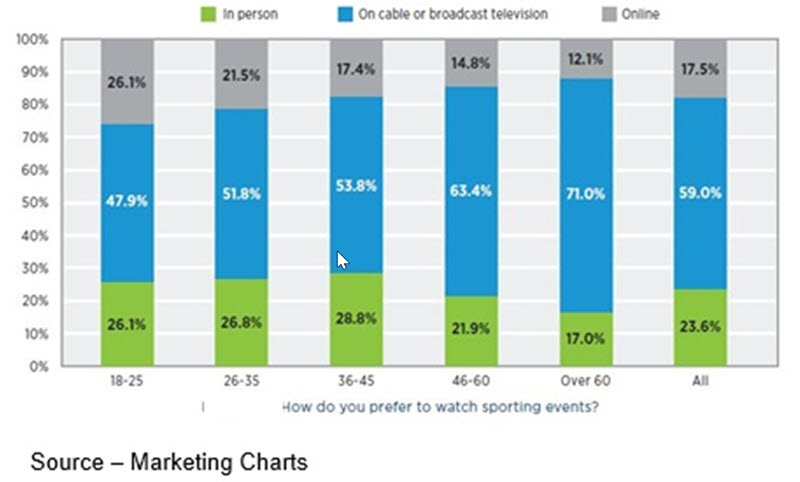 Connected Game – Fanatics and casual fans continue to keep their cable bundle to enjoy their sports but as the quality of streaming continues to increase, people are cutting their cord and opting for the convenience of watching what they want, where they want.
Sinclair, the second largest U.S. cable service provider, has purchased 21 regional sports networks to meet national and local viewer demands. While broadcast and pay TV remain key sources for live sports, OTT streaming is becoming an increasingly important viewing option for people. CBS, ESPN, Fox, MLB.TV and others are adding complimentary streaming services to reach the broadest range of individuals to round out their distribution packages.
Sports have always been the core of pay TV bundles and now they are becoming a major focus for NBC's Peacock, ViacomCBS' Paramount+ and Amazon Prime Video as well as other streaming offerings. The key question is how much damage can sports do to the pay TV bundle – channels and customers – if they move major events/activities to VOD services? Especially their own services.
The major hurdle is the internet's ability to consistently deliver high-quality video streams to 25 – 50 million+ viewers. It's a challenge that Akami and other CDNs are focused on meeting. In the meantime, large and small sports own large libraries of content that they are looking to use to strengthen their relationship with fans and to monetize with content distributors and social media.
Franchise and organization executives are intent on engaging with fans every day of the year to grow their businesses. Every major media company has a cable network that is going to be more vulnerable as the streaming industry improves. As the parent company focuses on growing the streaming service's subscriber base and profitability, they will be reallocating content with the broadest potential viewing market.
Tough decisions will be made on what the future holds for the distribution options.
Being Social
As with every segment of business and industry, social media has grown in importance in reaching and strengthening the connection between players, teams, leagues, broadcasters and advertisers.
The integral role of social media in sports is hard to ignore. In fact, it's difficult to find an athlete who isn't socially engaged with fans.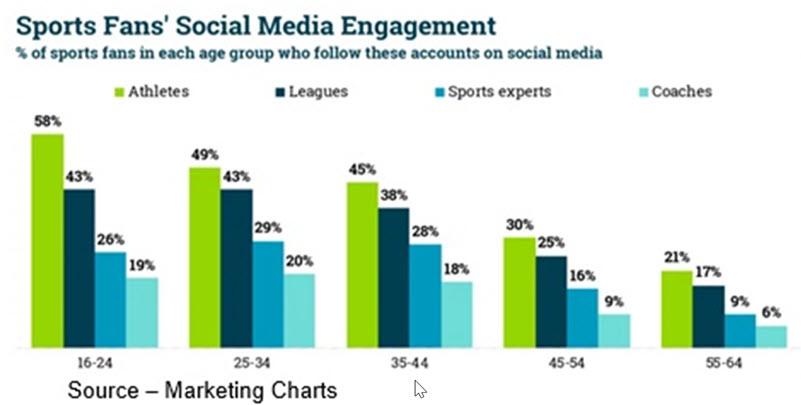 Your Fave – People around the globe generally have a team that they celebrate and commiserate with but in every single game/match, the fan has an athlete they cheer for regardless of whether the team wins or loses.
The teams and organizations are developing strategies for fans to interact with the game, their friends and the broad fan community on their second screen. The new channel is enabling teams/players to strengthen their connection with fans on a global basis. The internet-enabled fans (16-64) exist and are growing across every age group. And the relationship is being exploited by advertisers.
Among the 16-24-year-olds, 58% follow individual athletes and 49% of 25-34-year-olds follow specific players. The most popular social media platforms for fans are YouTube (52%), Facebook (47%) and Instagram (43%). Fewer fans follow leagues (43%), sports experts (26%) and coaches (20%).
Social media has enabled players to make their case to the broader audience efficiently and effectively such as the female basketball player who highlighted the difference between the men's sprawling exercise facility and the women's equipment … one rack of weights. It has also proven to be a strong platform for LGBTQA+, BIPOC, AAPI and other sexual and race inequalities.

Added Dimension – Showing that they are more than just "dumb jocks", athletes have used their stature and social media to highlight the need for change in the sporting industry as well as individuals' treatment and respect. Megan Rapinoe (l) called out male/female pay inequities at the 2019 FIFA Women's World Cup and Carl Nassib, of the Las Vegas Raiders, made being different normal for athletes and fans.
The videos/posts have been viewed by tens of millions of athletes, coaches, parents, legislators and fans as well as media and casual followers to raise awareness and bring about changes – for the better – in every sport and competitive venue. Regardless of the revenue differences between men's/women's sports!
Added Dimension
As the auctioneer who sold the first civilian passenger seat to Bezos' New Shepard flight to the edge of space said to prospective bidders, "the more you bid, the more you're going to enjoy it." And with a final bid of $28 million , the individual obviously had the thrill of a lifetime!
The legalization of sports gambling (Supreme Court, 2018) must also be making sporting events/activities of all types more interesting to people in the US although there are different rules for gambling around the globe.

On the Line – Betting on sports and sporting events has been around from the beginning. Originally, it was a shadowy activity but increasingly, it has become an integral part of adding excitement and vested interest as a standard part of event coverage.
Sports gambling is rapidly becoming a sure thing for teams, networks, streamers and even advertisers. Fans? Maybe not so much. The organizations are integrating statistics, lines, the ability to customize what appears on the screen and other activities that will drive opportunities for added revenue. According to Nielsen, US online gambling ad sales increased from $10.7 million in Q1 2019 to $154 million in Q1 2021.
Local stations received just under 80% of the ad dollars, with the rest shared between national online sites, network TV, local radio and outdoor advertising.
Hand-in-hand with the growth of online gambling, ad sales represent the integration of betting information into national TV sports broadcasts on networks such as CBS, ESPN, NBC, Telemundo, SABC, NTA, Fox, KSA, RMC, Nova, Sky, name your favorite.
Ads Galore – Marketers around the globe pay billions to associate their brand with sports, teams and athletes.
Everywhere in the world tune on your screen and you'll find a sporting event loaded with sponsors and advertisers working hard to create a positive impression with the network's/streamer's and teams' loyal audiences.
Broadcast – cable, satellite – continue to be the preferred way for fans to enjoy their sporting contests. But the future looks grim for pay TV's future. Parks Associates found that 40% of cable service subscribers retain the service because it gives them access to their sports channels.
Today, sports organizations, teams and players are following the fans to improve the event experience and expand their social activities. Their goal is to entice casual fans to become fanatics and fanatics to become the sport/team's major cheerleaders. Nielsen reports that only 39% of sports fans are 'completely satisfied' with their broadcast experience. Increasingly, (regardless of age or sex) convenience is becoming a growing part of people's enjoyment and satisfaction with the game or event.
If broadcasters and networks decide it's time to shift to streaming games, tournaments, events direct to the consumer it can only accelerate cord cutting as fans choose convenience and social involvement over individual or small group viewing. At the same time, marketers want their messages where the fans are, not where they were. Without the financial underpinnings of retransmitting sports to local communities, what is left for network affiliates around the country?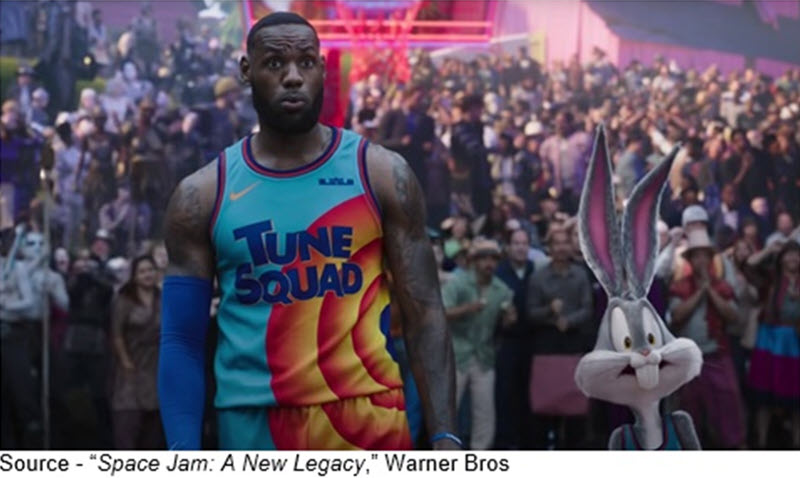 Only two to three stations can exist with only community programing, local news and area advertising.
As LeBron James said in the Space Jam: A New Legacy trailer, "Bet Will Smith ain't gotta deal with this."
It's an issue you'll have to ponder. Right now, we're going to get our scuba tanks filled so we can practice an upcoming extreme underwater ironing tournament. The competition is ruthless! (AM)
# # #
Andy Marken – [email protected] – is an author of more than 700 articles on management, marketing, communications, industry trends in media & entertainment, consumer electronics, software and applications. Internationally recognized marketing/communications consultant with a broad range of technical and industry expertise especially in storage, storage management and film/video production fields. Extended range of relationships with business, industry trade press, online media and industry analysts/consultants.