On the march towards Virtual Reality's entry into the mainstream, it turns out that the "broken road that lead me straight to you" (Rascal Flatts – yes) is going straight through the mobile devices platform and smartphones in particular.

This is according to the latest Juniper research virtual reality markets study, "Innovation, Disruption & Future Prospects 2019 – 2023.
Focusing on VR specific games, the report sees an $8.2 billion worldwide market revenue by 2023 (up from $1.2 billion this year) but speculates, it's hardware, not apps (content) that will generate the lion's share of revenue during most that period. Today, smartphone-based VR headsets account for a whopping 73.6% market share, compared with 10.1% for standalone platforms (Oculus etc.) and game console and PC-based systems at 8.3% and 8.0% respectively.
Juniper anticipates that revenues from VR content will begin to exceed VR headset sales revenues for the first time only by the very end of the study period, in 2023.
The truth is that 2018 was anything but a banner year for VR device sales, which seemed to have topped out in the previous year (2017). Juniper characterizes this as a state of "regression" in the market,
"Overall, the VR market has suffered a degree of regression since the last edition of this research in 2017. Indeed, shipment figures have not fulfilled expectations, with many vendors' figures declining since 2017. The exception to this has been smartphone-based VR. Likely due to the low cost it, has continued to act as the gateway for many new users to the VR space. However, smartphone-based VR will remain relatively low-end."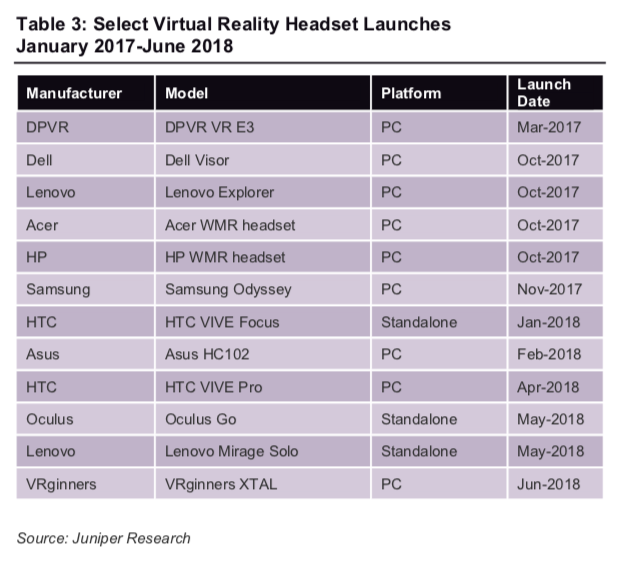 For example Sony's game console playstation VR reported a significant drop in 2018 Q1 YoY sales with just 100K units selling in the period compared to 300K in 2017 according to Junipers recent whitepaper: The Roadmap for Future VR Success.
Beyond Gaming and Multimedia – The move to other industries
Another part of that 'broken road' for VR includes the difficulty content providers have in making money from ads in the virtual space. In short, ads inhibit the suspended reality experience of VR and so are limited or eliminated altogether. App developers are forced to look for new ways of monetizating their content, and move from an "ad-based" model to an "in-app purchases and upgrades" model.
Although initial VR use cases centred on the multimedia and games industries, the technologies now being developed have the ability to have a mass market impact in other industries in the future, including education, training and healthcare.
It turns out it may just be the smartphone-based VR platforms, not the fancy (expensive) stand alone headset models that are blessing virtual reality's "broken road" to mainstream market nirvana. — Stephen Sechrist
Plessey Demonstrates World's First AR/VR Glasses Powered by microLEDs at CES
HP Debuts Opera Glass Headset to be used for "VR Snacking"
ABI Research Lowers 2023 VR forecast
VR Device Market Declines In 2018 But Outlook Remains Positive