I went to the 2016 North American International Toy Fair on February 15th & 16th to see the latest in toy technology, especially how it relates to displays. Normally I only go to the Toy Fair one day but after seeing what was there on Monday, I went back on Tuesday. That alone is an indication of the increasing relationship between toys and displays. One day was enough in the past.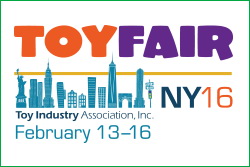 This was the 113th Toy Fair and the 30,600 attendees from the US and 91 other countries was a 16% increase from last year. This is the largest toy show in the Western Hemisphere. I was one of the 1,110 press attending, a 7% increase. But the people that get the real red carpet treatment at the Toy Fair are the toy buyers. 24 of the top 25 toy outlets in the US sent their buyers (think Target, Toys "R" Us, Walmart, etc.) and there was a total of 5,200 unique retail outlets represented from 61 countries. This is the place to order your toys for the upcoming Christmas 2016 selling season.
One of the key trends I saw was the presence of Virtual Reality (VR) as a toy for children. Virtually all of this was of the BYOD (Bring your own display) type – use your smartphone as the display & processor in a VR headset. The holders for these systems ranged from Google Cardboard for about $10 retail in a toy store to better made, sturdier plastic versions. Plastic BYOD VR headsets can range up to several hundred dollars in the gamer market but not in the very cost-sensitive toy market. $29.95 was a more typical price for a toy VR headset and they were bundled with toys with retail prices as low as $39.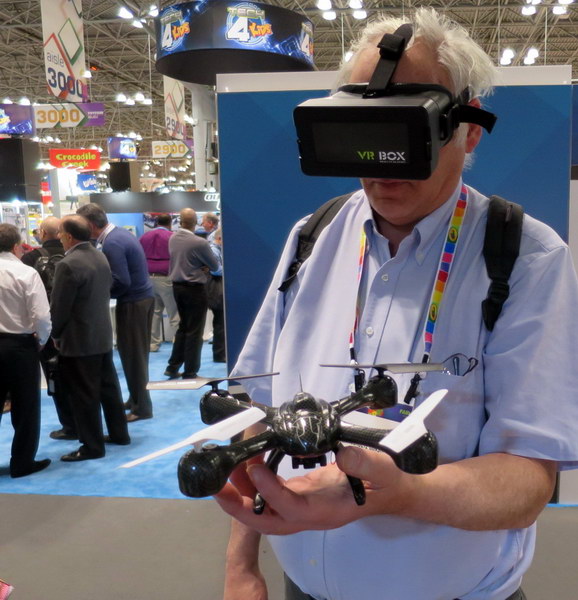 Author holding Galaxy Seeker II drone and wearing a VR Box HMD
Unfortunately, most of the VR at the toy fair wasn't virtual reality at all – it was the use of a VR headset for an application that probably would be better served by a non-VR display. For example, in the photo I'm holding a Galaxy Seeker II drone from Odyssey Toys. The drone has a built-in 2D HD camera and can stream its image live back to the drone operator, to be displayed on the VR headset. This headset is of the BYOD type and uses your smartphone as a the VR display, video processer and drone controller.
With most drones with cameras, you need to wait till the drone gets back to the ground before you can see the video it has recorded. With the Galaxy Seeker II, you can see it streamed live. In fact, by turning your head, the motion sensors in the phone feedback to the drone to change it's orientation to give you a new view. This is a nice advance over older drones, but why a VR headset? You'd be better off looking at your phone as a conventional display. You could still use the motion of the phone to control the drone and view the image live, but you can also watch the flying drone and make sure it doesn't get in trouble. Not just the drone's safety but your safety is enhanced since a VR headset can be very disorienting and moving around outside wearing one with your vision obscured is a risky business. Odyssey says the system is "Google Cardboard compatible," but that's hardly necessary since the VR Box headset (but not the phone, of course) is included in the $199 price of the Galaxy Seeker II.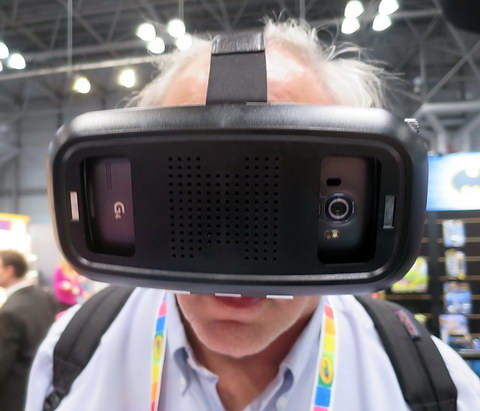 Force Flyers headset leaves windows for the phone camera to see through
Another drone maker, Force Flyers (PaulG Toys) has a partial solution to the disorientation problem. In their VR headset design, they leave a clear window where the smartphone camera can see the real world. Their App has what they call "Launch Mode." In this mode, the video from the phone camera is routed to the display so you can see to safely launch the drone. Good idea, but not enough. There was a noticeable lag between the real world and the appearance of the real world on the VR display. Less than a second, I'd guess, but still noticeable. The fact that the image was at a low frame rate, I'd guess 15Hz, didn't help either. Once launched, you could switch over from the phone camera to the drone camera, which was also streamed in real time from the drone to the phone. The drone and the VR headset will have a $149 MSRP, again without the phone, of course. If you don't have a smartphone, Force Flyers will also have a standalone Android VR headset with built in displays for $349, to start shipping in May.
This price difference, $149 for a drone with streaming HD video and a BYOD VR headset vs. $349 for no drone, just a VR headset, is the reason why BYOD VR overwhelmingly dominated VR the Toy Fair.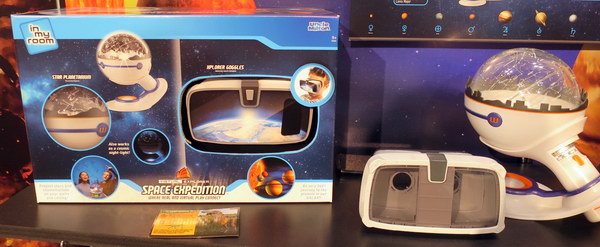 Uncle Milton, a toy maker perhaps most famous for its Ant Farms, also jumped on the VR bandwagon. They bundled their VR headset with three of their popular toys, the Space Expedition planetarium projector ($49 for the projector plus headset), Ant Farm ($39) and Dinosaur Dig ($39). BYOD, of course, for all three. The company described its Virtual Explorer Space Expedition toy as "Where Real and Virtual Play Connect." Unfortunately they don't connect except at the cash register. Once you bought the toy, you could use the Star Planetarium without the Xplorer Goggles and the Xplorer Goggles without the Star Planetarium.
I attended a session at the Digital Kids conference titled "Virtual Reality in the world of Virtual." There were four speakers, including the moderator:
David Kleeman, Senior Vice President of Global Trends, Dubit (moderator)
Nic Mitham, Co-founder, WEARVR
Jennifer Holland, Senior Program Manager, Google Classroom and Expeditions
Bert Reuler, Global Product Lead – New Media & Emerging Tech – Innovation Programs and Strategic Partnerships, Mattel, Inc.
In his opening remarks, Kleeman said there were four myths about VR:
VR isn't for kids.

His company recommended kids under the age of 8 not use VR. In an offline discussion, he said different companies had different recommendations, with minimum ages from 7 to 12. However, as far as I can tell, none of these age recommendations are based on any particular scientific test data. The toy companies are just playing it safe.

It's expensive.

Uncle Milton's $39 and $49 VR toys renders this a moot point. They were also giving out free Google Cardboard VR viewers at the Digital Kids VR session and the Dubit booth.

It's a long way off.

Given the VR toys I saw at the Toy Fair, I'd say the VR display technology is here but worthwhile apps are still needed. But apps are apps; if there is a demand for kids' VR apps, they'll be coming out of the woodwork soon enough. Think Angry Birds or Candy Crush.

It's a gimmick.

Kleeman first compared it to 3D and then dismissed 3D. His basic argument was that 3D wasn't a different enough paradigm from 2D to make it worth bothering with the cost and effort it took to make good 3D displays and content. He said VR was so different from any previous 2D or 3D display that it is a completely new paradigm. He added that VR content and displays aren't that hard to make. Personally, I'm on the gimmick side of the argument, but time will tell which of us is right.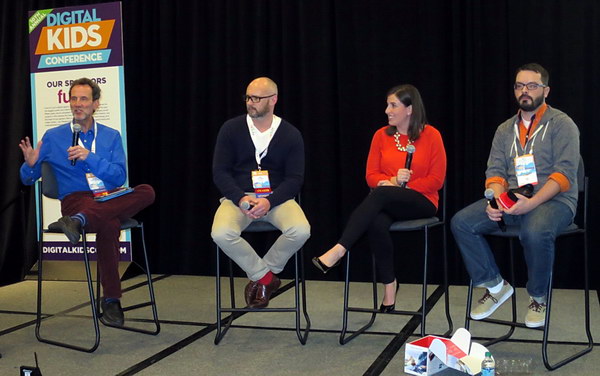 David Kleeman, Nic Mitham, Jennifer Holland and Bert Reuler (left-to-right) at the VR session of the Digital Kids conference
Jennifer Holland from Google made one of the most outrageous statements I've ever heard about VR: "It's a social experience, not just a visual experience." She urged schools to adopt VR as an educational tool.
Since I've found there is nothing more isolating than a VR headset, I don't see how this can be true. She had to leave for the airport immediately following the session so I didn't have a chance to ask her about it. Nor did I get a chance to ask her about the mechanics of a school using VR, which would seem to me to be even more difficult for a school to manage than the 3D glasses needed to incorporate 3D in the curriculum.
Since I didn't have a chance to talk to Holland, I asked Kleeman how a school could provide VR for its students, given the history of problems with 3D in the curriculum. He said it was simple, just supply the kids with Google cardboard headsets, which are $10 for one unit at retail but much less for a large volume purchase. He said this is all you need because every student in every school already has a smartphone, useable for VR with Google Cardboard.
This idea has several fundamental problems. First, it's simply not true: not all students have smartphones. Even if one kid in a class doesn't have one, the school can't ignore that student. Second, in a class of 20, the teacher would need to install the VR app on 20 different smartphones, or trust 20 kids to do it. To make sure the kids didn't watch something other than the target VR content, Kleeman said all the smartphones could be managed remotely from the teacher's tablet. This involves a second app on each smartphone, one that controls what the smartphone can be used for.
Not only would having the teacher install these apps be disruptive, but not all (or perhaps not any?) kids or their parents would allow the school to install this type of control app on a personal phone. And this would need to be done every time the teacher wanted to use VR since in a class of 20, at least one student would have a different smartphone with him the next time he came to a class using VR. There is the final problem that some school systems flatly prohibit bringing cell phones to school and others require them to be locked in the student's lockers during class. Schools have found student cell phones very disruptive, never mind VR.
Realistically, educational use of VR would require the school to own and control the VR headsets, much like they owned and controlled the 3D glasses. Since VR headsets are significantly more expensive than 3D glasses, a school would need more than the assurances of the project manager from Google Classroom and Expeditions that VR enhances education, compared to using the same time and money for more conventional teaching methods.
In short, early and primitive VR is here for kids as toys, even if it is so far been mis-applied and over-hyped. Perhaps the most engaging VR app I saw at the toy fair was, you might have guessed, a first-person shooter VR game involving alien UFOs and targeted at the under 8 set. –Matthew Brennesholtz