Vizio has announced its 2017 SmartCast P-Series and M-Series UltraHD HDR Pro Displays which have full array local dimming and support Dolby Vision and HDR10. The P-Series starts at $1,299 for a 55″ size, but goes up to 65″ at $1999.99 and 75″ at $3,499, while the M-Series starts at 50″ ($799), with 55″ ($999), 65″ ($1,499), 70″ ($1,999) and 75″ ($2,499) options.
For the P Series, the company claims 'effective' refresh rate of 240Hz (presumably with some backlight blinking or black frame insertion – Man. Ed.) while the M-Series supports an 'effective' rate of 120Hz.
The backlighting system in the P-Series, Xtreme Black Engine Pro, uses up to 128 zones, while the M-Series has a Xtreme Black Engine Plus version that has 32 zones.
The sets have a number of smart features including apps Crackle, iHeartRadio, Vudu and Xumo. The sets also support Chromecast for use with apps including Netflix. By simply launching a Chromecast-enabled app, users can tap the Cast button and their display will turn on automatically and start streaming the selected entertainment, the company said.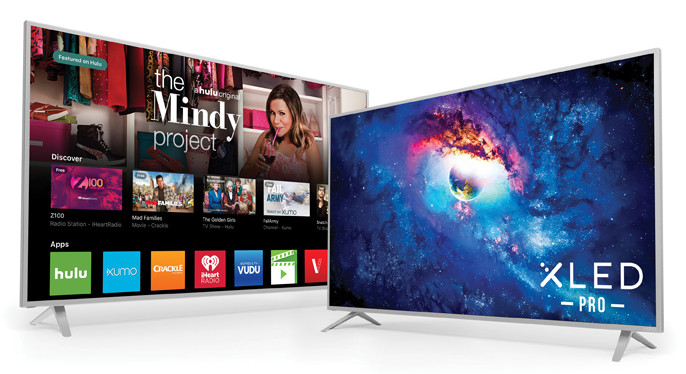 Vizio's P Series has been updated