This week the AWE 2015 conference in Santa Clara was the playground for all things AR/VR, wearable and IoT. The conference and exhibition is growing, drawing more and more attendance and mirroring the general interest in the industry. However, this year was something special, as it offered the possibility to attend via telepresence, courtesy of Beam from Suitable Technologies. The company offered press members the use of its 'robots' for exploring the events at AWE 2015.
The Beam allows the user to drive around on his own (think remote control car with attached tablet) and interact with people in the convention center via video conferencing. An experience not to be missed, you will make a lot of friends very quickly, especially if you move towards them and start talking. After a while, most visitors had seen a Beam already and you become more of a member of the crowd.
The interface has three main windows, one to see how you appear on the robots display, the upper one that shows you what is in front of you, and the lower one that shows was is directly beneath you. The lower one also has symbols to show where the robot is moving to. As you can see, I was not the only one.
There are also some shortcomings. For example, there is no physical interaction possible, so pressing a button is out of the question. The other one is you need a decent surface – I got stuck in the main hall on a taped down power cord. Then there is the requirement for a very good Wi-Fi connection. In the beginning, I had difficulties with the connection and consequently the audio was more of an "in and out" deal that made a normal conversation impossible. Thankfully the afternoon worked much better.
The AWE conference and exhibition allowed many players to show their products and solutions. Here is a short summary of the offering and announcements.
HP
HP announced an update to its aurasmo studio and aurasmo platform, which is available as a SDK or an app. The company also said that it has 100,000 customers (not viewers) and about 1,000,000 views per month.
Scope AR
Scope AR announced AR solutions for professional applications, especially the support of two way streaming video that allows for remote maintenance and repair solutions. It supports all types of displays including smartphones, tablets or AR glasses.
ARA
ARA showed the ARC 4, a software solution for military applications addressing training as well as combat use.
LusoVu
The company presented a head mounted display based on a transparent OLED display with holographic lens structure to create a virtual image. It is still in the development stage with a first prototype available.
VA-ST
These SmartSpecs are developed for the visually impaired to boost the remaining functional vision of legally blind people. The prototype uses real-time computer vision enhancement to create a brighter image of the surroundings. The company has a first prototype and expects to start selling devices in 2016.
Vuzix
Vuzix showed its existing M100 glasses and expects to release its waveguide-based glasses at the beginning of 2016.
Octagon
This company is an app developer that focuses on educational AR applications. It showed a display agnostic solution that uses cue cards as markers for playing back content like animals, etc.
Atheer Labs
Atheer Labs showed its warrior kit, a development kit consisting of stereoscopic glasses and software developer kit. The glasses have two 720p imagers with a field of view of 40°. They are aimed at industrial and medical applications. The price depends on the size of the application and will run into the thousands of dollars.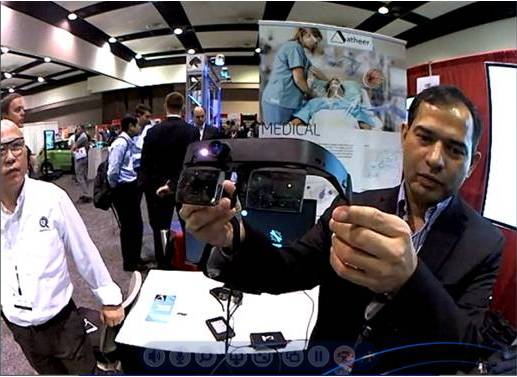 Meta
Meta's AR glasses and developer kit are available for $667 and are aimed at applications for remote maintenance, warehouse picking, and in the medical field.
1066 Labs
1066 Labs offers a headset with a field of vision of 43° and two 720p imagers. It uses a microprojector solution with waveguide that is supplied from a component maker. The company is aiming at professional applications and can supply up to 500 headsets this year. That level will reach several thousands next year.
Lumus
Lumus develops and makes headsets, like the DK40 monocular and the DK32 binocular designs. The company is reaching a field of vision of 40° and is working on extending this to higher values. Lumus sells its optical solution to other glass makers.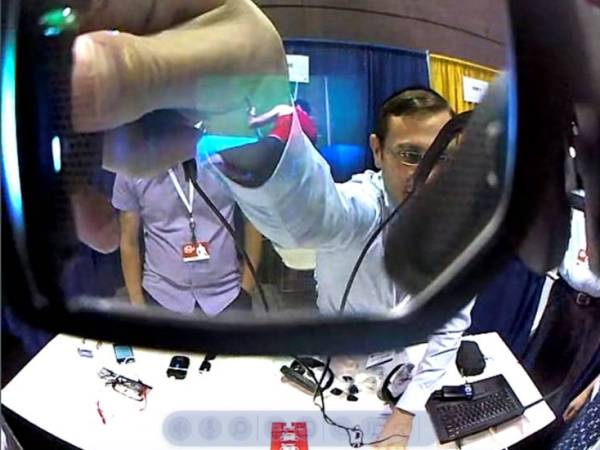 Optinvent
Optinvent announced the Ora-X headmounted display for 2016 and breaks what Optinvent calls the smartglass paradigm. It is more like stereo headphones with an attached monocular HMD.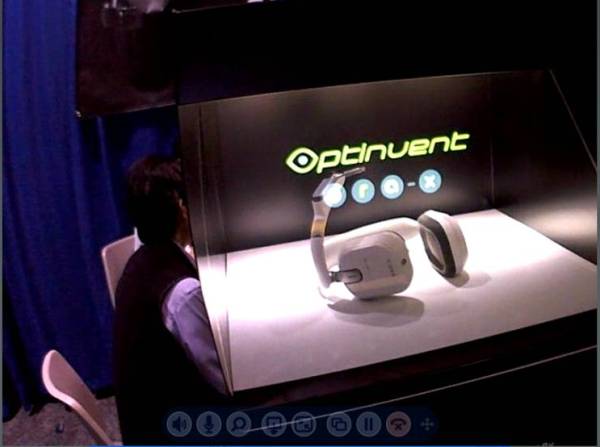 Seabright
Seabright is offering a different type of headset that uses a smartphone display as the imager. Unlike the Samsung Gear version, the headset is an augmented reality headset that uses the smartphone display as a projection device, extending straight out and projecting on a transparent see through lens, creating a 45° field of vision. The company can accept 4.7″ to 6″ smartphones and have several prototypes available today. It expects to ship the headset (without smartphone) for around $200 in the first quarter of 2016 including the AR handheld controller.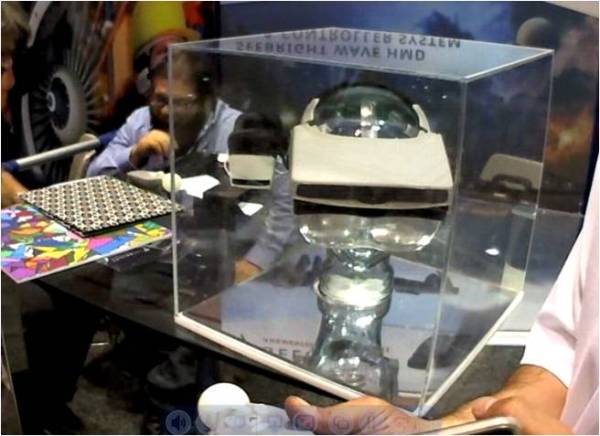 Epson
Epson showed several applications based on its Moverio glasses, which address the professional markets as well as games.
ODG
ODG announced its new R7 headset which it describes as a tablet in the form of a head mounted display. It comes with a quadcore processor for standalone functionality, boasts two 720p imagers and a transmissivity of 84%. The R7 is aimed at the professional market and will be available in Q3 of 2015 for $2,750. The company is also planning on releasing a consumer version in 2016 at a sub $1,000 price point. – NH