Vestel Visual Solutions has launched its next-generation IFX Series of 4K interactive displays, designed to offer a new level of engagement from classroom to boardroom. Available in three sizes, the 65", 75" and 86" touch enabled UHD displays meet the needs of businesses across a number of sectors.
"Offering a tailored technology solution for both the classroom and the boardroom, the Android 9.0-powered IFX displays inspire and support creativity in all forms, from design and conception to dynamic problem-solving", said Karen Langford, Head of B2B, Vestel. "With a wide variety of applications and engagement options, along with industry-leading audio-visual performance, the range focuses users' attention and enhances productivity, whatever the context."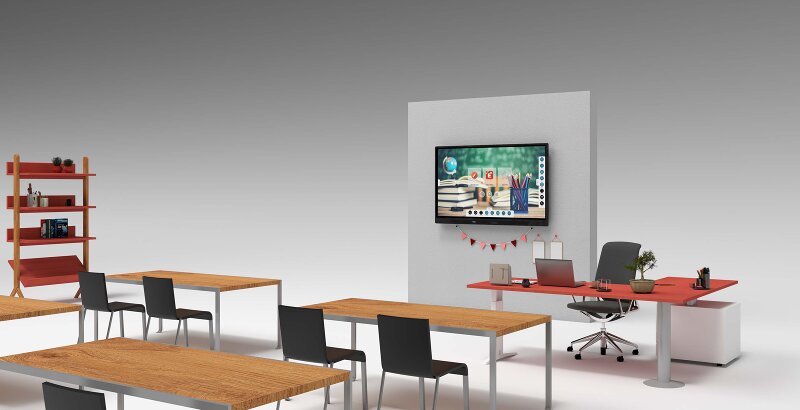 86"/75"/65" Vestel IFX Series
Ideal for any environment, regardless of lighting conditions, the anti-glare, higher brightness displays offer enhanced levels of engagement via a super-immersive big screen viewing experience. Supporting UHD HDR content within an ultra-slim bezel design, everything on-screen is seen in exceptional colour and definition. Two powerful 20W front-firing speakers maximise engagement, clarifying the on-screen dialogue and delivering all-encompassing audio. Dolby Audio Processing enhances this experience further with richer, clearer and more powerful sound.
Boost Collaboration, Creativity and Productivity
The displays' 20-point IR touch technology facilitates collaboration, giving multiple users the opportunity to work on the screen simultaneously.
The Quick Palette feature can be launched for fast access to the pen and highlighter, as well as the screen capture and screen crop tools. The displays, with their super-smooth finish, also ensure an ultra-responsive pen-to-whiteboard writing experience.
Whiteboard application
The Whiteboard application offers the ultimate big-screen blank canvas on which you can write, draw, highlight and design, using the pen and touch tools. To facilitate interaction, the high-precision magnetic pen provides the option of auto-recognition for two colours, as well as two pen tip sizes on the same pen. The shape and handwriting-to-text recognition features work to give users the confidence that all the content they create will be clear and professional-looking.
Educators and team leaders can make their lessons and strategy sessions more dynamic by pulling up additional content from the displays' built-in Chromium web browser to help illustrate their points.
Screen share
With the Eshare app, users can wirelessly share content to and from all connected Android compatible devices. In addition to this app, there is also the option of using QR codes, which allow guests to connect wirelessly to the displays from any connected device.
Tailored classroom and boardroom experience
Powered by the Android 9.0 OS, the displays are designed to deliver a vast range of applications, so that they can support different teaching styles, student needs and business goals.
Connectivity
The new IFX Series brings you a range of easy-to-access connectivity options, including multiple HDMI inputs, a USB Type-C port and an OPS slot. Meanwhile the optional cloud-based Vestel Board Management system enables IT departments to securely set up teacher profiles with individual logins.
All three displays come with toughened, scratch-resistant tempered glass, as well as an Eye-care display mode to reduce the risk of eye strain.
About Vestel
Comprised of 28 companies, Vestel Group is a multi-industry manufacturer that operates in consumer electronics, home appliances, professional displays, LED lighting, and EV Chargers. Testimony to the global importance of Zorlu Holding across multiple technology sectors, Vestel is not only thriving at home in Turkey, but also through a further 10 subsidiaries that have been set up in various other parts of the world. Thanks to its renowned manufacturing and R&D complex, Vestel exports to 157 countries and keeps its position as a global player.