It seems as though every quarter a new company emerges with a codec that offers advancement that the industry 'must adopt'. Some get adopted but many do not. V-Nova and their Perseus video codec burst upon the scene at last year's NAB and has gained more traction than most – as we will report below. But there are skeptics, among them is Ericsson.
According to Ericsson's Matthew Goldman, they have tried to evaluate the codec at the behest of their customers. "We have not been given enough information by V-Nova to do a double blind test where the encoders are not the same people doing the evaluation," said Goldman. "That doesn't mean the codec does not have merit – it just means we have not been able to evaluate it sufficiently enough to judge its value."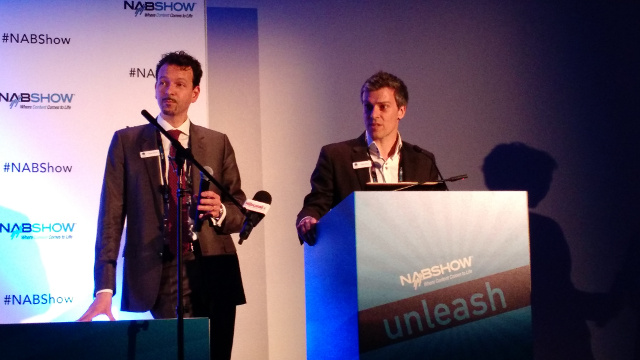 Meanwhile, V-Nova released a flurry of news at NAB. By way of background, there are two "flavors" of Perseus. One is called Pure Perseus and the other Hybrid Perseus. The Hybrid version sits on top of conventional distribution encoders like H.264 or H.265. It is not a pre-processor but an "enhancer" that improves the efficiency of the encoding. The Pure flavor, apparently renamed Perseus SDK, is for contribution signals and is an intra-frame approach (like JPEG2000) and does not have a GOP structure (look forward and backward in the video stream) to offer high compression ratios.
Independent Firm Evaluates Perseus
While Ericsson noted their inability to evaluate the V-Nova codec, informitv was able to perform an evaluation and publish the results at NAB 2016. The company "provides independent research, expert analysis and confidential consultancy on the transformation of television and video services through new and emerging media technologies."
According to V-Nova, informitv developed the evaluation methodology and carried out the evaluation independently combining qualitative and quantitative examinations of sample material encoded using V-Nova Perseus Pure. All the HD and 4K UHD tests were performed live on P.Link 4K, V-Nova's contribution encoder and decoder solution already used for live coverage of the El Clasico football match and selected by Eutelsat for coverage of the European football championships in 4K UHD.
Note that it appears that V-Nova did the encodes – exactly the issue that Ericsson is complaining about.
The results demonstrate that V-Nova Perseus compression is visually lossless for video contribution at compelling operating points:
1080i25 at 75 Mbps
1080p50 at 150 Mbps

2160p50 at 200 Mbps
The 2160p50 rate is an improvement from previous tests that suggested a 300 Mbps rate was needed for visually lossless compression.
The evaluations also show that High Dynamic Range images encoded with V-Nova Perseus deliver higher fidelity output without any compression overhead. This was apparently a test of the HLG method for HDR creation with input content in a 16-bit 444 format and output in a 10-bit HLG format. Validation of visual losslessness was done with PSNR testing as well as visual inspection of the content. V-Nova told us that it has not yet tested HDR10 content yet.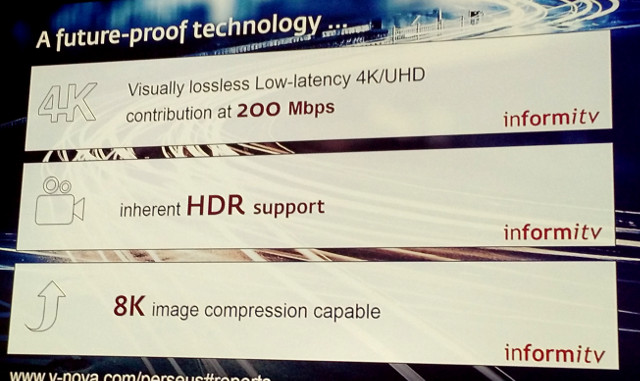 Furthermore, 8K UHD-2 format images of 7680×4320 pixels at 48 bits per pixel were visually lossless at 40:1 compression, which is equivalent to the data rate of uncompressed high-definition video. This was done using high quality still images from a Canon camera, not video. This is OK, however, as Perseus Pure is an intraframe approach. Input content had 15 f-stops of dynamic range.
Perseus thus allows contribution delivery of UHD content at HD bitrates, HD at SD bitrates, and SD video at sub-audio bitrates.
Sky in Italy Adopts Perseus
V-Nova also used NAB to announce a new customer – Sky in Italy, as we reported last week. By adopting Persues Hybrid, Sky in Italy is able to reduce their HD bitrate of IP service from 8 Mbps to 4 Mbps. The solution is deployed through software-only upgrade of Harmonic's ViBE VS7000 or NTT Data encoders and Sky in Italy's population of set-top boxes, manufactured by Arris (Pace), Wyplay and Broadcom.
The move will enable Sky in Italy to free up bandwidth, but perhaps more significantly, it enables a significant expansion in the reach of its full HD offering over the existing IP infrastructure. That means it can target a much larger demographic for its services be now allowing HD content to flow over ADSL connections.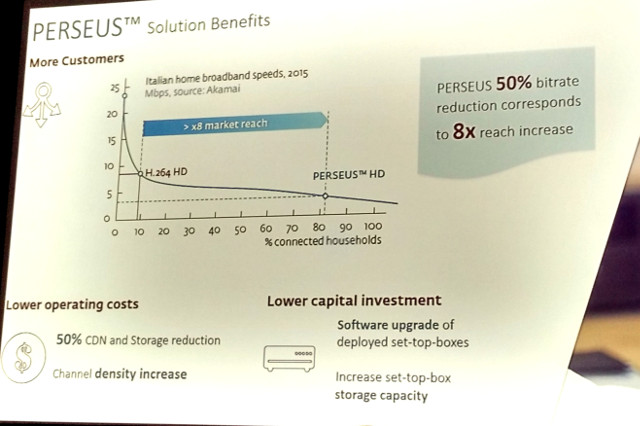 "Importantly, we were able to achieve this on an infrastructure that had been already deployed without changing the existing workflows," said Guido Meardi, V-Nova CEO & Co-Founder.
Previously, V-Nova has announced that an OTT aggregator in India, Fastfilmz, is using Perseus to send SD resolution content over 2G cellular networks at a really low 120 Kbps. Like Sky in Italy, being able to deliver video over 2G expands their market reach from 25% to 70% while lowering costs by 4X, said V-Nova in their press conference. – CC
Analyst Comment
This is the twentieth article that we have carried on V-Nova over the past year, since TV Connect, just before NAB in April 2015. The comments from Ericsson are interesting, but it's not the first time that we have heard that the firm is being very cautious about what information it is releasing as it is concerned for its ip. However, that is not the way to get the industry to gain confidence. There have been too many claims and counterclaims in the world of codecs for industry players to simply accept the word of suppliers. As Ronald Reagan said, the policy is usually to "trust but verify"! On the other hand, as we said last week, getting companies such as Sky Italia to roll out the technology is a very good endorsement. (BR)