The ISTE 2016 educational conference held in late June, with over 16,000 hailing from 76 countries in attendance, is the largest ed-tech conference held in the U.S. One of the pleasant surprises in the exhibit hall was the return of Unity to ISTE. Last year may have been their first year of exhibiting, if memory serves, but this year they doubled their booth space and the customer traffic increase was obvious.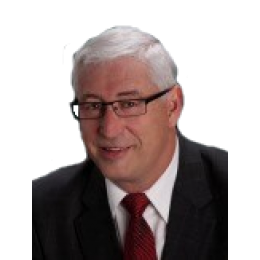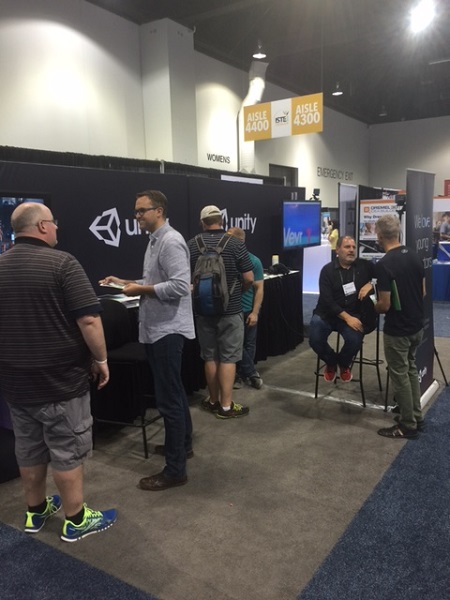 Unity at ISTE 2016 drew consistent crowds
Of course, Unity is the well-known and respected development platform for games, virtual worlds, virtual reality, and interactive simulations. Unity development has long been a staple in student clubs, high school and vocational school curricular offerings, professional/ professional technical institutes, and even university computer science and game design programs. So why the tremendous rise in educator interest over the last two years at a major ed-tech conference? Clearly, increased fascination with gamification, virtual reality, STEM, and student-created content helps explain this swelling of customer interest.
Another factor behind the surging interest of educators is that Unity occasioned the ISTE venue to announce some education-specific breaking news:
A refreshed mission. Unity explains that they are "dedicated to working with educational institutions worldwide to help foster innovative learning and exploration in variety of areas including game development and interactive experiences and content, including virtual reality."
A structural update. Unity has recently formed a dedicated Global Education unit. See their education specific site.
A certification for education program. This includes Unity-certified developer courseware, certification exams, and even certification events.
A training and certification partner program. Unity Technologies aims to give "academic institutions, training businesses, and resellers the opportunity to tap into the growing community of Unity developers seeking professional development and certification."
New academic pricing. Aimed at supporting game development programs, education software license bundles (i.e., educator pricing) are now available for purchase by academic institutions.
Free Resources for Educators. Unity has developed an Educator Toolkit aimed at helping educators to create, tailor, or shape a Unity teaching curriculum for their classrooms.
An educator grant program. Free Unity education software licenses to help K-12 instructors implement game development courses. See this site for more information.

On another note, I noticed that Unity is not shying away from the emerging virtual reality market either. I found them not only the most knowledgeable vendor on the floor in relationship to VR in education, their people were also extremely knowledgeable about the stubborn vision health issues that can plague VR implementations in education.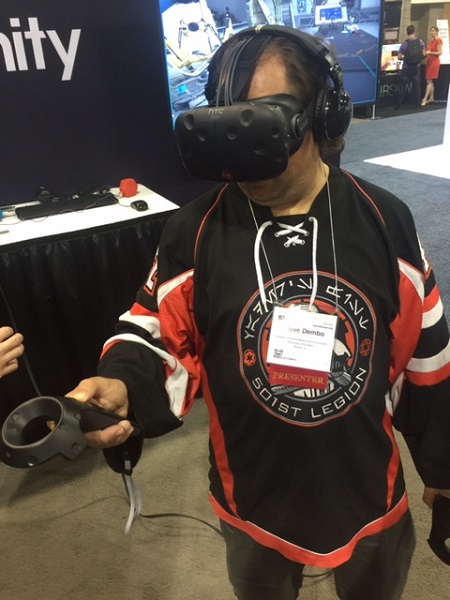 Unity goes all out with VR at ISTE 2016
It turns out that Unity is getting even more serious about the education market than I had supposed. Although still a small team, Unity appears to be on target with a seven-pronged strategy aimed at investing deeply in the education market. I predict success.
– Len Scrogan