Universal Display Corporation (UDC), known for PHOLED technology and materials, recently acknowledged top talent in the field of organic electronics and displays at IMID 2023 in Busan, Korea. Among the honored were Jeehoon Sim of the Korea Advanced Institute of Science & Technology (KAIST), as well as several colleagues from both KAIST and the Asan Medical Center in Korea. Their paper, titled "OLED for Healthcare: Management of Diabetes via Inner-Body Photobiomodulation," secured them the UDC Innovative Research Award in Organic Electronics & Display.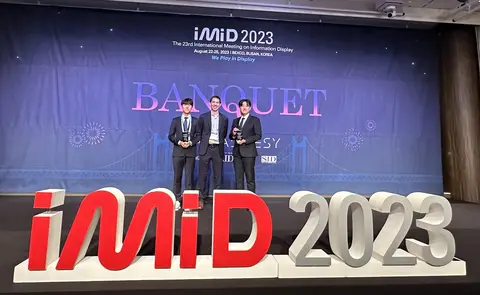 Additionally, Kiun Cheong from Sungkyunkwan University and his team were celebrated for their insightful paper on "Highly Stable and Efficient Deep Blue Phosphorescent Organic Light-Emitting Diodes Based on Tetradentate Pt(II) Complexes with Bulky Fused Cycloalkyl Unit." Their work won them the UDC Pioneering Technology Award in Organic Electronics & Display.
Steven V. Abramson, president and CEO of UDC, expressed the company's commitment to fostering the next wave of technological leaders. He lauded the partnership with IMID and KIDS (Korean Information Display Society) and emphasized the importance of supporting the Korean scientific community in their pursuit of knowledge. Abramson went on to commend the award recipients and all researchers for their relentless drive in the domain of organic electronics and displays. Their collective effort, he noted, is instrumental in ushering in advancements, furthering scientific exploration, and paving the way for a more technologically advanced future.