Hangar18 of Koprivnica, Croatia, has launched two LCD TVs under the Noa Vision brands with 32″ and 43″ sizes. Features highlighted include support for DVB-T2 signals and for DVR operation with external USB. The 32″ has just 1366 x 768 resolution which goes up to FullHD on the 43″ unit which also runs Android 6.0. The sets come with five year warranties. The firm is best known for its Noa smartphones.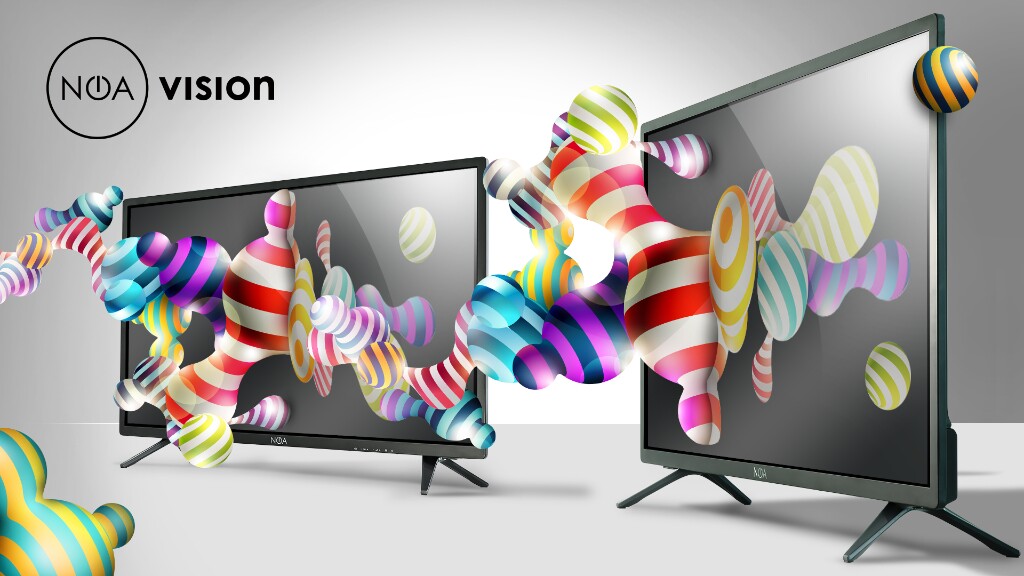 LG has announced two new UltraHD Blu-ray players for 2018. The UBK90 will replace the UB970 and will support Dolby Vision and HDR10. There is also a UBK80 that drops the support for Dolby Vision and has only one HDMI, compared to the two on the UBK90. The units support Dolby Atomos and DTS:X for advanced audio. They will sell for €249 and €219 in Europe.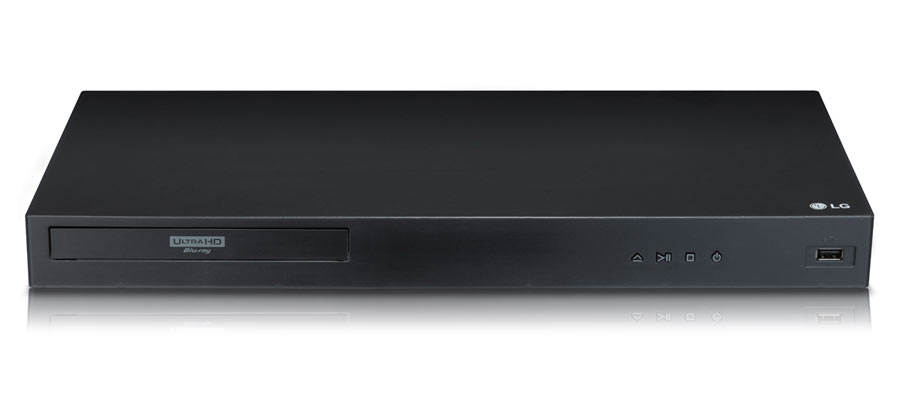 The LG UBK90 supports Dolby Vision and looks like a Blu-ray player!
Loewe has said that it will make the high end Bild X (the previous highest was the Bild 9) that is based on an OLED panel (the company is all OLED at 55″ and above) and has the panel suspended in a stainless steel frame, using magnets by the end of 2018. It can be floor or wall-mounted although it needs extra support on the floor. (Loewe Moves to OLED at 55″ and Above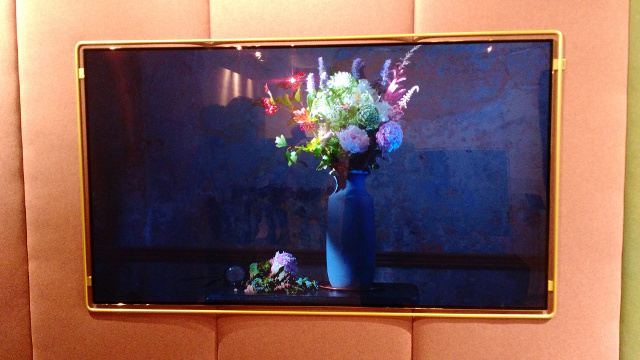 Loewe showed the Bild X Concept at IFA.
Optoma has officially released in Europe the UHD50 projector that it showed us at CES (Projection Round up from CES 2018), although it is being identified as the UHD51. The unit has UltraHD resolution, 2,400 Ansi lumens and has a reference mode that supports 100% of Rec. 709 colour. The product will sell at £1,499.99 in the UK ($1,750 + tax).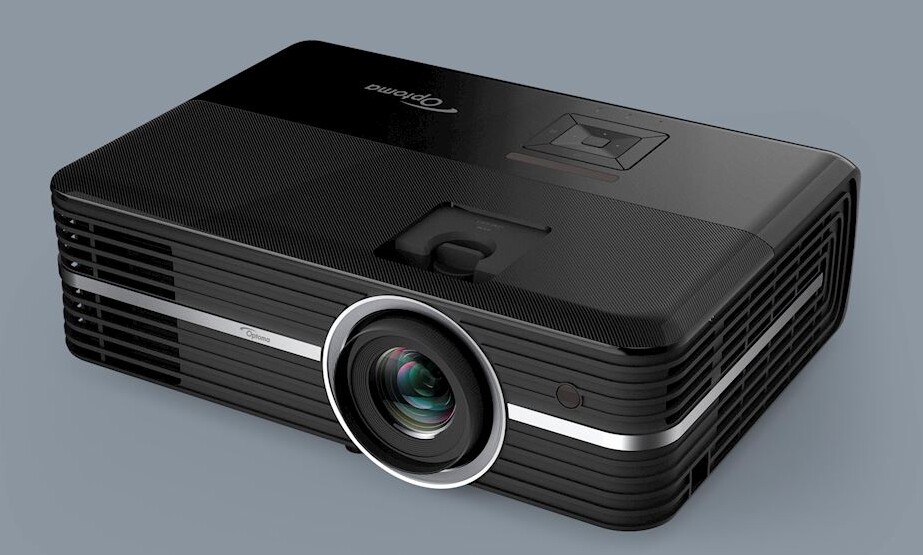 Panasonic has released pricing for its 2018 OLED TVs in the UK. The FZ802 55″ is £2,299 ($2680 + tax) and the FZ952 55″ is £2,499 ($1785). The FZ802 65″ will be £3,499 ($4,080), while the 65″ FZ952 is £3,999 ($4,665). Pricing is reduced on the launch prices for 2017 sets. The FZ952 has better audio. (Panasonic Keeps OLED for Studios in the US)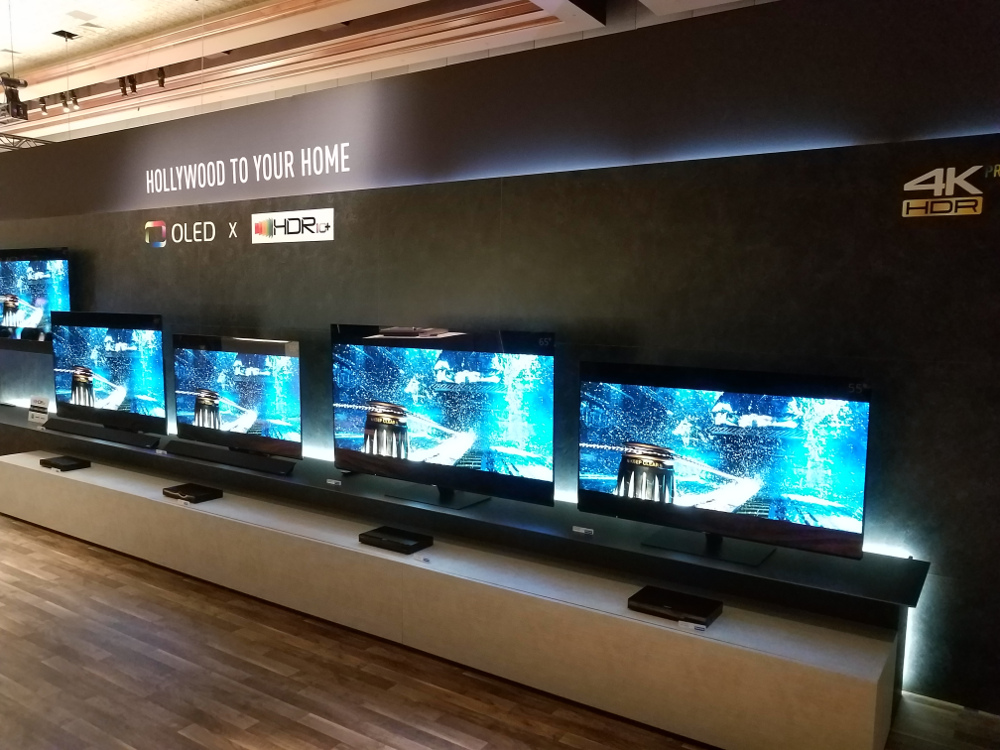 Samsung has slipped out information on its Tizen-based Smart Signage range with two new models in 65″ and 75″ sizes and supporting UltraHD resolution. They were released officially at ISE, but the noise about LED drowned out the message, it seems! The display have brightness of 300 cd/m², contrast of 4,000:1 and are 38 thick (65″) and 66mm thick (75″). The monitors support 16/7 operation and can be used in landscape or portrait mode.
There is also an infrared touch version of each, the QBH-TR which integrates MagicIWB S5 software that can support a Magic Pen. 4 touches are recognised with the integrated SoC, 10 with an external PC. The price is €2,334 for the 65″ and €4,116 for th 75″, while the touch models cost €3,510 and €5,610, respectively. They are available now.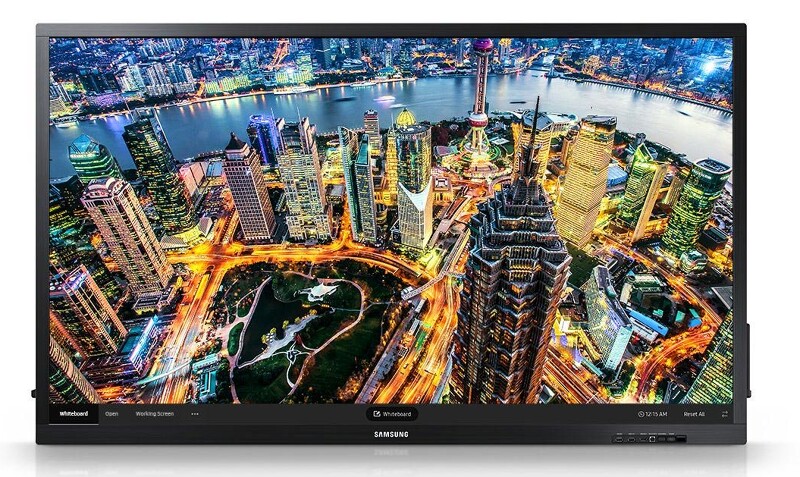 Samsung's QBH-TR can support touch with the SoC.
VNS Inc of Taipei, Taiwan has new four and eight channel video wall "GeoBox" controllers that support UltraHD/DCi 4K at 60fps on all inputs and support HDR, 10 bit processing and 4:4:4 sub-sampling. Features include bezel correction, matrix switch function, ulti-windows Display, multi-unit cascade, individual flip / rotation / scaling / cropping and colour adjustment. Configuration can be done on the display using an OSD and a PC is not essential. There are three models:
G406 – 4 inputs (2 x HDMI 2,0, 2 x DP1.2), 4 outputs and dual HDMI loopthrough
G406Lite – 1 input, 4 outputs
G408 – 2 HDMI inputs and 8 outputs with loopthrough. Can act as 1 x 8 or 2 x 4 controller and can be doubled up to support 8K.
The units will be shown next month at Infocomm China