I had a couple of days to look around at TVs during the recent IFA Show in Berlin. It's not really the place for new sets as brands are focussed on trying to get sales for the holiday season. CES is really the place for new sets. Still, there were some things to see!

Samsung had by far the biggest presence of the major TV brands at IFA and was mainly promoting its Neo QLED and microLED TVs. The company occupies the whole of the 'CityCube' and, cynic that I am, I wondered how long their contract with IFA is for that location!
There were a couple of QD-OLED TVs, but with slightly strange branding – one sign said 'OLED', while another said 'QD'. The company was showing some of the 8K content from the Lord of the Rings prequel from Amazon. For more on this topic see (The Best Quality TVs at a Great Price – Surely They Should Sell Well?)
The 4K microLED sets were heavily featured and staff told us that the 89″ and 100″ sets should be available in the 'next few weeks', although they were keen to emphasise that this just applied to Germany – which might suggest a limited supply volume at the moment. The sets looked bright and impressive although the content seemed to have been chosen to minimise the chance of making a good evaluation of the display quality. Pricing of the sets is likely to be ">€100K".
LG Electronics had its normal hall and was highlighting the 97″ OLED which has now been announced as a final set with a price and with sales starting later this month in Korea. The company, like Samsung, was highlighting different 'lifestyle' versions of its sets including one that had a motorised cover to hide most of the display, allowing just a small area to be visible for data and messaging. It also had a 'Posé' 55″ OLED set from its Objet collection.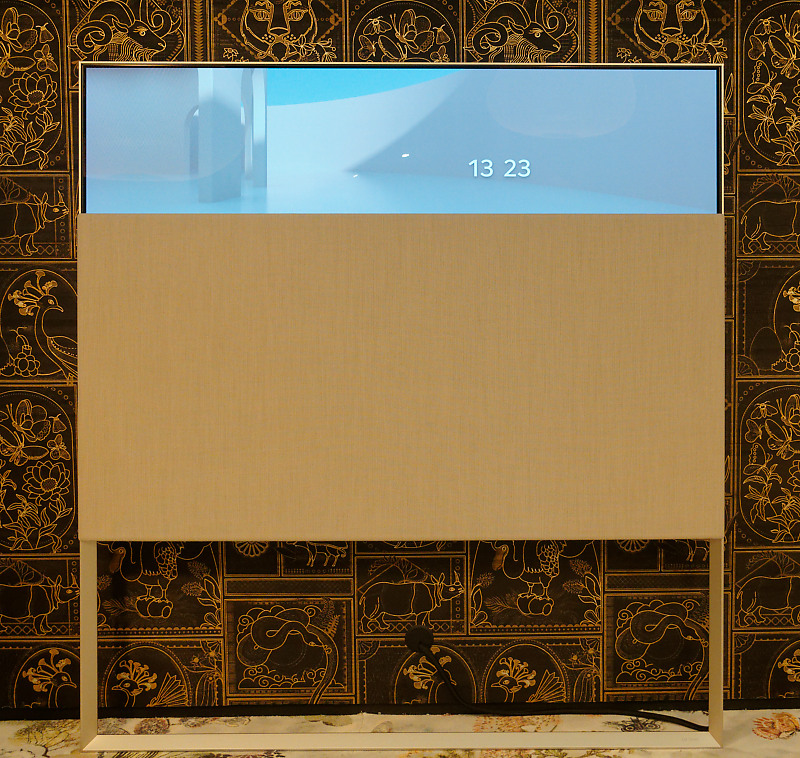 This LG TV has a motorised cover that can be used to cover 'the black hole on the wall', but keep part of the display visible for information purposes. Image:Meko
LG was promoting its QNED8K miniLED LCD TVs as well as its OLEDs where it has a dominant market share. A highlight was the 88″ Signature 8K OLED TV. It also had a microLED based on a 0.78mm pitch with a plan to move to 0.7mm. It's not in the mainstream, though, with a set costing €280,000 at the moment!
Described as a TV, but really seen by the rest of the world as a monitor, the curvable OLED display that is also being sold by Corsair, was on display.
TCL had a big area at the show, although after comments I heard, that might be a bit smaller next year. The company was promoting its 8K and miniLED LCD TVs, with an emphasis on the biggest sizes. We had an interesting chat with the product management team and heard that the firm is a proponent of higher frame rates for 8K really to give a great experience.

This view of the TCL booth shows how IFA was not as busy as in previous years. Image:Meko
One of the companies that I met at IFA was Bomare which is unusual, being a TV manufacture based in Algiers that was founded in 2001. Bomare has SmartTV technology that is based on LG's WebOS and the firm has a good relatonship with LG Electronics which extends to getting panels from LG Displays. Algiers enjoys the same advantage as Turkey in not being subject to the normal 14% duty when TVs are imported to the EU.
The company supplies under its own 'Stream' brand and also supplies OEMs. The Stream brand is sold into the Mediterranean countries (Italy, Spain, Portugal etc). A development this year is that the firm has established a service and support branch in Germany and has just started to distribute its products. It is offering a five year warranty as standard for its entry into the German market.
One of the missing brands from IFA was Philips, although TPVision, the licensee of the brand for TVs in Europe did have a small booth to talk to business partners in a reseller hall.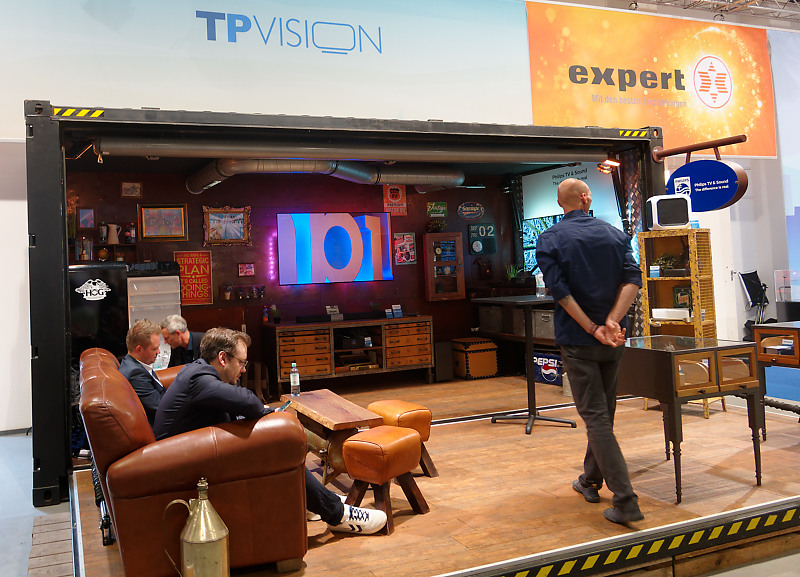 TPVision was just talking to resellers about Philips TVs. Image:Meko
Of course, the other missing brand in terms of showing products was Sony which was also just talking to resellers.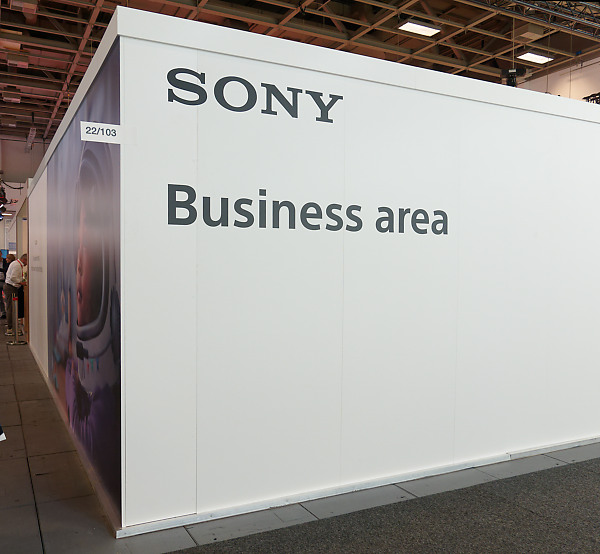 Sony took a leaf out of the 'Fortress Medion' book at IFA. Image:Meko
Metz is a well establish brand in Germany but, like many of the German brands, it did not survive the change to flat panels and digital technology and the firm was acquired by Skyworth. It has continued its business using its 'classic' Metz brand to continue to supply the small independent retailers that continue to be a significant channel in Germany. It also has a separate brand 'Metz Blue' that it uses outside Germany and a third brand (CooCaa) that is used for sets sold through mass market channels (you can see sets listed by Saturn.de).
Metz specialises, in its 'Classic' brand in OLED TVs and has developed its own long term consistent user interface that has gradually evolved, which keeps the loyalty of the older demographic that tends to buy through small local retailers. The firm told us that every set is also calibrated for optimum performance. At the show there was a big 8K OLED from Skyworth with the Metz Blue logo, but we were unable to get much more information about a possible launch date.

Panasonic had moved down to occupy one of the halls in the south of the Messe and was promoting the TVs that it sells in Europe. There were no new announcements at the show, but there was an interesting set that was being described as 'wireless'. It may have been wireless from the signal point of view, but was clearly connected to mains power at the rear!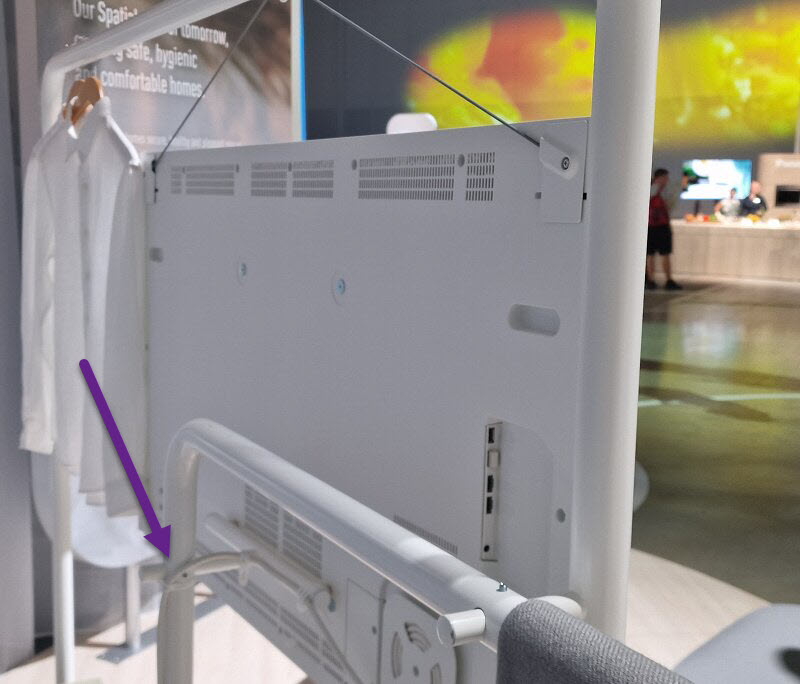 The Panasonic 'Wireless' TV concept seemed to have carefully concealed power cable! Image:Meko
Grundig, another older German brand, now owned by Beko, was showing new 55″ and 65″ OLED TVs that are based on the Amazon OS, whereas previously the firm has had sets based on the Amazon Fire OS. Beko has a big appliance business and TVs represented only a small part of the firm's presence at the show.
Vestel was at the show with its own brand, which is important in Turkey where the firm has its own established retail channel and with its Toshiba licensed brand (in a separate part of the booth). It had a 65″ 8K set that uses miniLED and QDEF film to give improved performance. As we reported separately (Xperi and Vestel on a Roll at IFA), the firm has a deal with Xperi for the firm's Tivo TVOS and was particularly keen that it can support less popular global languages. As well as Linux and Android-based sets, Vestel has provided sets with the FireOS but it doesn't have voice support for Turkish.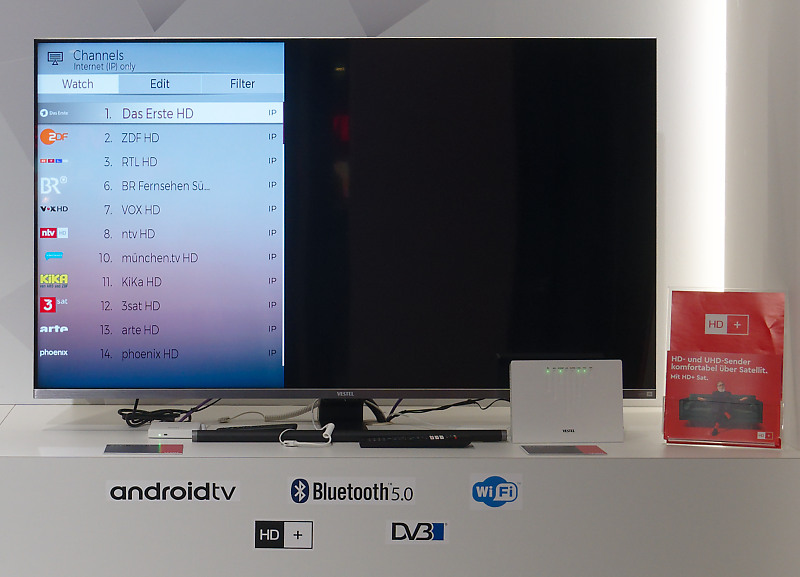 On the Toshiba booth was an 8K prototype, (the Toshiba brand is licensed by Vestel in Europe for TV use) but at the moment there is no commitment to go into production as Vestel is concerned about the EU energy regulations, which could have a significant impact on European demand (New 8K TVs Illegal from 2023 in the EU?). Vestel was also showing a prototype UST projector that it is considering making both for OEMs and under its own brand.
Finally, I couldn't resist this picture of the first CRT I have seen at IFA for a very long time! It was being shown by Thomson, who were highlighting their decades of experience. (BR)