Sigmaintell sent us its latest view of the global TV market and said that after being 3.4% down in 2017 at 230 million sets, the market is still weak after the Indian government raised duty again and there were weak sales around the Chinese New Year holiday. The firm said that Chinese sales over the five week period were down 13.8% on last year. The company said that it does expect some recovery in China and overall, it should see growth in the global market of 1.8% in 2018 to 234.2 million sets, with as much as 3.2% growth in Q1.
Despite the weak holiday sales, the analyst said that the Chinese market should grow overall 1.7% in Q1 and Europe should be up y 3.4%, while APAC (excluding China) should see 4% each quarter. South America is 2.9% up.
Sigmaintell forecasts growth by region. Image:Meko
Turning to Chinese brands, Sigmaintell said that TV makers have recovered their margins in 2017 and so they are happy to grow again in 2018 with more movement to larger sizes. The brands will look for overseas growth in 2018 and the sales of private brands will increase. Sharp will continue to grow its Infocus and Flying Eagle brands in China and the US. They are looking to grow sales of 65″ sets which have dropped to new low prices (CNY5,000/$795) and that suggests an increase from 4.1% in 2017 to 5.5% in 2018. The company estimates that sizes will grow on average by 1.6″ to 45.2″.
Sigmaintell forecast by brand/region. Image:Meko
The company expects Samsung Electronics to work very closely and cooperatively with Samsung Display to try to drive sales and the share of SDC panels may rise to 39% from 32%. Sharp will also accelerate its collaboration with Innolux as vertical integration strengths become more important. BOE is expeccted to do more with LGE, Sony, Hisense and Skyworth, among others, as its capacity increases. Samsung Displays strength in high end large panels may mean more purchases by TCL, Hisense and Miui to develop their higher end products.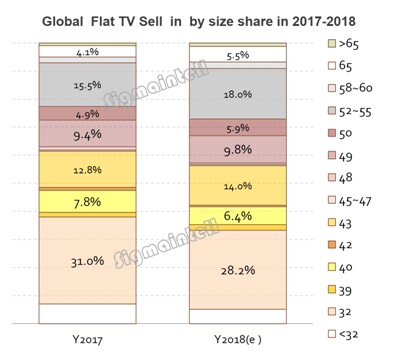 Sigamintell forecast growth in 65″
In OLED, Sigmaintell expects volume to increase by 650K units to 2.3 million and that in LCD, UltraHD will grow to 43.7%, up 8.3%.
For all of these forecasts, there are significant risks because of Chinese and global macroeconomic and political factors. The analyst sees success coming from carefully tailored strategic plans for each segment, rather than a blind grab for market share.