According to DSCC, the first quarter of 2023 has brought some much-needed relief to the TV manufacturing industry, as top brands Samsung and LG reported profits despite a persistently sluggish market. This positive turnaround can be attributed to lower costs for LCD TV panels, which played a crucial role in helping the companies bounce back after a challenging Q4'22.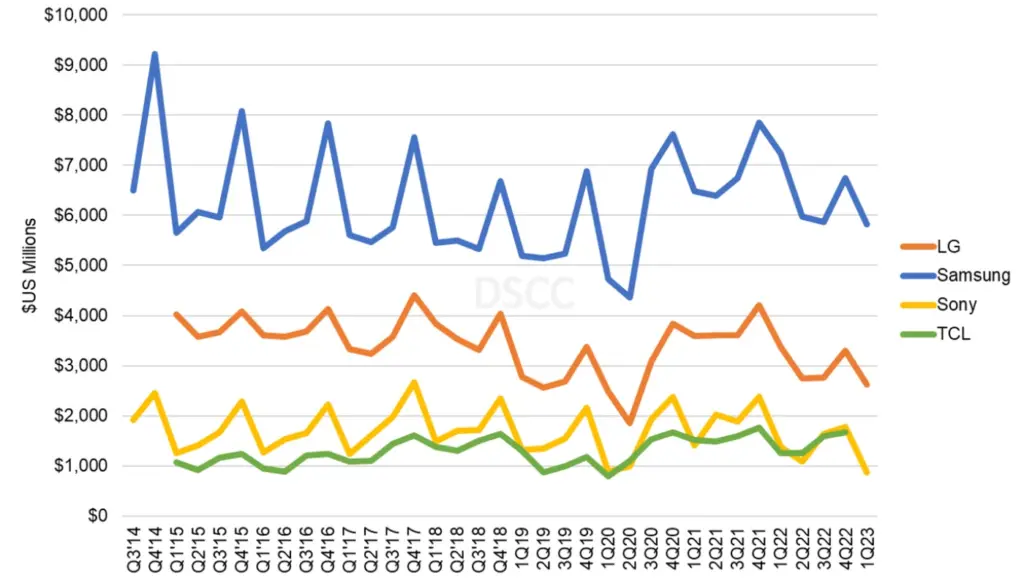 However, not all manufacturers have had the same fortune; while Samsung and LG enjoyed profits in Q1'23, Sony reported a loss in its entertainment, technology & services (ET&S) business segment. According to company financial statements and DSCC Analysis, combined revenues of the top three brands have decreased by 22% YoY, settling at $9.3 billion. Although LCD TV panel prices have dropped by an average of 25% YoY in Q1'23, this has not translated into sustained profitability for TV manufacturers. The reduction in panel prices was negated by decreased revenues, as TV inflation in the US dropped by 14.4%.
Looking forward, the industry's outlook remains cautious. While LG anticipates a sluggish market due to global economic slowdown and potential panel price increases, Samsung expects a normal seasonal recovery in the second half of the year. Sony plans to sell fewer units in fiscal 2023 but hopes for improved operating income through reduced logistics and other costs.
Despite the industry-wide struggles, TCL, the #4 global brand, has seen a 14% YoY increase in TV shipments during Q1'23. This growth, primarily driven by the Chinese market, may propel TCL ahead of Sony in TV revenues for 2023. As the world moves into a post-pandemic phase, the demand for premium TVs in developed economies is waning. This trend, combined with fluctuating panel prices, means that TV manufacturers are likely to face a prolonged period of weaker profitability.