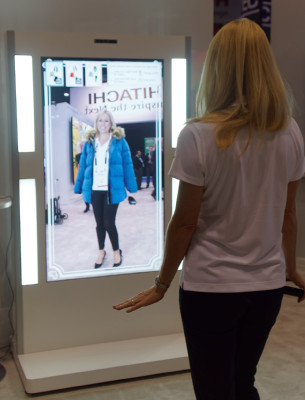 As it is in Europe, Toshiba is investing to move away from the TV and consumer business to try to establish itself in the B2B segment with professional displays. At Infocomm, the company was highlighting its addition of 16/7 displays as well as ultranarrow bezel monitors which are rounding out the product range. The company was emphasising that it is really interested in offering complete solutions – "from soup to nuts" was the phrase used, exploiting its IT capabilities in servers and PC architectures as well as its support network which is national and already handles printers, copiers etc.
The TD-E EasySeries models support 16/7 operation and have brightness from 400 cd/mm² to 450 cd/mm². There are sizes of 43″, 50″, 55″ and 65″ and the monitors can be used in portrait and landscape modes. There are features including failover, DVI In and Out, RS232, Ethernet and Infrared in. The E Series was announced at the end of 2014 and is shipping now.
There are touch versions of the TD-E series that will be fitted with Baanto ShadowSense technology (the second maker after NEC to adopt the technology, but not the last!).
The TD-P series will be available towards the end of the year and are the same 400 cd/mm² and 450 cd/mm² brightness range as the E Series, but are intended for 24/7 operation. Features additional to the E Series include anti-theft locks and ambient light sensors.
New at the show were UltraHD 85″ ($38,000) and 98″ ($70,000) monitors that are at the top of the range. They are rated as having brightness of 500 cd/mm² and for 24/7 operation. As well as DisplayPort 1.2 inputs, there are four HDMI inputs for simple "video wall" applications. Deliveries are expected to start in "late Fall".
Toshiba has shown a number of innovative uses of mirror and other special displays, from IFA last year and at CES. At Infocomm, emphasis was on a clothing application that is currently being trialled in a shopping mall. It is being run outside a store, to attract potential customers into the store.
Of course, like almost all the other display makers at Infocomm, the company was talking about direct LED displays. These were previously sold through the Toshiba Consumer Products Division, apparently, and will be available from 1.6mm to 6mm pixel pitch for indoor use and up to 20mm for outdoors.