Tianma had a meeting room to show its latest display products. The company does attend a number of the major trade shows (SID/Electronica/CES/MWC at least) to meet with clients.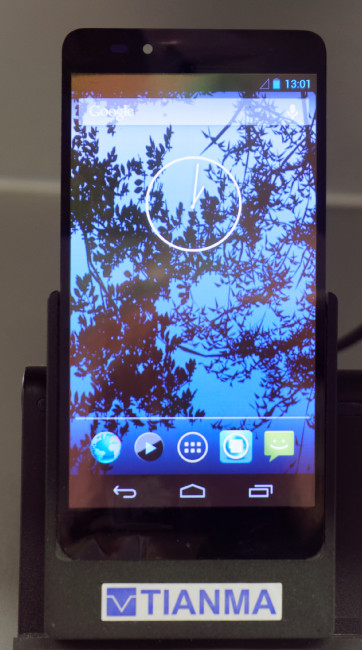 Tianma's flex oled with touch – due at the end of 2018. Image:Meko
First, we looked at sample flexible displays including a 5.46″ AMOLED unit, made on PET materials and with integrated touch, which is increasingly a request from customers. Resolution is 720 x 1280 (270ppi) and luminance is 350 cd/m². The display is very much a prototype at the moment, and Tianma would not expect to be able to supply in volume until the end of 2018.
We then looked at an OLED that would ship this year, which is a 390 x 390 resolution 33.82mm x 33.82mm x 0.743mm (325ppi) round OLED for smartwatches with 350 cd/m² and with 10,000:1 contrast.
The company also had a flexible AMOLED without touch, which had the same basic specification as the other 5.46mm unit and has 1.3mm borders and can be bent through a 20mm radius. The display was previously shown at Electronica.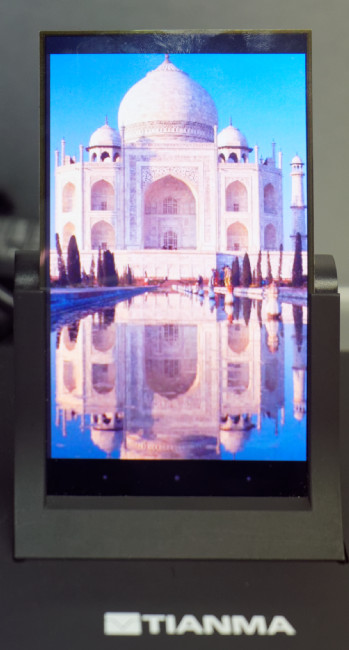 Tianma's flexible OLED with no touch. Image:Meko
Next we looked at a new 3.25″ LTPS LCD that has been developed for VR applications. It has a diagonal of 3.25″ and 1440 x 1440 resolution (627ppi) The module is 60.32 x 65.42 x 1.32mm thick. We thought that the image quality was very good, with a smooth image and pixels much less defined than most of the other VR displays that we have seen. Tianma told us that the black mask around the pixels is less visible on its LTPS display.
Turning to larger LTPS displays, there was a new 12.5″ panel with 2560 x 1440 resolution with 340 cd/m² and 1,000:1 contrast. The panel is intended for ultrabooks and notebooks and uses an EDP interface.
Another new touch panel is a 7.0″ 800 x 480 panel that has 1 finger touch with 1024 levels of force sensing at 100Hz but uses an a-si LCD panel with 300cd/m² and 500:1 contrast. The system appears to use the spreading of the finger to convert to force, although staff were nervous to reveal details. The display, which is 5.7mm thick, is under development and there is a plan to move to dual finger force sensing. Also in the a-si integrated touch area was a 10.1″ 10 touch panel with 1920×1200 and 400cd/m² and 880:1 contrast. Previously, the largest that Tianma could make in a-si with in cell touch, was 7″ or 8″.
Finally, we looked at 5.15″ (in-cell and force) and 5.5″ (in-cell) panels and the firm told us that it is now making more than two million per month in-cell touch displays.