Tianma had plenty new to show us, even though we have met up with the firm at CES and MWC already this year. Automotive is a strong area for the firm and the first display we looked at was a 12.3″ curved LCD. It also had a 14.1″ LCD for centre console applications with 2560 x 1440 resolution and using an eDP interface (which is becoming more common this year). Brightness is 600 cd/m² and contrast is 1,200:1. The curved display was shown in a configuration with a single 1.3″ circular display on each side.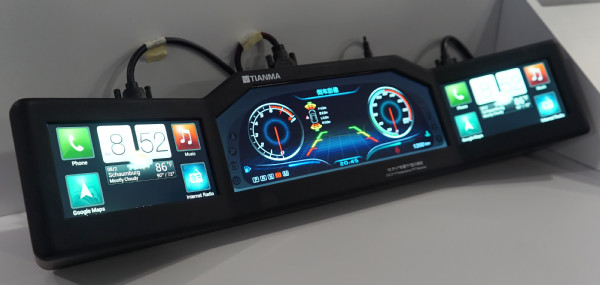 Tianma's 12″ auto display looked good
Next we looked at the 5.7″ FullHD OLED display that we have seen at CES and MWC, but which is now promised for early 2017 in mass production. A featyre of the design is the narrow border, which was at 1.2mm and is now 'less than' 1.0mm. Tianman intends to continue to push borders to even narrower designs, with a roadmap down to 0.6mm. Thickness is also a target and the company is at 0.7mm as demonstrated on a 5.5″ FullHD OLED, but is confident that it can get to 0.35mm if customers choose 'thinned' glass.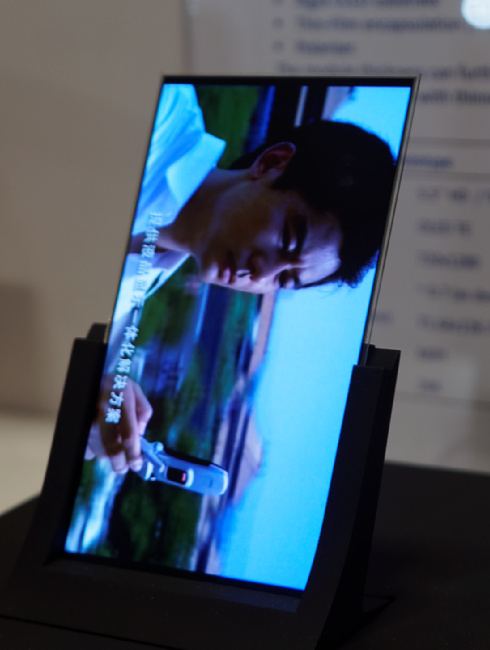 This Tianma OLED could be as thin as 0.35mm
Tianma is also developing a flexible OLED (in 1280 x 720 format) and that will be available with or without touch.
The company has been pushing the borders on its LCDs as well and had a demonstration of mobile panels with 0.15mm borders.
An interesting demonstration showed a 5.15″ FullHD panel that includes in-cell touch that can sense force with 255 levels and at 120Hz. The maximum force level is 1kgf and the module is 1.6mm thick. Staff told us that the force detection depends on sensing the change in thickness of the LC layer. As we've previously reported, Tianma can support in-cell touch using a single chip that includes the display driver.
Moving onto larger panels, there was a range of panels for medical equipment and monitors. The company told us that there is an increasing demand for eDP support in instrument and industrial applications, so it is implementing the technology. For medical and avionics there were 11.6″ and 15.6″ (HD and FullHD) panels and these will be available later with brightness of up to 1,600 cd/m².
In the monitor panel field, there was a new 30″ 6 megapixel (3280 x 2048) panel which is intended for radiology applications where the single panel can be used to replace dual three megapixel displays (matching dual displays is a challenging issue – Man. Ed.) Brightness is 1,000 cd/m² and contrast is 1,500:1. Colour is just 72% of NTSC as there are not yet standards for colour work in medicine, as we have previously reported.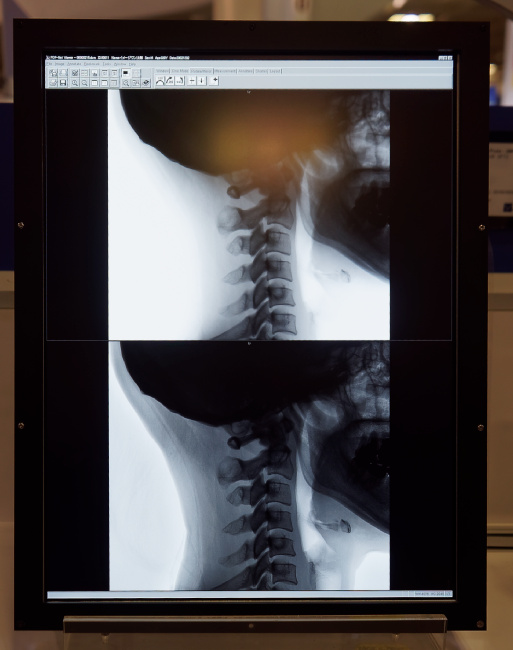 The new Tianma 6MP medical panel has improved contrast and brightness