In the Innovation zone in the Sands, we found an interesting company, Think&Go, from Aix en Provence in France that has developed NFC technology that can be fitted into large format displays (LFDs). The antennas are fitted behind the backlights of commercial displays (but typically within the original case). A typical application might use 10 or so antennas on a 55″ display, although it could support up to around 20. The system can work with video wall arrays.
Using a smartphone or any other device with NFC (for example loyalty cards or hotel keys), consumers can go up to the display and trigger an action. Key is that the use of NFC means that transactions can be performed and Think&Go has a payment module that is certified as secure. Consumers can buy products by using the display, with payment happening automatically.
Single displays cost around $10,000, but arrays can be supported for around $14,000.
Analyst Comment
The Think&Go technology was probably the most interesting commercial display news from CES. The ability to take payments is a really good one, for example in a QSR or other high transaction volume application. (BR)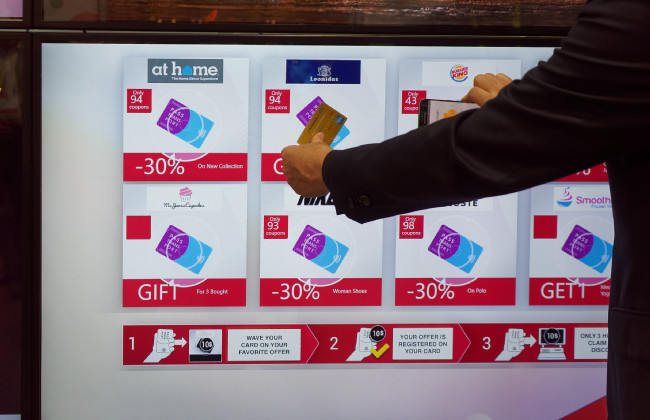 Think&Go's NFC Display can be triggered by a phone or other NFC card such as a loyalty card or hotel key. Image:Meko