In recent news, market forecasts and surveys seem to hint at an uptick in VR market success. Combine this with the continued support from several large players and it seems that the AR / VR train is on its way. As much as some of the data are encouraging, I am still not convinced that we have reached the onset of the expected market growth.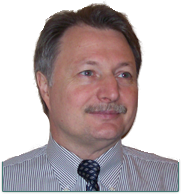 In the 'VR Usage and Consumer Attitudes, Wave III' on-line survey of US adults, Artillery Intelligence together with Thrive Analytics explored how the US consumers feel about VR and who is using it. The survey does show a continued increase in US consumers that have tried VR, with 14% of the population having at least tried a VR headset.
Artillery Intelligence – US Survey VR Usage; credit: Artillery Intelligence
Another positive aspect of this survey is that the VR users are increasing their frequency of use compared to 2018. More people are now using VR daily or at least weekly than the year before. While this is still not comparable to the smartphone (how many minutes are you making it without checking your phone?), it is at least moving in the right direction.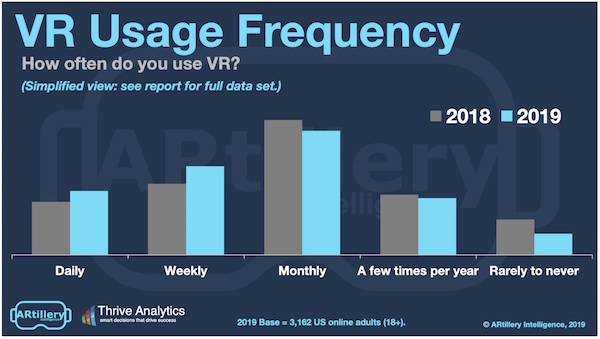 Artillery Intelligence – US Survey VR Usage Frequency; credit: Artillery Intelligence
On the negative side there is still a lot of hesitation among non-users that express no interest in VR whatsoever. While the number of this laggards is shrinking (27% in 2019 versus 31% in 2018), 27% is still a large group that show no interest in this technology.
Superdata, a Nielsen Company saw a significant increase in sales for VR headsets in 2018 mainly driven by higher sales of the Play Station VR and the Oculus Go in the 4th quarter of 2018 (data published in January 2019). Overall they believe this trend will continue and lead to higher sales in 2019 and the years after. They attribute part of the growth to the ease of use of the Oculus Go for first time VR users. It seems that they see VR games as the biggest money maker in the AR/VR software market. Overall hardware is still driving more of the revenue than software. This will slowly change in the coming years.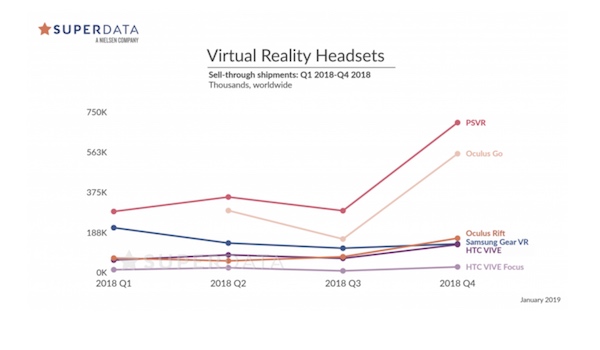 Superdata VR Headset Sales; credit: Superdata
Taking AR and VR together and adding in mobile AR as well, they saw global revenue of $6.6 billion in 2018, a number that will more than quadruple to $34.1 billion by 2022.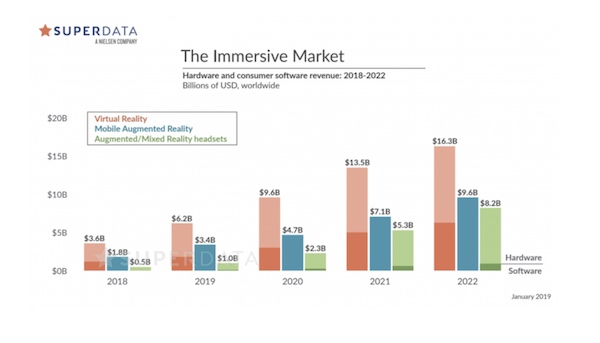 Superdata VR/AR Market Forecast; credit: Superdata
Market researchers are still bullish on the further adoption of AR / VR technology in the world markets. For example, Research And Markets has a new report out that predicts a market value for VR headsets of $38.7 billion by 2024 with a CAGR of 412% from 2019 to 2014. They still foresee the main application being gaming and entertainment, with the main market being North America. Other driving market sectors are sports, health care and retail.
IDC is even more bullish and is expecting continued growth of AR/VR headset shipments in coming years reaching almost 70 million units by 2023. They believe that headset shipments are driven by new and improved hardware in coming years. Interestingly they see that by 2023 roughly two-thirds of all headset shipments will go into commercial segments, which means that the consumer adoption will develop at a much slower pace.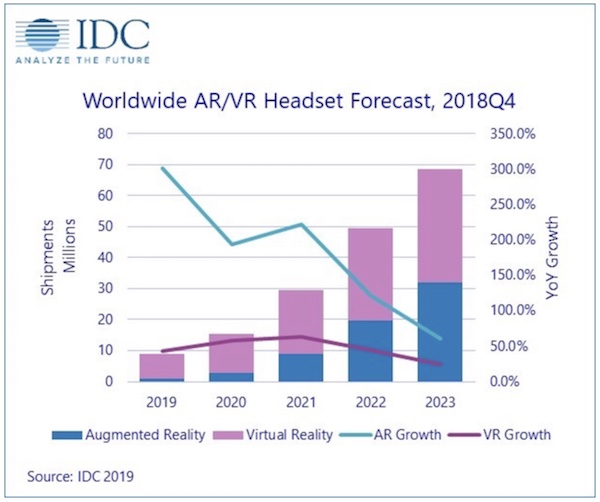 IDC VR/AR Market Forecast; credit: IDC
On the Asian side, IDC released some data in China that we found at China.org.cn. There, they predict that China will spend over $65 billion on VR/AR in 2023. This is for China alone and will make China the largest market for VR/AR within four years. Very impressive indeed. This would account for an 84% CAGR between 2018 and 2023.
Besides the good vibe created by these very ambitious forecasts, we have to ask the question how realistic are these forecasts. These forecasts count on continued market adoption based on better and better performing hardware and software. The real question is how fast better hardware will drive market adoption. Forecasting CAGR of above 80% is looking at growth rates of the smartphone and tablets. That's something I still do not see with relative high portions of the population having a strong opinion against the technology. Changing consumer perception may make technology advancements look like the easiest part of the puzzle.
I personally believe that VR/AR technology needs much more consumer education compared to the smartphone for example. While an iPhone was a 'must-have' device almost at the first glance, a VR/AR headset will require one or more personal trial runs to convince the user of its advantages. A much higher hurdle as it requires a lot of easily accessible hardware for trial runs. Something that is much more limited compared to tablets and smartphones.
On the positive note, some growth is better than no growth, and VR/AR is definitely still growing. – NH