I had an epiphany recently. Maybe I'm late to the game here, but I'm noticing that tablets have become a bit of a testing ground for new display technologies. To make my case, I'll go back a decade to one of the early LCD Kindles.
Full disclosure, tablets are not a technology that I work with a lot. So I'm making these observations "from afar" … but not that far. Feel free to correct me if you know more than I do, I would love to hear your insights.
In 2013 the kindle fire HDX7 adopted the first ever QD film in a display. For a fun blast from the past read this DisplayMate article about the mini tablets of the past. This was before Samsung decided that QLED would be the future of Samsung's TV business. And it was about the same time that Sony commercialized the first ever QD-enabled TV with the Sony Triluminous W900 that contained a QD Vision "Edge Optic" with quantum dots sealed in a glass tube. While the Kindle/QD relationship didn't last that long, other tablet makers such as Asus and Huion carried the trend forward and continued offering tablets with QDs inside.
For years tablets have been simple edge-lit displays. That all changed dramatically in 2021 when Apple made the paradigm shift to miniLED, with more LEDs than most large format TVs! We are talking greater than10k LEDs that are minuscule even compared to a grain of rice!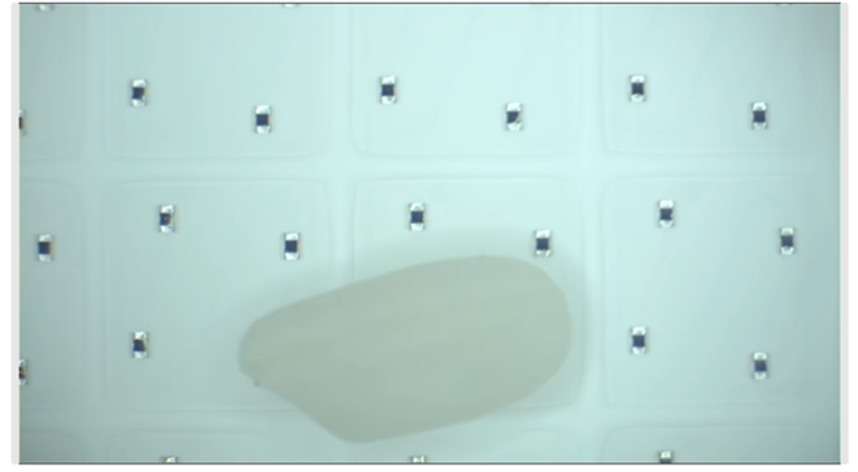 Along with this change, the iPad Pro leveraged a phosphor film which is quite unique. I'm honestly not sure if Apple has continued to use this approach or not in more recent iPads but I suspect it has. This approach is reminiscent of the 2013 Kindle using a QD film. If you are interested in reading more about this device I wrote about it here.
Now the iPad will shift to RGB-OLED in the next few years. This is not only speculation but is supported by those that know the fab side of the industry demonstrating that Apple and their suppliers have committed to making this change. Thanks to Ross Young of DSCC who shared this graphic at the SID-LA 1-day conference recently.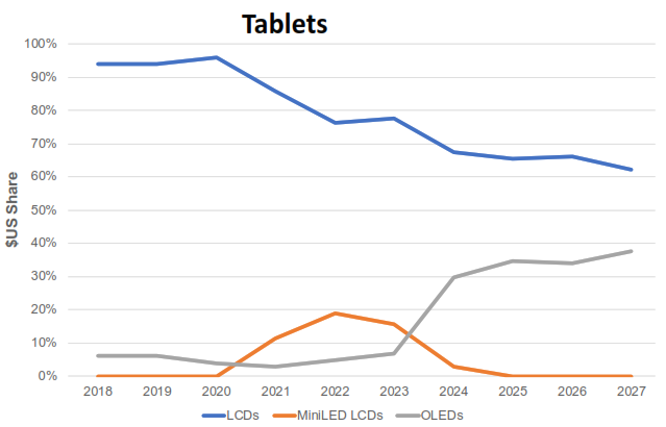 While this is only the US market, it is telling of the situation in tablets. Nearly all were "normal" LCD until mini LEDs started in 2021, but will be short-lived once Apple adopts OLED starting in 2024 timeframe. It seems mini-LED was only a stepping stone to the goal of OLED for Apple. It's worth noting that notebooks with OLED may not be far behind.
Why are Tablets a Good Proving Ground?
First, they are easy to modify and iterate. Tablets are a nice and small (but not too small) form factor that can be easily transported, shipped, and stored. For some tests this can be a real advantage. Slight changes to the display (like using a phosphor or QD film) can be made easily and tested quickly. In fact, small format displays can be a good testing platform regardless of the intent to commercialize a technology or not. I have seen literal garbage containers full of tablet left-overs from testing component swap outs.
Tablets are also a growing and very important device in our world, and we continue to demand more of our displays. Tablets are used for a wide range of activities including travel computers, watching movies/TV, work, presenting, and last but (definitely) not least, entertaining kids. So the device has to work for a lot of different use cases. This is a bit different than TVs where we pretty much use them for watching moving content and rarely for emails, reading text, or web browsing. The market for monitors is more segmented between gaming vs working monitors. Phones, one could argue, are most similar tablets since they also require good battery life and are used for a wide range of applications in our every day lives. Smart phones are another good testing ground for display tech but I'll leave that for another day.
Making a big shift to OLED perhaps is not such a simple undertaking. I'm sure Apple has been considering this shift for many years and has had to wait patiently while the manufacturing capability has matured. They made the shift with iPhones years ago and have not looked back, but this was a bit easier to do because of the screen size. As with iPhones, the OLED shift may not occur in all models until it has been proven at the high end of the market where the higher price point.
I'm a strong believer that many display technologies (and supporting technologies) will co-exist far into the future to meet the vastly diverse needs of our electronic lives. From my observations, it seems tablets are an excellent proving ground for combining and optimizing the best display technology. There have probably been hundreds of different versions of iPads that have never seen the bright lights of an Apple store.
Peter Palomaki is the owner and chief scientist at Palomaki Consulting, a firm specializing in helping companies solve big problems at the nanoscale. His utilizes his expertise in quantum dots and materials chemistry to solve challenging problems with clients large and small.