LG's ownership of WebOS is ten years old—longer than any other company, but the OS traces its development back 31 years to 1992.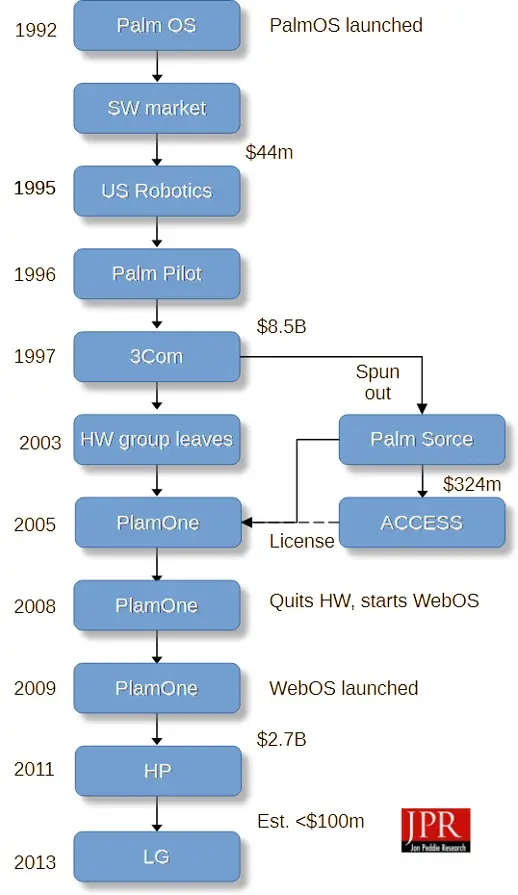 Palm OS was developed in 1992 by Jeff Hawkins the founder of Palm Computing, first as a software company and then in 1996 used for Palm's then new Pilot PDA. Over time it was employed on a wide array of mobile devices.
Palm Computing was acquired by U.S. Robotics Corp., in 1995 for $44 million, and then in 1997 U.S. Robotics was bought by 3Com. 3Com didn't actually care about Palm.
In January 2002, 3Com set up a wholly owned subsidiary to develop and license Palm OS, which the company renamed PalmSource. PalmSource picked up value faster than its parent company. 3Com spun it off to become an independent entity.
In March 2, 2003 3Com made the PalmSource subsidiary an independent publicly traded company. 3Com spent $8 billion on US Robotics (which turned out to be worth about zero), and Palm which, after a few years, was worth quite a bit.
In 2003, the hardware division left 3Com and merged with Handspring, a company created by the founders of Palm. Handspring renamed itself palmOne.
In 2005, palmOne bought out PalmSource's share of the 'Palm' trademark for $30 million. In celebration, palmOne launched a rebrand. The company reverted to Palm, Inc.
In 2005, PalmSource suffered a heavy loss. And Access, a company that worked specifically with mobile and embedded web browsers, purchased PalmSource for $324 million. Palm decided to get a hold of the rights to the operating system they had already developed, Palm OS. Access was unwilling to sell Palm OS to Palm outright, but the two companies were able to negotiate an irrevocable license agreement that essentially gave Palm ownership of the operating system without the original licensing rights.
In 2008, Palm's CEO Ed Colligan announced that they would no longer develop handheld PDAs. Instead, Palm would begin producing Palm Pre smartphones equipped with the WebOS operating system. Palm launched WebOS (called Palm webOS originally), in January 2009. It was intended to be the successor to Palm OS.
In 2011 Palm gave up on hardware and sold the company to Hewlett-Packard for $1.2 billion. What was left of the global business unit was left to manage the development of the WebOS software and the WebOS-based hardware products. In February of 2011, HP launched a lineup of devices powered by WebOS
On November 11, 2009, Hewlett-Packard acquired 3Com for $2.7 billion in cash. When Hewlett-Packard split into Hewlett Packard Enterprise and Hewlett-Packard Inc, the 3Com unit continued with HPE and was ultimately integrated into Aruba Networks along with the rest of HP's networking portfolio.
The pending acquisition of Palm by Hewlett-Packard was seen by many as a play by Hewlett-Packard to get into the smartphone business. That may be have been one of the motivations but it was by far from the biggest motivation. HP had a bigger worldview than just smart phones. Entering a market to compete with Apple or Nokia is not the type of strategy that Hewlett-Packard was expected to engage in, and certainly not for the price of $1.2 billion.
The thought was, Hewlett-Packard most certainly will enter into the smartphone business and, will compete with Apple and other companies – and Hewlett-Packard's brand will make an impact like no other company has been able to.
It was predicted Hewlett-Packard's acquisition of Palm would result in:
Apple killing Hewlett-Pickard.
Hewlett-Packard killing Apple.
Intel, somehow or other being screwed by this.
Hewlett-Packard killing RIM.
None of those things happened.
Hewlett-Packard acquire additional strength in the industry because of the WebOS operating system and its patent portfolio. Smartphones are interesting but not the worth of the investment. HP acquired 1600 patents that Palm had (making the cost per patent approximately $750,000 each.) Aside from the IP that added to HP's already huge inventory, it also gave HP a formable defense if any suite-happy firms like Apple and Nokia started making their lawyers richer. In addition to having more original prior art that any firm other than IBM, HP had more lawyers than Apple and Nokia combined. What could Hewlett-Packard have done with WebOS? They could have made Web printers, smartbooks, connected home, tablets, smartphones, connectivity of everything – and it all would run on HP from server to handheld device.
Then in February, 2013, LG acquires the WebOS IP and team from HP. Financial terms of the deal were not disclosed, though a press release said neither company expected the deal "to have a material impact" on its financials..
LG acquired WebOS from Hewlett-Packard with the intention of using the operating system in its smart televisions, not for its mobile phones. With the deal, LG obtained the source code for WebOS, related documentation, engineering talent, and related WebOS Web sites. LG also got HP licenses for use with its WebOS products, and patents HP obtained from Palm.
The acquisition marked the end of a 21-year evolution of an operating system that many saw promise in but was badly mismanaged by all of its previous owners.
At the time, LG said the WebOS team will make up the "heart and soul" of the new LG Silicon Valley Lab, with its Sunnyvale, Calif., and San Francisco sites joining LG's global R&D locations in the Valley, alongside WebOS offices in San Jose and Chicago.
HP retained all of the patents associated with Palm and WebOS; LG licenses it from HP, although neither company would comment on the specifics of the license terms. LG will commit to continued participation in the open-source WebOS project, and HP expects to benefit from LG's further development on webOS in the future.
When LG CTO Dr. Skott Ahn was asked how WebOS could be used to create disruptive smart TV products absent any of the content deals that have thus far stunted TV innovation, Ahn simply said, "the environment will change from an app environment to a web environment."
LG's North American VP of smart TV Samuel Chang added, "We'll use Android together with WebOS, but WebOS is better in user experience."
Today, WebOS is one of the very few platforms that enable smooth multi-tasking, has great sync services and easy-to-consolidate information from multiple sources across applications , and it is suitable for all types of mobile devices. It is the fulfillment of all the expectations you could have had for it over a decade ago, but never thought would happen. The TV industry environment changed and LG was right. But, so were the original Palm OS engineers who helped to lay the foundations for WebOS. Not a bad legacy to have.