Tesla surprised everyone that attended its event to launch a new truck, by also announcing a new roadster at the end of the show. The show is outrageously fast with 0-60mph acceleration time of 1.9 seconds and a top speed of 250 mph (402 Km). It has a range of 620 mile (998 Km). The new design has a much smaller centre console display than previous Tesla models.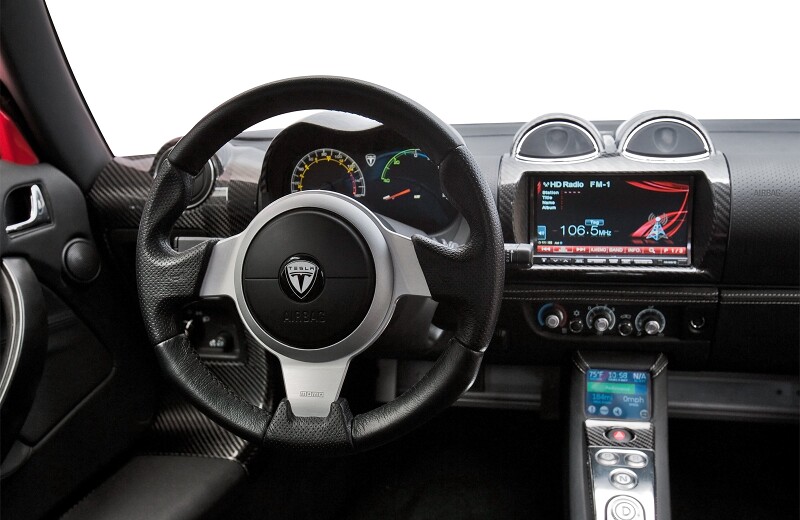 The new Tesla roadster has smaller displays than Tesla has previously used.
The Semi truck is claimed to be more aerodynamic than the Bugatti Chiron supercar and uses four independent motors on the rear axle to achieve 65mph (102kph) on a 5% hill (compared to 45 mph for a diesel, Tesla said) and is will have a range of 300 miles (480 Km) or 500 miles (800 Km). It will charge for 400 miles (640 Km) in 30 minutes and is claimed to have running costs at half that of a traditional diesel semi truck and having a payback period of two years.
Tesla is guaranteeing the drivetrain to last 1 million miles (1.6 million kilometres). The trucks are not autonomous, but have a lot of driver aids and Tesla said that convoys of three trucks will reduce drag to make road cheaper than rail.
There are a number of safety features and jack-knifing is said to be impossible as the independent motors will stop it happening. There is "never" a need to change the brake pads because so much of the energy is absorbed and used to recharge the batteries. The truck also has very strong glass as glass problems can stop trucks shipping.
The driver position is central and there are dual large touchscreen displays that include rear views as there were no external mirrors on the unit being shown, although it was reported that this is still a concept, as regulations still mandate physical mirrors. Initially, at least, the Semi will have mirrors in addition to cameras. The Semi will ship in 2019.
There's a video below.