There were several new products from AG Neovo. The largest was a range of 32″, 43″, 55″ and 65″ displays known as the PM series (PM-32, etc). These use MVA panels (1920 x 1080) and are designed for 16/7 use. They will be launched within one month. Joining them was the FM series (24″ and 27″), which are slim bezel units with a PLS panel from Samsung; they are available now.
In a few weeks, AG Neovo will launch HDMI-to-IP and IP-to-HDMI transmitters and receivers. I was told that "It is easier to sell monitors if you have a presence earlier in the chain".
The 6,000- and 7,000-lumen projectors (PX9600 and PU9730) from BenQ's P-Series were on show as the newest models. However, the 7,000-lumen model was also shown at Technology Exposed 2014 (BenQ Accepts Competitors' Lenses), and the PX9600 has been introduced since then – so we wouldn't refer to them as 'new'!
On the consumer side of things, BenQ was showing a projector that was genuinely new: the W3000 (BenQ Rumour Train Steams Ahead). This is a home cinema model calibrated to show Rec.709 colour, with frame interpolation. An identical model, without interpolation, will be called the W2000. These models will be launched in October.
Brightsign demonstrated new software functionality, like Brightplates: these are templates to ease content creation, and will be available in Q4. The company was also showing off HTML5 apps on its players.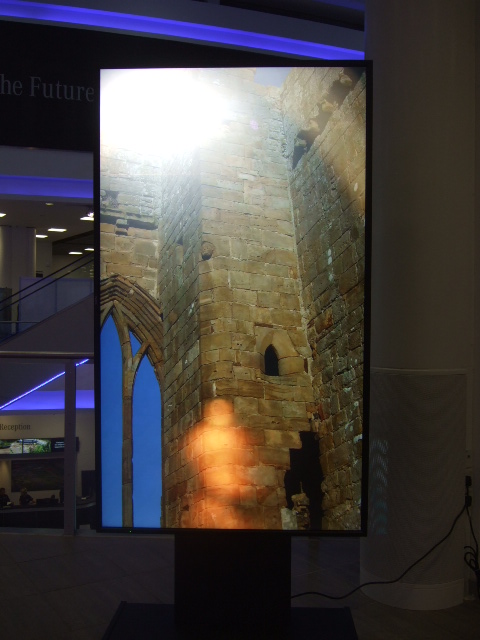 Casio was promoting its ultra-short-throw projectors and solid state illumination, but had nothing new to show.
Although NEC was showing multiple products, including FPDs and laser projectors, none were new to us. The newest model was the X754HB, which is a 75″ LCD display with high brightness (2,500 cd/m²), due to be released in January. It was first seen at NEC Showcase in May (NEC Impresses with LEDs).
The main news from Panasonic was the company's revamped early warning system software. This is a central monitoring system for screens or projectors, installed on a PC or run in the cloud. It will track information that the display sends back to it – for instance, exhaust temperature or DLP status – and calculate the time to failure of separate components, such as lamp life, filter cleaning, etc. Other manufacturers' models can be used with the software, although, Panasonic said, these may not supply as much information to the system as its own products. Panansonic's Space Player laser projector was also being shown, which will be available soon.
Peerless-AV was promoting its Xtreme Outdoor displays, as well as trolley mounts and kiosks. Kiosk-type displays are a growing market, the company said.
There was no news from Philips. The company was showing how its Ambilight technology can be used for commercial displays, and plans to roll the feature out to new commercial and education products next year. The BDM3490UC monitor, introduced at IFA, was also on the stand.
As with last year's show, Samsung had nothing new to talk about. In fact, the company's stand was rather under-staffed – when I arrived, the only people there were from the printer division. The company was showing its existing commercial displays, the OM55D, UD55DD and ME95C, as well as the flagship JS9500 LCD TV. Awkwardly, I was told that the UD55DD featured the thinnest bezels of any commercial displays on the market (3.5mm) – when LG was showing a model with 1.8mm bezels on the other side of the hall.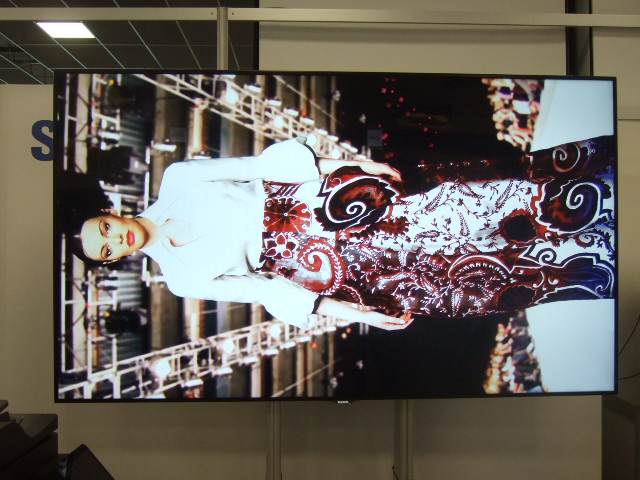 There were some (perfectly valid) complaints from the Samsung staff about the stand installation: this display was meant to be portrait!The only new display from Sharp was the PN-80TC3, although we covered it in detail at the start of September (Sharp Brings BigPad to Midwich).