'Shufti' is an Arabic word meaning 'look!' It was brought back to Britain after the Second World War by returning soldiers who learned the word from Arab peddlers. Its meaning now suggests taking a quick look around. That's the purpose of this article today—taking a 3D shufti—a speedy reconnoiter of some happenings in the area of educational 3D.
NEO3DO Set to Release Next-gen Product
While travelling to Las Vegas to compete in the Senior Games (competitive volleyball) in St. George, I paused to meet with David Briggs, co-founder of NEO3DO, the autostereoscopic tablet manufacturer. He offered some news about their next-gen NEO tablet, a collaboration of NEO3DO in the States and Golden Child in the U.K. The NEO3DO Next Gen is set to be released in European stores before Christmas 2015. They are in discussions for a simultaneous U.S. release. "What will differentiate this product", I asked? Briggs responded: "The speed of the processor, megapixels of the camera, and the screen resolution will all be greatly improved." "He added: "An 8" autostereoscopic android tablet is on the table for us".
He also mentioned that their strategy was involved "pushing the why over the sizzle and wow" in promoting 3D. NEO3DO plans to lead with a strong content posture with the new release. "With higher computational ability and graphics processing, we expect our next gen device to be more amenable to 3D educational and game content." He noted: "Tons of VR content will work with 3D tablets. We are also making inroads in the medical market (medical displays), and we are planning to support stereo vision acuity testing and therapy." He also mentioned a feature called 3D Drone View, using "stereo cameras on drones controlled from the new tablet." (Under development and not scheduled for December release.) Learning from the content mistakes of others in the autostereoscopic market, he mentioned that: "The NEO3DO Next Gen will be loaded with content, films, and educational resources."
According to Briggs, the numbers look good. "We are working with higher numbers of pre-ordered units and have garnered considerable interest from some of the production houses."
A Face in the Crowd
Speaking of autostereoscopic 3D, while passing through Vegas I stopped to see the famous face-above-the-bar autostereoscopic display at the SLS Hotel and Casino. I was underwhelmed, because the negative parallax was minimal. It was too 'safe.' It reminded me that folks who want to reach the education market with 3D or VR had better be forewarned. Students strongly prefer negative parallax. If the learning resource doesn't penetrate deeply into audience space, you won't sell it very well. I suppose it's good enough for the imbibed in Vegas.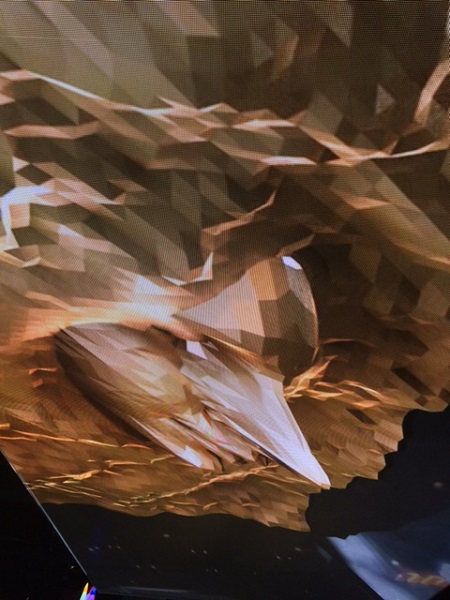 LinkedIn Surge
Many of you know that I am the online community manager for the Stereoscopic 3d Media and Technology group on LinkedIn. I've noticed an interesting development over the last three weeks. We've seen a sudden surge of 3D and production professionals joining our ranks at the clip of a dozen a week, after a two-year lull. Lots of new faces. New companies. It makes you wonder. Why are folks are starting to creep in after such a long absence? A spate of new startups? Companies showing interest in ramping up content for the coming VR tsunami? Something is up, not sure what.
Free Software Downloads for Educators and Students
Autodesk is now providing a full range of 3D production software to the educational community free of charge. Check it out for yourself here. Tell your customers.
SXSW here we come!
Thanks to all our readers who helped vote for our South by Southwest edu (SXSWedu) 3D proposal, See to Achieve: Where Virtual Reality, Vision, and Learning Meet. The crux of this presentation is that successful reading requires our eyes to track a line and focus on a word or letter—and our eyes must do those things together. Enter modern day virtual reality. 3D virtual reality experiences also require our eyes to track, focus, and team. This presentation shows how virtual reality is fostering unanticipated benefits for vision health and learning; and how new mobile 3D technology is being used to screen for and improve early childhood vision. Out of 1300 applicants we were accepted in the first wave. For those unfamiliar with SXSW, in the U.S. this is bigger and trendier than a TED talk. So thank you very much for helping us get accepted. We'll upload the video here after the March event, but here is an overview of the sessions and workshops at SXSWedu.