Next week is the annual SID Display Week, the highlight of the display industry and a real pleasure if you are a geek like me. There will be plenty to see and hear.

I attended my first SID back in 1995, so this is my 23rd consecutive SID Display Week, a record I am proud of, although there are plenty of friends I will see next week that have been to more. I have always attended as press and as an analyst and have seen a lot of change. As I mentioned in a Display Daily a couple of years ago, when I looked back at my report from 1995, the companies I reported on were all from Japan, Europe and the USA. There was no mention of any technology or company from Korea, Taiwan or China. That's hard to believe now and is an indicator of the huge change that I've had the privilege of documenting.
This table was from my first SID report. The world has changed a lot since then. In the report, an LCD with 170 cd/m² was described as 'high brightness'
So what's on the agenda this time? Well, one of the big questions is the LCD with QDs vs OLED battle that Ken talked about a couple of weeks ago. (This is War!) Of course, there will be a lot of developments in Quantum Dots and we will be meeting with the main suppliers (there will be a team of five from Display Daily at the event). Last year, a highlight for me was the revelation by Nanosys that it had solved the problem of moving the QDs from the backlight to the filter, which could have a significant impact on power consumption of LCDs and on costs. Since then, we've heard different opinions on how quick this will happen and that should be clearer by the end of Display Week.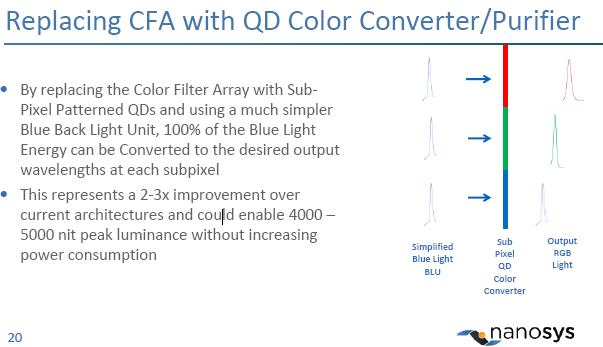 Nanosys showed this slide at last year's Display Week showing QDs moving to the filter.
However, Vivid Color, a name I hadn't seen before, put out a press release (New Vivid Color Technology Exceeds Quantum Dot and OLED Color Gamut) claiming that it has better colour performance than QDs, so that is a topic will be looking closely at. The company will be in the i-Zone, a great feature for small companies, who can get very low cost access to a great audience.
OLED Will Fight Back
Of course, the OLED makers and their supply chains will be talking about how they are competing with quantum dots and there are bound to be developments in TADF materials, which could be a breakthrough for OLEDs.
Another company I'm looking forward to seeing is ClearInk – a new company for us last year, but with a fast response display that might be able to provide competition to E Ink's monopoly on EPD technology. (ClearInk is a Clear Highlight of SID 2016) E Ink is promising new colour technology, although last year's demonstrations were pretty impressive.
Higher Resolution
The other area that is bound to be interesting is microLED. Last year, it was disappointing that little information was available as some companies didn't turn up. It would be good to hear what's coming next.
Virtual Reality has been a huge topic for us this year, but the reality is that the displays that have made it into production headsets are, frankly, just not good enough, with the images much too pixellated for me (and for many others). Of course, there are challenges in system performance and cost as well as display quality, but it would still be good to see technical solutions. Still in the area of 'near-to-eye' displays, there should be some interesting developments in displays for augmented reality.
The spectre of Apple's adoption of flexible OLED is hanging over the industry and there are bound to be lots of demonstrations that will show that a good number of companies are able to make a flexible OLED. It's hard to make one, so that deserves respect, but the real trick is to make millions or tens of millions!
Business Conference Changes Hands
This year, the Business conference will be run by DSCC, rather than IHS. DSCC is a new company, but as a founder of the company is Ross Young. Young ran the DisplaySearch events before that company was bought by NPD and before that division was, in turn, absorbed into IHS, before that company merged into IHS Markit, so he knows how to do it. The DisplaySearch Business Conference every spring in San Diego was the other highlight of my year in the past. I shall be hacking away at the keyboard all day on Monday!
Anyway, I look forward to catching up with all my friends at the event next week.
Bob