A new long-term demand forecast by Omdia predicts a robust compound annual growth rate (CAGR) of 11.0% for OLED displays from 2022 to 2030. The study reveals that major brands are progressively incorporating OLED panels into their premium lineups across a wide range of consumer electronic devices, including TVs, mobile phones, notebooks, and tablets.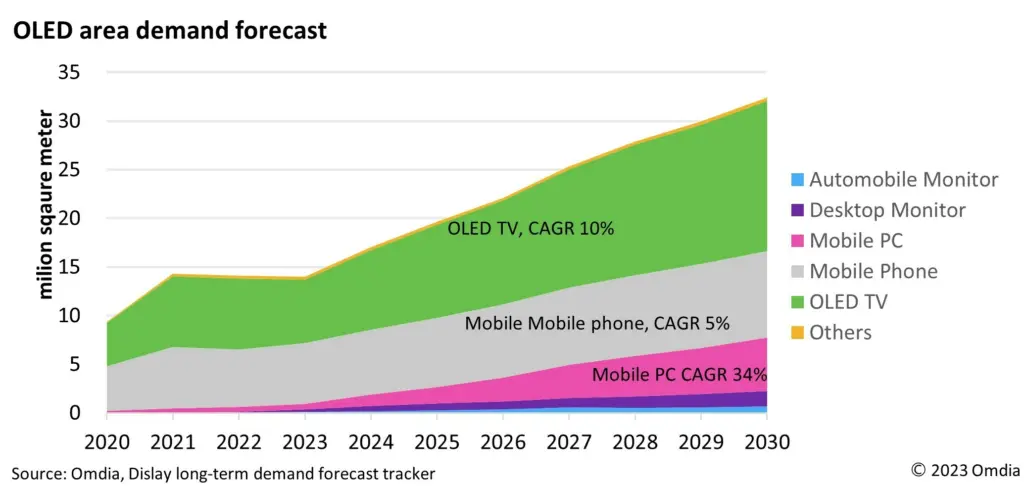 The report highlights the impact of the COVID-19 pandemic on the display market, resulting in a decline in demand for OLED displays in 2022 and 2023. However, this shift in market conditions led to the adoption of OLED technology in entry-level smartphone models, expanding its market share from 30% in 2020 to 42% in 2022. Furthermore, Omdia expects OLED's market share to continue growing steadily in the future.
While sales of OLED TVs experienced a slowdown due to a significant drop in LCD prices, Samsung Electronics' strategic focus on expanding OLED sales, coupled with the adoption of WOLEDs, has positioned the OLED TV market for growth beyond 2024.
According to Ricky Park, a Senior Principal Analyst in Omdia's Display research practice, Apple's forthcoming adoption of OLED in its iPad Pro models, starting in 2024, is projected to drive a rapid increase in demand for OLED panels in mobile PCs. In an optimistic scenario where Apple's competitors follow suit, the forecast suggests that mobile PC OLED panel demand will achieve a 34% CAGR.
Samsung plans to construct a dedicated production line, G8.6 fab, to deliver optimal OLED image quality while maintaining reasonable production costs. This move signals a growing possibility of OLED adoption in laptops, expanding its presence beyond the tablet market.mAs the growth of mobile phones and OLED TVs slows down, OLED displays for mobile PCs emerge as a promising new market for display manufacturers. The continuous adoption of OLED technology by major brands across various consumer electronic devices demonstrates the industry's confidence in its capabilities and potential for future growth.