A new report from Inscape shows that streaming continues to gain share of TV viewing time in U.S. households. According to the report, streaming accounted for 55.9% of viewing time in Q3'23, up from 46.5% in Q3'21.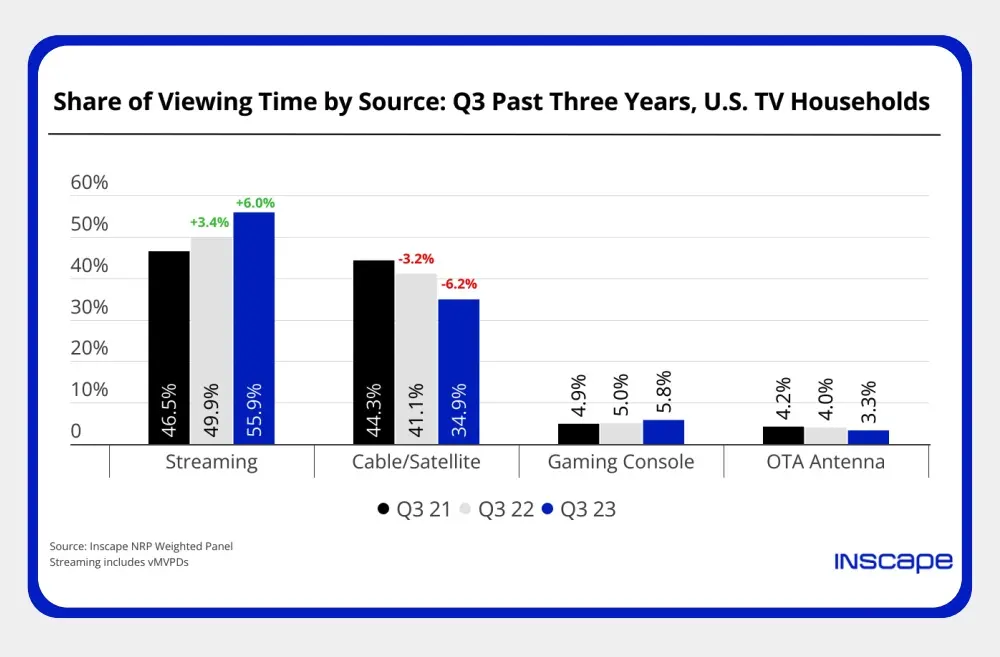 The report found that the number of streaming apps used has doubled since Q4'21, with viewers now using an average of 5.4 apps. 54% of smart TV viewers now solely stream content, up from 45% in Q4'21.
While streaming dominates overall viewing time, the report found cable and satellite maintain an edge for live sports and news. 76.7% of sports viewing and 81.8% of news viewing occurred via cable/satellite/OTA in Q3'23.
The report notes 11.9% of cable/satellite households greatly reduced but did not fully quit cable/satellite viewing in Q3'23 compared to a year prior. Additionally, 11.1% had a 50-75% drop in cable/satellite viewing time versus Q3'22.
The report uses Inscape's TV panel of over 22 million opted-in Vizio TVs and is based on Q3'23 data compared to prior quarters and years. It tracks the continued shift towards streaming in US TV households.