We attended one day of the Digital Signage Summit, this year. That day was the second day which was less concerned with the advertising side of the business, but was the Friday that the Brexit vote from the UK was announced and that influenced several talks. Florian Rotberg, CEO of Invidis, started the day off. He said that Brexit is a big issue with a lack of confidence likely and that will see soft demand in the UK and there will be uncertainty. There might or might not be recession, but it's certainly not good news.
In Digital Signage, Public 'Request for Pricing' (RFPs) will be a problem for UK companies as these can be limited to just companies in EU countres. There will be more paperwork working across the border, it will be like operating with Switzerland and Norway. However, Rotberg believes that digital signage will grow anyway.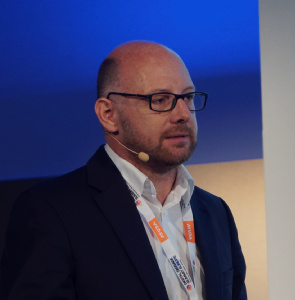 The next speaker was Oliver Schwede, a managing partner at Invidis. In his talk, which was called "Turning Stores into Stories", he started by saying that in the future, digital signage will get more complicated, but is an important part of up to date retail concepts. He gave as an example in Dubai, where there has been integration of an LG videowall with an actual aquarium. He then went through some other examples from around the region.
In the Mango store in the Dubai mall, Schwede showed how an LED display had been 'wrapped' around a concrete pillar. Transparent screens have been used in Dubai Airport's duty free area. Retailers are using screens at the back of the store to draw people in and as an example, he gave the 'Level' kids store, also in Dubai.
In Moscow, the Victoria's Secret store has a video wall that shows video footage from the company's catwalk show. At Munich airport in the T2 satellite terminal Lufthansa has been using a video wall since the end of 2015 to entertain waiting passengers with news and information about destinations.
So digital signage is everywhere, but for retailers the future is not just about signage and the in-store experience, it's about omnichannel – the offer from the brand to the consumer has to be consistent over all channels, whether store, signage, website or social media etc. We have now moved on from Digital Signage 1.0 – however the ecosystems of the supply channels of digital signage do not yet meet the demands of retailer customers. Suppliers have to be able to cover everything from design through to maintenance for up to five years, but few can do this, in Schwede's experience, you have to deal with multiple vendors for different parts of digital signage projects.
First, the digital signage market was just about big screens, then the software was the focus and then tablets started to be used as small signs. Smart signage became easier because of the development of SoCs in displays and initiatives such as WebOS. Now electronic shelf labels (ESLs) are appearing and connecting them in takes some extra efforts. The future is in HTML5 content – Flash-based is not right any more, Schwede said. Analytic tools are getting better and, with IoT, "everything gets complicated".
Data in corporate systems can be very complicated and as a project manager, you're lucky if the customer has a centralised data system, but sometimes the data you need is distributed. Wayfinding, room booking and other data may be kept on many platforms – from Windows to HTML5.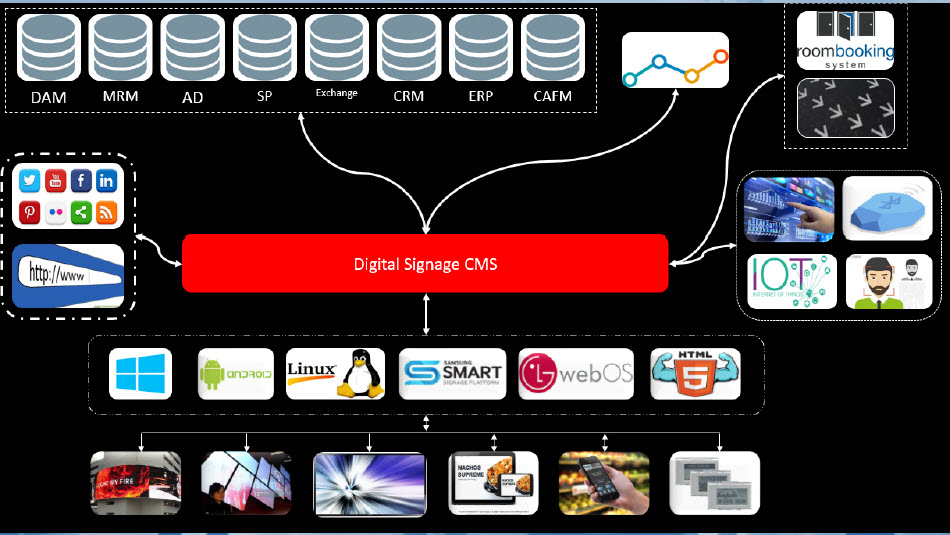 Interfacing and security and compliance need thinking about. Service level agreements (SLAs) need establishing. e.g. retailers using digital signage may want two hours responses, but they may get a response from IT saying that the problem is not "business critical" so a response time of 10 man days might be the standard response.
Security can be a challenge. For example, a single sign-on using AD may be an IT requirement, so how do you connect to digital signage? There are CMSes that can connect to AD or Outlook for single sign on but the software has to be easy and affordable, as well.
It's hard to get customisable workflows in current CMSes at the moment, although this kind of software feature exists in broadcast applications. Customisable workflows would be helpful for teams creating content.
Current user interfaces are hard to understand and complicated – users often dislike them. There are few dedicated digital signage staff in most companise, there are often many different users and each needs to be able to access content and data.
Turning to operations, the processes can be a challenge, Schwede said. Automation tools and content creation services need to be offered by systems integrators and digital signage supplier. Monitoring and approval processes need to be in place as well as reporting.
The biggest issue continues to be content. You always need third party content, including curated content such as news as well as the content from the customer. For corporate users of digital signage, powerpoint import or conversion may be important as a lot of corporate content is in that format, although it is rarely a good format for digital signage.
Corporates also often need to ensure that digital signage fits in with CI (compliance intelligence) systems and companies often need to ensure compliant creation.
"Touchpoints" for users need to be functional, future proof and cost-optimised and achieving all of those can be a challenge.
Looking at platforms, Android has been talked about a lot, but there are many versions of Android and they often change, especially if you buy off-the-shelf media players from Asia. There are other closed ecosystems such as Tizen which is replacing the Samsung Smart Platform and WebOS from LG. NEC, Panasonic and TPV all support Android 4.4.4 – so it is becoming attractive as a wider platform, but Schwede believes that it's not clear which direction we will go.
Another challenge in putting projects together is that there can be limited geographical coverage from suppliers.
Suppliers really need to offer hardware, software and infrastructure. Implementation and services are also needed and Schwede summarised the requirements in this diagram.
Most clients don't know what they want – they often "just want some images". Once you start to develop a project, there are lots of questions from consultants such as Invidis and that makes them realise that it needs some management.