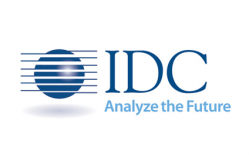 According to IDC, global shipments of VR and AR headsets reached 2.1 million in Q2 2017, a year-on-year growth of 25.5%.
The results show a slight drop from the previous quarter's results, but the industry's recent price drops and summer sales are expected to keep figures rising through the remainder of the year.
Virtual reality continues to dominate the VR/AR industry, with a 98% market share. Tethered VR headset shipments rose from 34% to 43%, which IDC has attributed to the Oculus Summer of Rift sale and the continued success of PlayStation VR, led by titles like Farpoint and Resident Evil 7: Biohazard.
The PlayStation VR is also set for a small price drop, despite its continued success. Facebook sold the Oculus Rift + Touch bundle at $399 for six weeks this summer. However, now the Summer of Rift sale is over, the bundle will not be returning to its previous price point of $599, but will now retail at $499.
Samsung's monopoly on the smartphone-based VR market is starting to decline, though they still hold a majority market share with the Gear VR. IDC expressed concerns that early rumours that the forthcoming Galaxy Note 8 may not be bundled with the new Note-specific Gear VR could lead to a further reduction in shipments, as the company's healthy sales have been attributed to previously available Galaxy and Gear VR bundles.
On the other hand, AR development and consumer uptake continues to move slowly. Tom Mainelli, Vice President of Devices and AR/VR at IDC, said:
"Consumer-focused AR headsets are still some way off, as most people will first experience AR through the screen on their phone.

Now that Apple and Google are both focused on helping developers create AR experiences on their platforms—through ARKit for iOS and ARCore for Android—we can expect to see a flood of new AR apps appearing on smartphones later this year and into next. These developments should eventually lead to consumer-centric AR glasses, but that won't happen in meaningful volume, at affordable price points, for some time."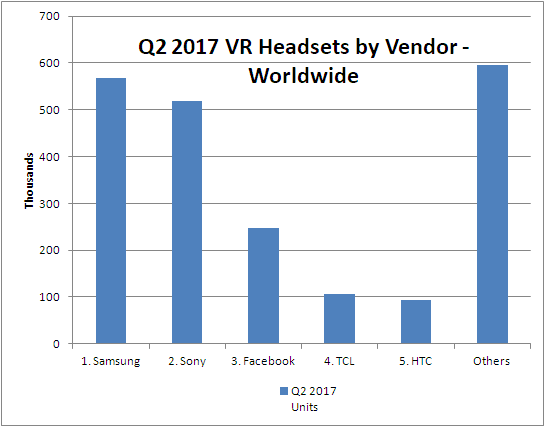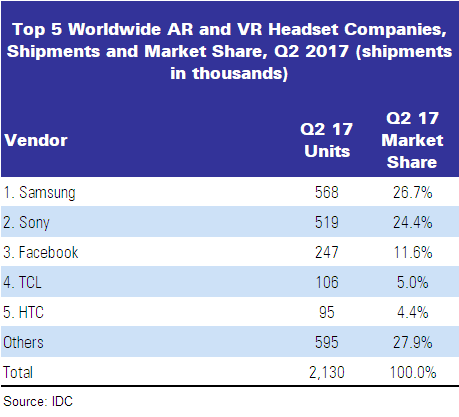 (IDC said that shipments of simplistic headsets that do not have any technology built in are excluded. Examples of such headsets include Google Cardboard and other Cardboard-like devices.)