According to a new report from Counterpoint Research, smartphone shipments in Europe fell 11% YoY in Q3'23, marking the lowest third quarter shipments since 2011. The decline was seen across both Western and Eastern Europe, with Western Europe seeing an 8% drop and Eastern Europe facing a 15% decline.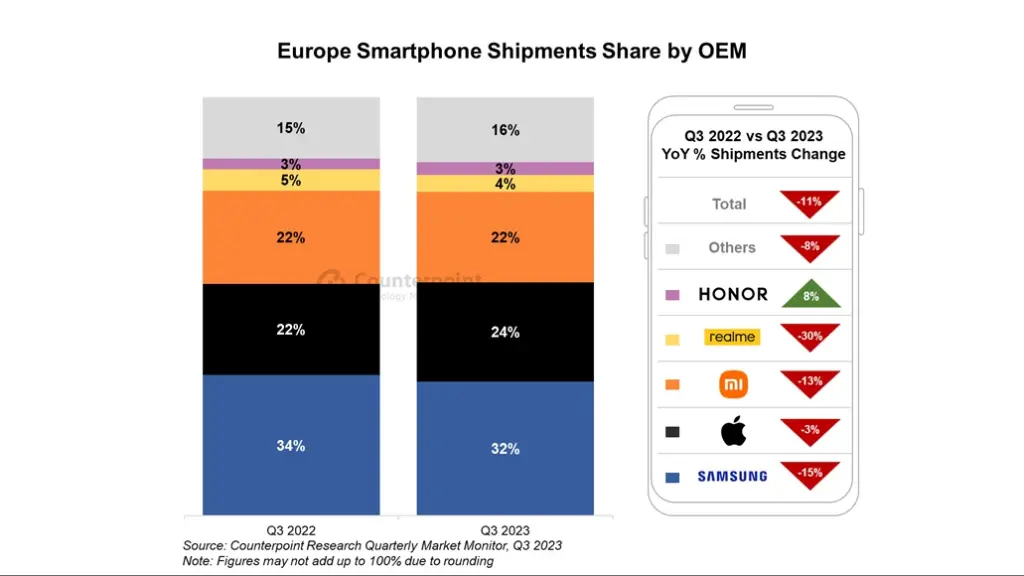 The falling shipments reflect the tough economic climate and ongoing geopolitical challenges facing the region. However, some brands like Apple and Samsung managed to gain market share thanks to major product launches. Apple hit its highest ever Q3 market share of 24% in Europe, boosted by the new iPhone 15 series launch. Samsung saw declining shipments but its latest foldable phones were well received.
Among Chinese brands, Xiaomi held on as the top player in Eastern Europe with a 35% share, while Honor bucked the downtrend by growing shipments and moving into the top 5 vendors in Europe. Other Chinese brands like Oppo and Transsion's Tecno and Infinix saw diverging fortunes – while Oppo declined 23%, Tecno and Infinix posted triple digit percentage growth off a small base, primarily fueled by Russia.
Looking ahead, the smartphone market is expected to remain muted in Europe. Consumers are holding onto devices longer than before amidst economic uncertainty. However, analyst expectations of pent-up demand for Apple's iPhone 15 series point to a potentially strong Q4'22. Overall, the challenging conditions mean the European smartphone market will likely stay depressed for the foreseeable future.