LCD panel manufacturers are sharply reducing production and fab utilization rates below 70% in Q4'23, according to the latest research from Omdia. This comes as TV brands pressure display makers for price cuts amid slowing end demand and high inventory levels.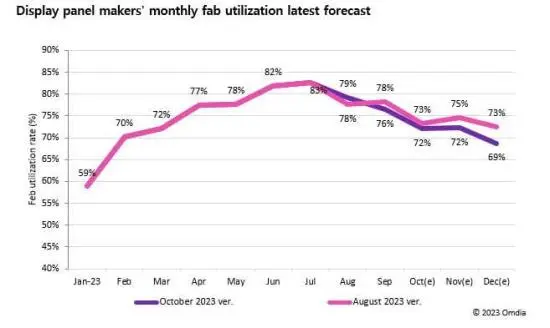 "Panel makers continued to increase LCD TV display prices in Q3'23, which brought strong price resistance from TV brands and OEMs," said Alex Kang, Principal Analyst at Omdia. "As LCD TV buyers started reducing panel orders in Q3, panel makers began cutting fab utilization and adopting a production-to-order policy."
Chinese display manufacturers are considering further utilization drops below 60% in Q1'24 around Chinese New Year in hopes of minimizing price erosion. The production cuts are impacting not just LCD TV panels but also notebook, PC and monitor LCDs. PC and monitor brands remain cautious on IT LCD purchases going into 2024 until year-end shopping results are clear. Hopes for commercial B2B demand in 2024 are also diminishing amid forecasts of a global recession. This weaker IT LCD outlook until early 2024 could spur deeper utilization declines in Q1.
The demand and inventory situation has created profitability challenges for both TV and panel makers. TV brands are suffering from high inventory levels and weaker demand. At the same time, LCD price hikes in Q3'23 squeezed margins. Panel makers now face pressure to significantly lower LCD prices to move inventory, even as utilization rates drop sharply. The Q4 cuts and potential Q1 declines signal a challenging start to 2024 for the LCD panel industry as supply and demand rebalance.