Skyworth told us that they had one new HDR TV at IFA, the S9B which is part of the previously released H9 series. It is only for sale in China right now and is offered in 55" and 65" UHD screen sizes. It features an OLED panel with Dolby Vision support and wide color gamut and should become available for overseas markets in Q1'17.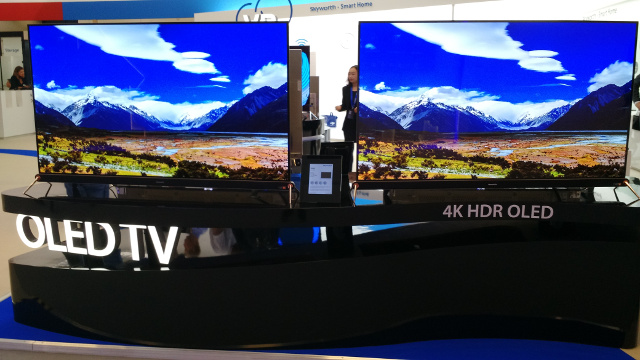 The H9 series was debuted at CES 2016 and is now being sold in Italy and France.
Skyworth has a joint venture with LG Display to produce OLEDs in China.
The company also showed a double-sided OLED panel, similar to designs that LG Display has shown as well. However, it was listed as a prototype with no additional information available.
Skyworth also has a special relationship with Metz, a venerable German TV brand that fell on hard times two years ago when Skyworth invested in the company and is now intimately involved in panel supply. Metz was keen to point out that they remain German-owned and that all assembly and most design is still done in Germany as well. The panel and electronics design will likely transition to Skyworth in the near term, however.
Metz was also showing a line of OLED TVs in a part of the booth that adjacent and tied to the Skyworth one, thus emphasizing the close ties the two have. Metz products are clearly aimed at the hi-end of the market and focus on clean aesthetic design and additional features like built-in 1 TB hard drives. They have a custom user interface and high wattage front-firing speakers. Customer support is very important to them as they stock spare parts, including panels, for seven years of support after introduction.
Interestingly, we were told that the peak luminance on the new OLED panels was hitting 800 nits while maintaining the same low black levels. That is higher than the 540 nits typical of current panels and similar to the level claimed by Panasonic in their 2017 OLED panel.
Metz says they are also working on Dolby Vision certification for these OLED TVs. – CC
Analyst Comment
Metz is well known for supporting traditional 'mom and pop' small TV retailers in Germany, who will often install and personally service clients' TVs and may have supplied families for many years. These retailers are reluctant to handle just 'big brands'. Skyworth had a complete (no phone needed) VR headset that looked remarkably similar to the one shown by TCL, but no prices or dates are yet available, although sales staff hope to get them by early 2017. (BR)