Sigmaintell Research of China said that August shipments of LCD TV reached 23.01 million in August, up 8.1% over July and 4.8% over a year ago. Area was 118 million m², up 8.1% from July, down 1.3% on last year. The boost in volume was based on seasonal factors.
32″ was up 13% month on month as panel makers were happy to supply more, with prices relatively stable, helping panel makers' margins and 40″ to 50″ also increased. Reducing prices on 55″ have affected panel makers margins adversely and some have reduced supply, the analyst said,leading to an overall drop in volume of 2%. 65″ continues to grow as panel prices continue to decline.
In terms of suppliers, Innolux had 'outstanding' performance, with growth in 39.5″ and 50″. Overall, the firm saw 28% growth over July and went past LGD in unit terms. However, LGD was top for area, just ahead of Samsung Display (although Samsung was fourth on volume). Samsung shipped 400,000 65″ panels in August.
BOE has been on the rise and the company's Fuqing G8.5 line has been increasing its shipments of 43″ and 32″ panels and that helped the company to third place in volume terms. CSOT was up in 32″ and down in 55″ but reached fifth place in volume. HKC has started selling 50″.
The company expects volumes to remain firm over September and October.
TV LCD Vols and Areas – August 2017 – Data:Sigmaintell. Image:Meko. Click for higher resolution
The firm said that inventories are now at a healthy level after purchases by set makers were higher than shipments in the first half, so inventory rose to 7.6 weeks in Q2, but will drop again in Q3 to 6.4 weeks. Their ability to offer low prices is limited by the cost of the panels that were used in the existing inventory, but there are promotions possible in the range of 40″ to 55″. 55″ is now a mainstream size in China, although firm prices meant that the share of 55″ dropped from 25% at the end of last year to 23″ in Q2.
Prices continue to fall across all sizes, but as usual, more for larger sizes, although 55″ is firmer than the sizes around it.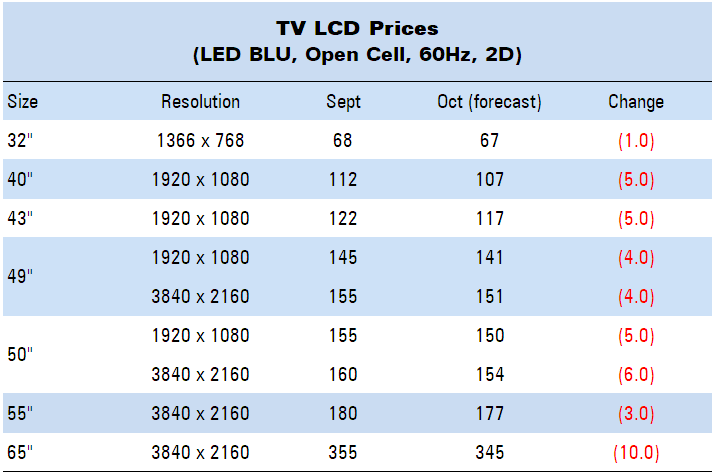 LCD TV Panel Prices continue to fall. Source:Sigmaintell