The SID has held fifty symposiums in the US to look in detail at developments in information displays and I have now attended half of them. These 'Display Weeks' as they are now known, are a great way to get a snapshot of where the display business is. It seemed very vibrant, with 8,000 attendees, a new record.

Looking back to my first Display Week report in 1994 from today, the most surprising thing is that all the companies I mentioned were Japanese, American or European. There were no Korean, Taiwanese or Chinese companies mentioned in my report. That may have been my 'self selection' as I was not familiar with the supply chain in any depth at that stage. My knowledge and the show have both changed radically over the years and after years of dominance by LG and Samsung, the excitement and interest this year was around the Chinese companies including BOE, CSOT, Tianma and Visionox.
I always try to think about 'who's not here' as well as who is, and the notable absentee was Samsung which had no presence on the showfloor, although it made one of the keynotes (which, frankly, were the weakest for a while). It's not the first time that Samsung hasn't come to the event. The first time, the gossip was that a senior executive at the firm had decided that too much information about the company's plans was being given away, so it was best to keep the engineers at home as the firm adopted a policy of secrecy about much of its OLED development.
The SID worked hard to get the firm back, but when it did return it only showed either 'blue sky' projects such as light field displays, or shipping products, which is not so technically interesting and, as a result, did not make a great impact on delegates. I guess that's why they didn't bother this time. LG seems to have made a similar decision about its innovations and didn't show anything in public that had not been shown in its suite at CES. The rollable TV still impresses, though.
It's still a shame, though, that a leader doesn't attend. However, CES, IFA and MWC all get along without Apple, so it's not the end of the world – there was still plenty to see.
DSCC Kicks Off with Business
On Monday, DSCC put on the Business Conference, always a good event and there was only one 'dud' speaker. There was lots of data and it will take days to absorb it properly – it will fuel several of my DD articles, I think in the coming weeks. I'm not sure I learned any big new things, but the overview was great. Two instant impressions were the challenges, explained in an excellent panel on the TV market, of absorbing all the big TV panels that will come out of the new Chinese G10.5 plants.
Stephen Baker of NPD forecast that someone would have a 65″ TV in the US market by Christmas at $299! However, that might be affected by the tariff war between China and the US. LCD panels already carry a 25% duty penalty. As Paul Gagnon, now looking after all CE for IHS Markit, said it's a period of 'profitless prosperity' for panel makers – not the first time we have heard that over the years.
One of the most interesting slides was one from Ross Young in his talk entitled "The End of the LCD Era". that showed that after a period of total dominance by LCD, there are likely to be multiple display technologies going forward in TV – the big application from the supply chain point of view – and for each of these there are several paths that could be followed. There will be a lot of strategic decisions to be made and companies are going to find that they have got those wrong. Exciting times, but too exciting for many!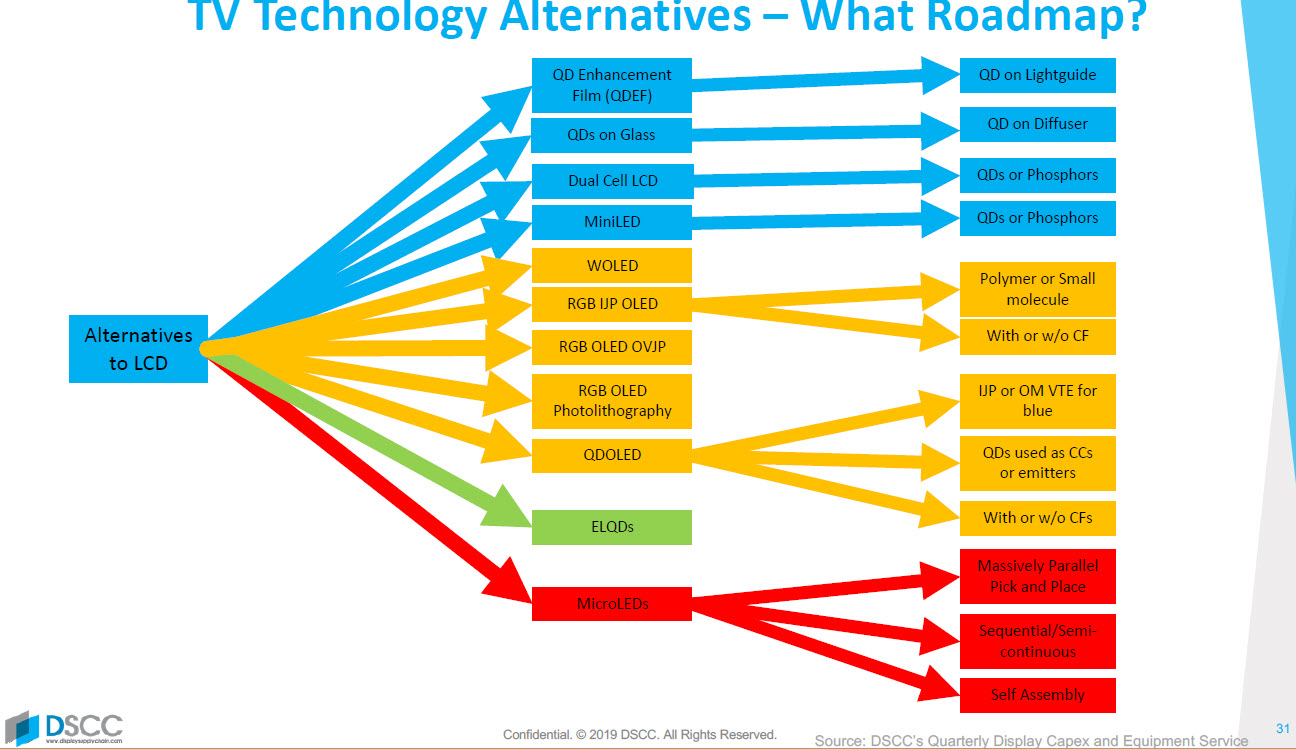 I didn't get to the Foldable Conference, but it was one of the 'hot ones', with all the seats sold out. There was lots of talk about foldable OLED displays and many demonstrations but I didn't spot any breakthroughs – news of those may filter out. I couldn't find anyone that thought that Huawei's out-folding display was a good idea – it's just so open to damage from items in your pocket. Glass makers still hope to show that glass can be the answer, but there is still work to be done.
In TV, there were several 'dual panel' LCDs on show from BOE and Hisense. Nanosys had the Hisense TV that we reported on from CES. There were rumours going around that the initial UltraHD panel with FullHD backlight modulator that came from BOE will be replaced with a panel with 4K modulation from Innolux, with a product coming to market in 2020. Nanosys also had the latest 2019 model 'top-of-the-range' QD LCD TV from Vizio with 3,000 cd/m2 of output compared to a 'high end' OLED. At CES, there was a comparison with an LG TV, but at SID it was against one with better tone mapping. In some scenes, the better tone mapping of the OLED made it look better, but most of the time, the visual of the quality of the LCD was much better. Performance of the best LCDs is really stunning these days.
Talking of stunning LCDs, Tianma had a new medical monitor '5 megapixel' IPS panel with an optically bonded front panel that had native contrast of 2,600:1. For many years, IPS has been stuck at between 1,000:1 and 1,500:1. The challenge is that IPS needs a 'pre-tilt' in the LC material to give the kind of response times you need, but that means some leakage of light and a raised black level, limiting contrast. I couldn't find out how Tianma is doing this, but am following up to try to get details. Of course, VA has also got a lot better and CSOT had a VA TV panel with very good viewing angles using 'QD on polariser' technology, but staff couldn't explain that.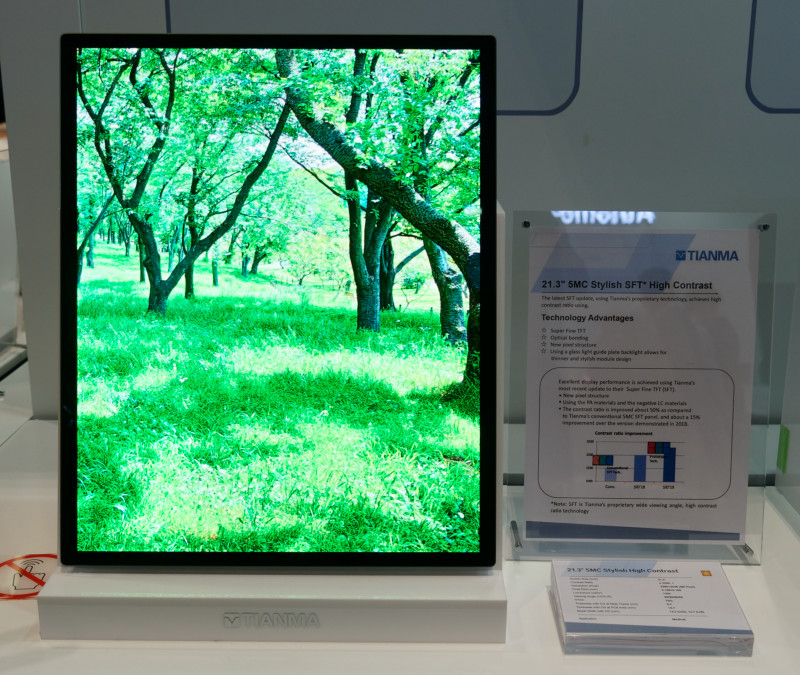 Tianma's improved IPS panel was impressive. Photo: Meko
There were plenty of miniLED backlights in LCDs and they looked good, although there is some 'haloing' compared to OLEDs and pricing remains a challenge. They are likely to be popular in automotive and IT applications, though.
MicroLEDs were again a hot topic, although AUO didn't show one this year and most of the ones that we saw were microdisplays. Plessey, working with Jasper and Vuzix again impressed with the speed of their developments. I went to the MicroLED part of the Investors' Conference where Glo, PlayNitride and VueReal all presented. Although plenty of analysts and observers still see big hurdles to overcome in coming to market, VueReal said that it has an innovative way of dealing with faulty LEDs without needing to double or triple the number of LEDs and claims that it can 'make a TV in 10 minutes'. Glo said that it will have a display in a smartwatch by next year and PlayNitride also expects products by the end of this year and that better processing is dealing with some of the performance challenges.
The Nanosys Emissive QDs were developed with LG Display. Image:Meko
Finally, a topic we'll return was a demonstration by Nanosys of its electrically emissive QDs which are now available in a range of colours and it planned to give a paper on this topic with its development partner. It was the identity of this partner that was the surprise – it's LG Display. Of course, the promise of QDs is compelling. The materials might replace OLED materials, but with better colour, higher brightness and longer lifetime, without burning. The paper was still to be presented when I wrote this, but we'll come back to this topic, without doubt.
Other announcements were of new processors for VR to help with frame rates in VR and AR from Arm and some new haptics technology, which we have covered here. Corning also announced its Atlas glass, which we have covered this week. (BR)