It's the early hours of the morning and the jetlag has kicked in, so I thought I might as well get up and tell you some of the highlights of the SID Business Conference, yesterday in San Francisco. There were a number of points that caught my attention.

First, there was a session led by John Jacobs, a display industry veteran of Apple, Displaysearch and Cisco, who is now with Intel. John ran a session that I thought I might never see at SID that focused on IT displays, but gave good weight to desktop monitors. Now, given that the use of LCDs in monitors was one of the drivers of the growth and dominance of LCDs, and given that many of us spend much (too much, often) in front of monitors, you might have thought that it was a hot topic at SID. As Jacobs said to me during a discussion yesterday, you look at the display on your watch for seconds, on your phone for minutes, but your monitor for hours. However, they have for years been seen by many as a commodity and not technically exciting. So, many times that I have been at SID Business Conferences (and I think I have attended all of them), I have come away after not hearing them mentioned at all.
However, there has been a lot of work done in desktop monitors in recent years to offer more products. As an analyst, when I started to look at monitor research, around 2000, we divided the market into just four categories – 15″, 17″, 19″ and 21″ and I remember the long arguments when we increased it to five – splitting the 17″ segment into 48KHz (for 1024 x 768) and 64KHz (for 1280 x 1024) segments. I had colleagues who thought this was over-complicated. However, our latest forecast for the market breaks the LCD market down into 35 categories!
At the Business Conference, Chas Boyd of Microsoft set out the company's plan to try to drive monitor development in a 'virtuous circle' to boost dynamic range, colour and brightness as well as resolution over the next few years, using the same process model that Microsoft has used to help enable the GPU and graphics markets to develop. It would be great to see that kind of development, so that the desktop monitor is no longer 'the worst display in your life' as it often is these days, despite the time we spend using them.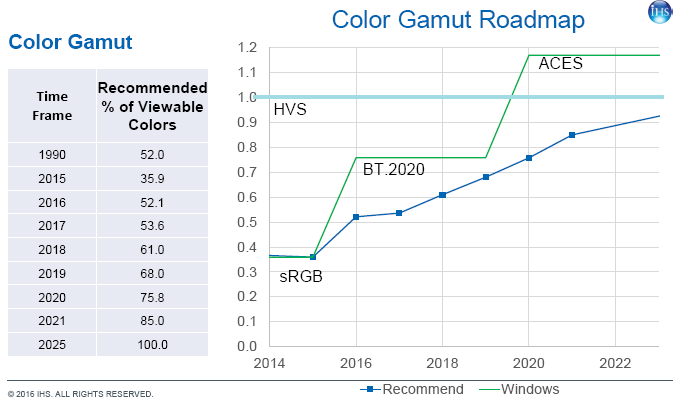 Microsoft expects colour spaces to be expanded in Windows
OLEDs were a big topic this year, as companies try to catch up with Samsung. Barry Young of the OLED Association took me to one side and complained that I was still talking about weakness in blue materials – he says that such problems have gone away (and has promised a Display Daily article to explain it!). However, at the Conference, Junji Adachi, CTO of Kyulux, a Japanese start up, revealed some details of his firm's breakthroughs in 'hyperflourescence' that allows the company to have achieved 20% external quantum efficiency in deep blue material, and with a long life. Recent investment from Samsung, LG Display, JOLED and JDI helps to emphasise the industry interest in the firm's story. That's around four times more than other current blue OLED materials, Adachi said. That could be a game changer for OLED as it would allow real competition with LCD in power consumption.
Finally, I had a moment that was very satisfying personally. I have written about the display industry for more than twenty years. Over that time, I have not had that many innovative ideas about technology. However, at the NPD Displaysearch conference at IFA in 2013 (I think), I suddenly had an idea about a new way to use Quantum Dots. I mentioned that I had an idea in a Q&A session and later had a discussion about it.
Yesterday, I heard that idea again, from Jason Hartlove of Nanosys, which makes quantum dots. The idea was that it was very inefficient to put the QDs into a backlight and then pass that light through a colour filter and throw away at least two thirds of it. Why not put the QDs in the place of the filter and simply use blue for the backlight? That was the idea that I had back in 2013, and that Nanosys is now thinking about.
These are topics we'll delve into in our comprehensive SID report for subscribers, but for now, that's all from me as I have to go to a press breakfast! (BR)