The third and final press event, Showstoppers, takes place in The Wynn hotel – a long walk from any monorail stops! Thankfully, the shuttle bus from the LVCC takes you directly to the ballroom doors.
Audio products were on show from Bang & Olufsen.
The fifth generation of silver nanowires, code-named Mercury, were being shown by Cambrios. The nanowires are about 25% thinner compared to the fourth generation (Jupiter); the effect can be either a reduction in haze or an increase in performance. Cambrios hopes that this change will enable the use of silver nanowires by tier one vendors. For a report on our meeting see ITO Alternatives at CES
HTC was at Digital Experience and was showing a new Desire 826 which is aimed at Asian markets. It has a 5.5″ 1920 x 1080 display and uses a Snapdragon 615 octacore processor as well as 13 megapixel front and rear cameras. The Desire i also has these dual cameras and a 5.2″ FullHD display.
Prysm, a new coloured film, was being demonstrated by E Ink. Prysm is designed for architectural use; it can be applied to doors or walls; possible uses include changing the colour of a meeting room door when the room is occupied.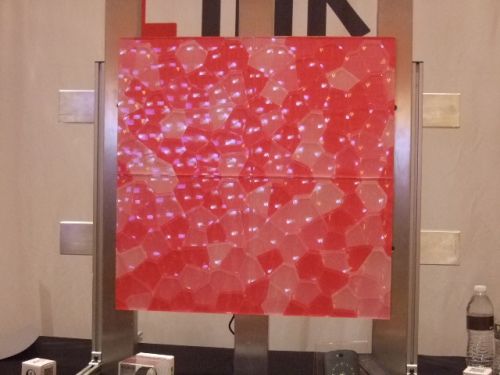 Epson was showing its Pulsense and Runsense wearable products.
The developer of the Boodie Board, Kent Displays, was showing a new 'Play 'n Trace' translucent LCD board, for children. It is an oval model that costs $30. There was also a new version of the Jot 8.5, which is 40% brighter and $15 cheaper ($25) than the old model.
Lenovo had the largest stand at Showstoppers, because – unlike most companies – it appeared to be highlighting its entire new product range, rather than select pieces! The company was showing some lovely new mobile workstations, though, starting with the W550S: a 15.5″ model with professional Quadro graphics from Nvidia. Available resolutions are between 1920 x 1080 and 2880 x 1620. It will be launched in February, starting at $1,300.
The Yoga 14 and Yoga 15 are additional workstations; these are almost the same as the Yoga 12 (below) (1920 x 1080, 300/400cd/m², respectively) but now have optional discrete Geforce 840M GPUs – a huge bonus for graphics works on-the-go. The 15″ also has an optional Intel Realsense camera.
There was a 2015 update to the X1 Carbon, which now has a PCI-e SSD instead of SATA, with 256GB or 512GB of storage. Battery life has also been increased, from 45Wh to 50Wh. The X250, Yoga 12, T405 and T4505 have also been updated, now using fifth-generation (Broadwell) processors. Additionally, the T405 has had a second DIMM slot added.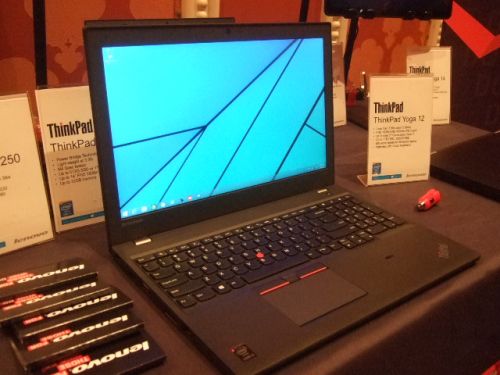 The Yoga 2 Windows (Display Monitor Vol 21 No 40) was on show, alongside the new 11″ Yoga 3 11 and 14″ Yoga 3 14. These devices use different processors: Core-M on the 11″ and Broadwell Core i7 on the 14″. Both have 256GB SSDs, but the 14″ can upgrade to a 500GB SSHD. They run Windows 8.1 and have 1920 x 1080 resolution, IPS panels and 8GB of RAM. They are available this month for $800 and $980.
The T550 is 15″ ultrabook with both internal and external (hot-swappable) batteries. Battery life is the selling point of this device, which will last for 12 hours as standard, or up to 24 hours with the most powerful batteries.
An 8″ Windows tablet called the Any Pen was getting a lot of attention, due to its ability to accept a touch input from anything: pens, fingers, forks or carrots (these were real demonstrations). Because the tablet uses toughened glass, metal implements will not scratch it. Lenovo developed the tablet because controlling the desktop version of Windows 8 was/is very difficult with fingers. No word on a release date yet.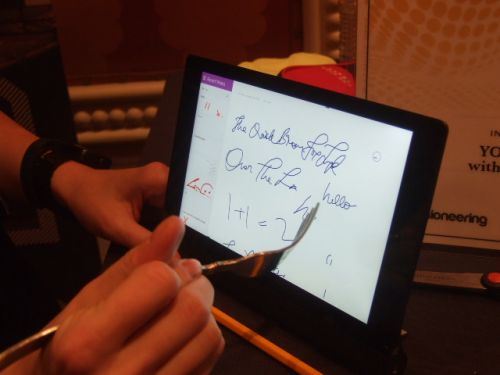 Lenovo's Tab 2 A7-10 is a 7″ tablet with 1024 x 600 resolution on an IPS panel; it features 16GB of RAM, 8GB of storage and runs Android 4.4 on a 1.3GHz Mediatek processor. A 3G/phone versions, the A7-30, is also available. These tablets were being shown next to the new Flex lineup: the Flex 3 11, 14 and 15. The 11.6″ unit uses up to a Pentium quad-core processor and features 64GB of storage, while the 14″ and 15.6″ products feature Broadwell Core i7, a 1TB HDD/SSHD and optional discrete Nvidia or AMD graphics. They all run Windows 8.1 and have 1366 x 768 resolution. They will be launched in Q1.
Lenovo's final mobile device was a new phone: the 5.5″ P90, which has 1920 x 1080 resolution, an IPS panel and an Intel Atom Z356 quad-core processor (up to 1.83GHz). The phone runs Android 4.4, features 4G connectivity and has 2GB of RAM and 32GB of storage.
Larger products began with the Thinkvision X24 monitor; a slim (7.5mm) 23.8″ model. It has 1920 x 1080 resolution on an IPS panel, with 178 deg viewing angles and a 7ms response time. DisplayPort and HDMI are featured. The monitor will be launched in April or May, for $250. Nearby was the B50, an AIO PC with a Realsense camera; we could use this to play pre-installed games. For example, the camera could track hands to fend off footballs from a goalmouth or to scoop up tiny warriors and drop them into a portal. The technology is definitely in its early stages, but we saw a lot of tier one and tier two companies using Realsense in their products at CES – adoption speed could surprise people. Other than the camera, the B50 has the same display as the X24 (with the addition of 10-point touch). Internally, it features up to 16GB of RAM and a 2TB HDD or SSHD. It will be launched this month, for $1,250. For more on Lenovo, see our meeting report Too Much from Lenovo….
Nanotech was promoting its Ultraflix UltraHD streaming service. The company expects to have 1 million users by the end of Q1.
We first wrote about The Eye Tribe at MWC 2014 (Display Monitor Vol 21 No 10). A Danish startup seeking to lower the cost of eye tracking, the company's $100 dev kit peripheral was recently ranked third in a survey of the technology. As first and second places went to devices costing $50,000 and $30,000, we think that most businesses would be willing to accept the small hit in performance!
CEO and co-founder of The Eye Tribe, Sune Alstrup Johansen, says that the company's technology only adds about $5 to the cost of a mobile device – including the license fee and a delta for components. Open source SDKs mean that anyone can build software and any programming language can interface. Eventually, Johansen plans to integrate the technology into TVs, tablets, monitors and many other types of device.
Toshiba was showing its new products, the Satellite Click Mini and Encore 2 Write.
We saw the Yotaphone 2 (Display Monitor Vol 21 No 10) from Russia's Yota Devices. The phone has an AMOLED front display and E Ink on the rear; because the E Ink screen is a Carta type, it can actually display moving images, although only at 10-15fps.
---