Sharp held a big dealer and press event in Malta this week, three years since its last Expo. We were there for the press day and the first of 850 dealer partners were arriving as we left.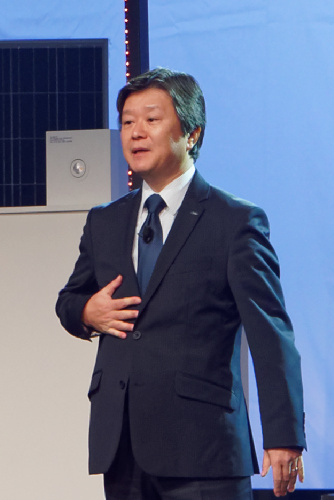 Ted Kawamura is President of Sharp Europe and was the first speaker. He is a 30 year+ veteran of Sharp and has been involved with Sharp USA and for more than four years in Europe. He said that the last few years have been "interesting". However, the company has been getting back on track. It had not done well last year as at the end of fiscal 2014, panel sales and prices were weak and energy (solar) "took a big hit".
The focus in recent years has been on the B2B business and a new plan has been made to address the key areas with more strength. There are three core points in recent changes. As well as re-structuring of the business portfolio, there has been a reduction of fixed costs and re-organisations. An important part of the changes in the last couple of years has been getting out of underperforming businesses such as the consumer electronics business. There has been a voluntary retirement and redundancy plan in Japan and there is a new internal system from 1st October with each business having more responsibility for P & L accounts and balance sheets and Kawamura described the groups in the firm as "Internal Virtual Companies".
The core businesses are: Electonic Devices & Components; Consumer Electronics; Energy solutions (solar); Business Solutions and Display Devices.
B2B has been profitable and important for Sharp. In Europe, it is even more important with 90% of the business now coming from B2B – most of the rest is energy. There are still residual white goods businesses in Russia and Italy.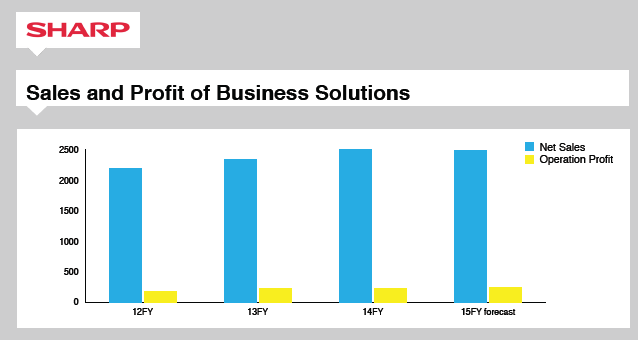 There have been several acquisitions in the UK and in Eastern Europe for distribution. The Business Solution business is profitable globally.
Ashida Explains Move To Integrated Solutions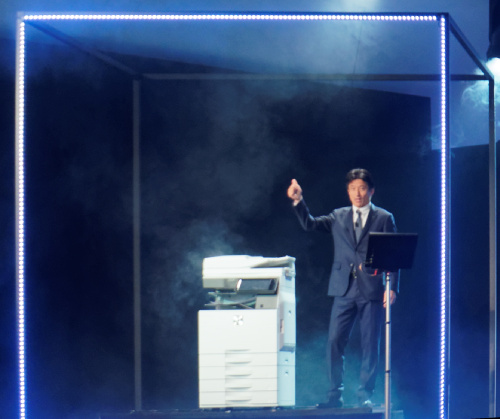 Jeff Ashida is President of Sharp Information Systems Europe and has been with Sharp for 25 years, with experience in the US and Australia. He came to Europe one year ago after some more time in Nara, Japan.
Investment is strong in the Information Systems (IS) and the direction is "beyond MFP". The company wants to get more collaboration and tighter integration with clients and channel partners. Paper consumption has not been growing and there is probably a trend to less paper so there is a move to position the printer (MFP) division as a service and solutions business.
The aim is to integrate the IS and Visual Solutions businesses to develop new solutions that are more integrated. There are new products including a new range of colour MFPs (which appeared with swirling lights and dry ice..) and the same technology will be included in new monochrome systems. There is a new light production printer for high volume of black and white printing. Sharp also has a new software system, "Cloud Portal Office 2.0".
The latest Big Pad is a new version of its interactive whiteboard which has an 80″ display. The product was shown at Infocomm and started to ship in September. Ashida said that already the company is getting very good feedback from users of the Big Pad.
A New Tagline for the Business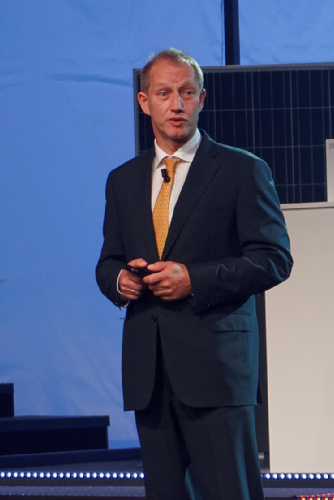 Alexander Hermann is VP of Sharp Information Systems Europe. He started by saying that in business, we use a lot of different devices and they are increasingly connected. In the past, the different divisions of Sharp tended to work in isolation but in Europe now, there is a big push to get the different groups to work better together.
In work today, much of the time is spent in communication. We can print, we can talk on the phone or we can send video and audio clips. Each of those areas is covered by Sharp, but they tended to be developed in isolation. That is changing with a new vision to make solutions more integrated.
The new tagline from Sharp is "Inspiring ideas from technology".
In Barcelona, in 2012, there was a clear message that Sharp wanted to run the business in Europe with 50% direct and 50% through dealers, although there were changes in distribution. Now around 50% of the business is direct, but Hermann believes that the company has built the support needed by dealers.
Visual Systems Group Increases Certifications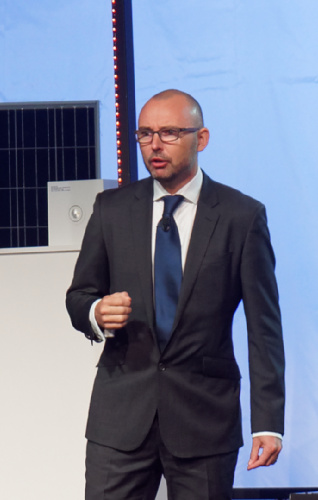 Sid Stanley is General Manager of Sharp Visual Systems in Europe (he was Sales Director when we last reported a talk from him in April and we later confirmed that his new post is from 1st October). He is from the A/V industry with time at Sony, Maverick and Barco where he learned that it was important to be attractive to the market but also to the channel.
Market attractiveness is relatively simple to understand, but channel attractiveness can be more complicated.
At the country level, the document and display businesses are coming together to present a single face to customers. Document management is increasingly about storage, print, display and collaboration.
Stanley said that Sharp is not in the business of offering "prosumer" TVs as displays. The company wants to offer only professional display solutions. The growth opportunity is in Interactive White Boards (what we call Interactive Meeting Displays – IMDs) and the flagship product is the "Big Pad".
The market requirements for IWBs has changed a lot as meetings have become more interactive. In 2014, the company asked 2,000 people what they thought of the meetings they went to. 10% of respondents admitted they had fallen asleep in meetings. 57% said that meetings are often dominated by one person and 80% said they are often unproductive. Stanley summed this up as "Mundane Meetings".
There is a need for higher engagement. Technology increasingly allows content to be edited and shared easily. That allows for better ideas and better results from meetings.
Sharp has one of the few 80″ capacitive displays – and that means the touch and interaction experience is more like the iPad experience. If the interactive technology is not good enough, it won't be used and displays become just presentation devices.
Old projectors and displays are being swapped out and Stanley said that there is demand for collaborative meetings from big companies. Microsoft is making a lot of noise pushing Skype for Business and he announced that the Big Pad is now certified by Microsoft as working with Skype for Business.
Sharp has now partnered with Crestron – and Stanley said that the Big Pads are now certified by Crestron, which he believes will be a big help to sell them.
Moving away from Big Pad, the company also makes professional monitors. It is targeting 24/7 operation with brighter monitors. Companies such as Stroer and JCDecaux have used a lot of Sharp displays – and Stanley said that compared to competitive display, Sharp has a better relibability record (although he told us later that he couldn't get the company to say so publicly!)
At Harrods in London, Sharp has supplied displays which have to look good, but also had to have low levels of power consumption.
In summary, Stanley said that Sharp wants to work with partners that are looking for long term relatiionships and are ready to promote higher quality professional products.
Sharp Looks to Cloud-based Platforms
Jason Cort is Director of Product Planning and Marketing at Sharp Europe. For more than half of his business career has been in document management and processing.
Since 2012, Sharp has bought eight companies and the company is now sixth in the colour MFP market according to IDC.
Cort said that Sharp needs to move from being a supplier to being a partner for its customers. To do this, you need to understand the requirements of users and the channels. The big technology change is "convergence", which IDC describes as the third platform. After mainframes, there was a second platform of PCs and client/server systems. Now there is a cloud-based platform – one seventh of all people in the world come together on Facebook on a single day and that's a new paradigm of communication, Cort believes.
Sharp also wants to understand how people buy. Sharp surveyed 600 small and medium companies. Often, Sharp found that although they prefer to buy from fewer companies, 35% of buyers always went for a separate software solution when buying a system. Sharp also found that more people are involved in decisions than it traditionally communicated with.
In Italy, the company worked with a partner to change a print shop to a coffee shop where content was created as well as printed. This boosted the sales of prints and copies.
Sharp has invested in more specialists and skills in many areas. It also has an in-house software group in Europe as well as Sharp Research in Oxford, which is increasingly involved in MFP development and research, rather than displays.
Cort then talked about the "integrated office" message. He said that Sharp has developed "Optimised solutions" based on "best of breed" software that will start with documents and MFPs, but will also be developed for displays.
Sharp has developed cloud software that is hosted in Frankfurt, to ensure there are no European data protection issues and with document security that is controlled at the corporate level.
Sharp will attend ISE and Drupa (a print show in Dusseldorf that is expected to attract 300,000 visitors) in 2016.
Questions Centre on Re-Organisation

In response to a question from the press about channel opportunities, Stanley said that there is a need to have a mix of direct and indirect business. That can be done, but it needs a lot of care in implementation.
Another question was about how Sharp would reorganise to meet the change from a product-driven strategy to a solutions and project-driven strategy. The questioner made the point that Sharp seems to be differently organised in different countries. Cort said that there is work going on to develop more standardised solutions to get benefits of scale and allow roll out in multiple countries. He also said that what had been set out was a vision and Sharp is on a path to that vision. That will affect recruitment and other investments as Sharp moves forward.
In response to a question on interactivity in digital signage, Stanley said that the core display will in the future be surrounded by extra casings and functions such as touch overlays. Sharp will have certified solutions for cases and touch and will make announcements in that area in the future.
Kawamura told a questioner that there has been a "certain reduction" in headcount but also investment (such as acquisitions) which might increase headcount.
Demonstration Area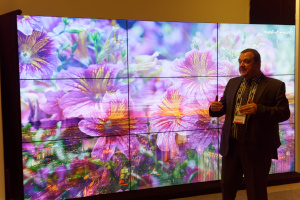 We then had a look at the demonstration area. Most of it was devoted to the new printers, but one section highlighted displays. We looked at an UltraHD Monitor, a partner-developed system that used a camera to map an image onto a photo of a Rolex watch. This gave the effect of making the watch "reflective" and the experience is designed to make a retail exposure to the Rolex brand more "emotional" and involving.
There was a demonstration of a third party gesture recognition system that was used to play a kind of game and illustrate how a display might be attractive to viewers outside a store. Finally, there was a 3 x 3 video wall demonstration of the firm's 1,500 cd/m² video wall monitors being used with a new controller that Sharp is supplying. The controller can ingest UltraHD and map it onto a video wall.
Finally, we saw a demo of how a Big Pad could be used to share and annotate documents.
Later, we were in analyst interviews with Sid Stanley and then Michael Bailly, who runs Product Management for Visual Solutions.
The conversation with Stanley roved widely but much of it covered the re-organisation. Previously, as we reported in April, he was Sales Director for Visual Solutions, with country-based staff reporting to him. Now, he is General Manager (the previous VP of the Visual Solutions Business, Christian Schweiger, was not at the event and at the time of writing, Sharp had not confirmed his status) and sales staff in the countries report into the local Business Solutions management structure, although existing specialist teams for displays and MFPs will remain. The MFP organisation is much bigger than displays (around 50 of the 1500 staff are dedicated to displays in Europe), but Stanley is confident that he will also be able to get exposure for his displays through the MFP sales team.
MFPs are typically sold under service and "per copy" contracts and the financing schemes that support this kind of model will be available for displays marketing and that may be a trigger for innovation in how displays are sold. We later discussed this with Bailly and Chris Parker, from the product team, who confirmed that the concept of selling "display as a service" is one that they are working on to exploit the availability of the cloud solution.
The MFP business has a lot of pre-sales and training facilities and Stanley plans to leverage these to develop the display business.
Sharp will have a mixed direct & dealer channel, but Stanley told us that because most of the direct sales is into clients that are into MFPs, there is little crossover or conflict with the company's existing channels.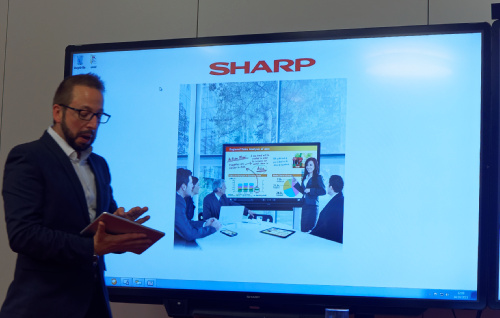 Sharp's BigPad is a key product for Visual Solutions
We talked about the impact of the Microsoft Surface Hub, especially at Infocomm. Stanley said that the product will help to "validate the category" and Sharp has already had success because of interest generated by the Microsoft activity. The Sharp solution is much cheaper than the very integrated Microsoft product. At the moment, the Big Pad uses three different sets of software (although they seemed to work together well in the demo), but there is an opportunity to develop the product as a "platform" for other software solutions.
Sharp will stay in the mid-high end of the display market and has no plans for a TV-derived product. Stanley said that the PNY range is "good to go" at the lower end of the Sharp range.
There has been early success in the education market, with a win of a 50 unit sale in the Netherlands for the lower cost "Big Pad for Campus", which is a 70″ unit. The solution was the most expensive of three products that were tested, but users were very clear that the only product with acceptable performance was the Big Pad, so a premium was paid. Although, early on, education was "80%" of the market for the Big Pad, the balance is now swinging much more towards balance with corporate demand.
The day after the announcement by Sharp in London that it had signed new distribution deals in the UK with Midwich and PSCo (Sharp Explains B2B Display Push), the companies announced that PSCo would be acquired by Midwich. Although this meant that the planned dual distributor arrangement didn't develop, Stanley declared himself very happy with the activities in the UK and has no plan to add additional channels.
Analyst Comment
There are both dangers and opportunities in this re-organisation for Sharp. My own experience of discussions with other companies that tried to be in both the display and document space was that the tougher margins and fierce competition in displays tended to drive management towards the hard copy side of the business. That may change as displays on the desktop improve and more content is consumed digitally, but will remain a concern. However, if Sharp can really develop and deliver digital signage as a service to SMEs across Europe, it may be able to develop a business that some competitors will not be able to get near to. The company also has a window of opportunity as a supplier of large procap displays that may deliver it a good position in the corporate and education markets. The deals with Crestron and Microsoft will help that process. (BR)