Key Messages
One of the key messages from the Samsung CES 2018 press conference was basically all in on AI and IoT. H.S. Kim explained that there are three elements of Samsung's IoT strategy. The first is seamless connectivity with the idea that you use a single cloud to manage everything. The second element is open innovation and standards development to avoid fragmented solutions. The third element is adding intelligence to IoT devices so they can learn and adapt based on the user's actions and preferences. "IoT solutions must be open, seamless and easy to use, plus intelligent," concluded Kim.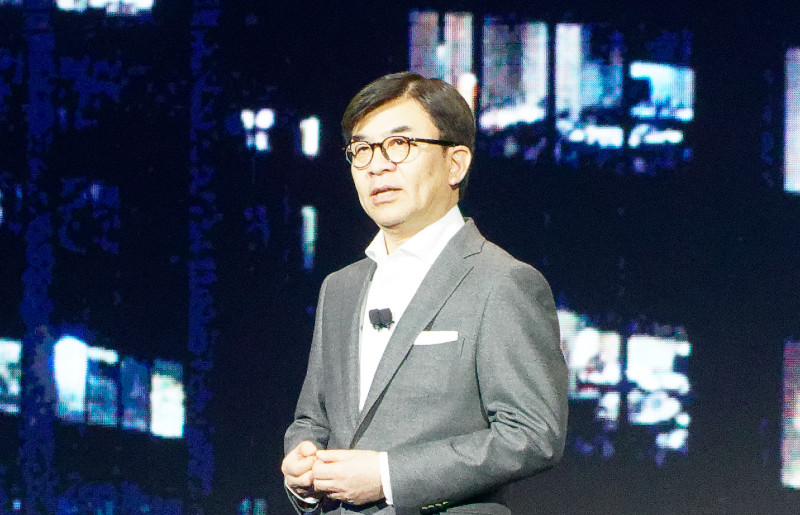 To deliver on this strategy, the company now plans to use part of its $14B R&D budget to accelerate integration of IoT and intelligence capabilities into its products. Samsung said that today, 90% of its products are IoT and intelligence capable and that by 2020, it wants 100% to be – two years ahead of schedule.
To create a "single cloud solution", Samsung will focus on SmartThings, an ecosystem of interoperable products and services. This will now be further connected with the SmartThings Cloud that was announced at CES. But SmartThings will extend beyond the home and into the car now that Harman, the automotive component company that Samsung acquired in March 2017, will join the SmartThings ecosystem with products installed in connected cars. In addition, Samsung will soon unite its IoT applications, including Samsung Connect, Smart Home, Smart View and more into the SmartThings app to connect and control any SmartThings-enabled device directly from their phone, TV, or car from a single application. Samsung is also working with partners such as the Open Connectivity Foundation (OCF) to set common industry standards.
On the intelligence front, Bixby is Samsung's voice enabled AI assistant. It will allow the TV (or Family Hub refrigerator) to be the dashboard for access and control of a wide range of devices and services. For increased security, Samsung introduced Knox technology, a hardware security system and firmware update capability to help ensure devices are protected.
At the press conference, the company announced a new universal search function, powered by Bixby, which will be on all Samsung TVs and the Family Hub refrigerators. Bixby appears to be designed to function much like Google Assistant or Alexa as it can be used to "show popular action movies; check the weather, dim the lights or access your photos." Bixby will also recognize individual voices. The SmartThing app will now become the dashboard for your TV as well in 2018. The use of this app was demonstrated to set up a TV on stage, quickly synching your Samsung account and other apps like Spotify using your Android or iOS mobile device.
Samsung highlighted the microLED-based "The Wall" product at it First Look event and at its press conference.
In the Samsung booth, the focus was on "experiences" and not the usual review of product lines and specifications. In fact, very little was disclosed about new TV models other than to showcase some new technologies and product categories.
The booth was called "Samsung City" and was organized into three districts: Home; Innovation and Lifestyle. In the Home district, it was all about Bixby with the AI-based voice assistant being demonstrated in TVs, refrigerators, phones and more. The Lifestyle district showcased how to manage your health, travel more safely to work or make you more productive at the office with the new Flip display. The Innovation district was occupied by The Wall, a new 146" modular micro LED solution that should roll out within a year. Also on display was a new 8K TV with AI upscaling. Also highlighted was SmartThings that allows IoT integration with Samsung and third party devices.
New Technologies/Upgrades
Samsung introduced a number of new technologies and upgrades. Some of these were discussed publicly and some were shown in private. The partial list of new technologies that were shown and may be integrated into 2018 TVs is shown in the list below. Much of the detail on these innovations cannot be revealed at this time. This is being held back until the March product launch events.
Micro LED Technology
AI Upscaling
Q Contrast

Quantum Black Filter
Deeper black level

Q Color

More narrow QD FWHM
Improved color accuracy

Smart Sound
Micro LED technology
Micro LED technology is the basis of Samsung's new The Wall product, which we will describe in more detail later. Samsung is calling this class of display "Micro LED display." We anticipate Samsung coming up with a definition of exactly what its view of a MicroLED display is in the near future, perhaps for the March product launch.
The photo below from the Samsung booth shows the development of LEDs from large to fine pitches (on the left).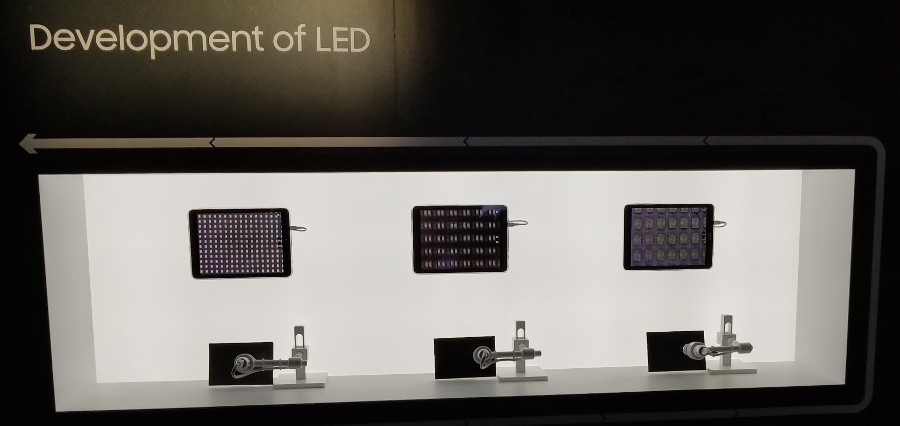 AI Upscaling
Samsung used CES to introduce an 8K TV but with little to no 8K content currently available, upscaling will be critical to good picture quality. Upscaling 4K content may not be that hard, but many current scaling approaches will produce too many artifacts if they try to scale HD or even SD content.
To address this need, Samsung is introducing a new scaling algorithm that also features some artificial intelligence. The approach hinges on the use of what they call "kernel sets." These appear to be objects identified in the image that can be isolated and improved via a super-resolution upgrading algorithm. This sounds similar to the approach used by Sony in their X1 Extreme and X1 Ultimate processors.
Samsung apparently has created a database of object images with low, medium and high resolution. If an object with low resolution is identified in the scene, the database is scanned to fine a high resolution version, which is then used to guide the super resolution upscaling algorithm. AI is used to optimize this process and also to modify the upscaling over time.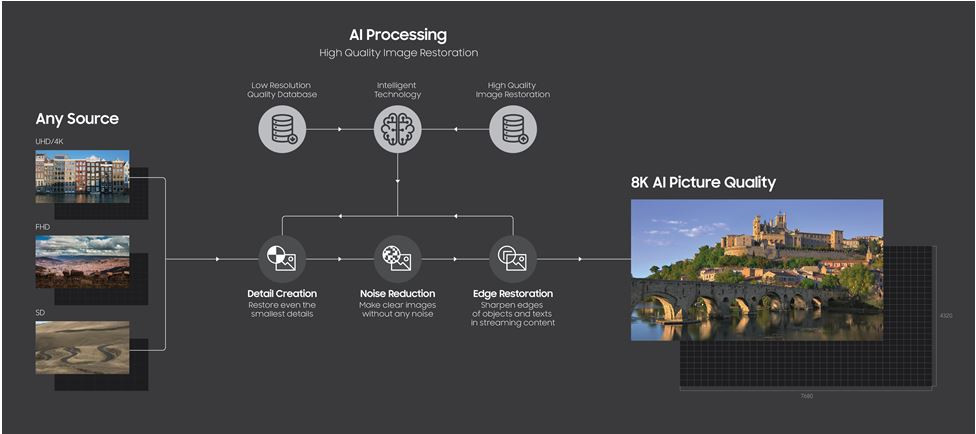 The upscaling algorithm does four things: improve texture by restoring details; improve blurry edges with an approach that this is quite different from a conventional sharpening filter; reduces quantization noise, especially from streaming sources; and cleans up jaggies in diagonal lines.
Q Contrast
The Quantum Black Filter technology that Samsung has developed is designed reduce light leakage in VA-type LCD panels and therefore improve the viewing angle – one of the key weaknesses of VA-type LCDs vs. OLEDs.
The filter consists of three new technologies. The first is a layer that can help channel light and spread it into a wide angle while also blocking ambient light from reaching the LCD panel and reducing contrast. The third element is an improved anti-reflection layer to also block ambient light from reaching the panel.
Samsung has made improvements in its backlight driving algorithms to obtain much deeper black levels with greatly reduced ghosting. This is significantly aided by the company moving away for the edge backlight design of 2017 QLEDS to a full array local dimming (FALD) approach with 2018 QLED TVs. The benefits of this upgrade were clearly demonstrated in the innovation room with displays that showed much lower black levels, greatly reduced haloing and even very good black levels at 45º. Which 2018 models will use the technology will be revealed at the product launch in March.
Q Color
Samsung's QLED displays are powered by quantum dots embedded in a resin sheet. In the 2017 QLED models, the quantum dot materials moved to a metal shell structure to improve robustness. In 2018, Samsung will narrow the Full Width Half Maximum (FWHM) emission profile of their red and green quantum dots. The exact FWHM numbers were not provided by Samsung. Samsung claims these new QD materials will improve efficiency too.

The other improvement for 2018 is in color accuracy. This is not a QD materials improvement, but a calibration improvement where more points are added to help ensure more accurate color reproduction.
Smart Sound
Samsung also demonstrated a new audio innovation it calls Smart Sound. Smart Sound is a way to keep the audio within a similar range when switching between channels and between sources. It also adds some processing adjusting the equalizer settings to create sound fields appropriate for the content. Games and sports may have a wider sound field for example, while TV and movies may focus more on the voice clarity.
This was demonstrated privately where several source clips were shown with a variety of audio levels (theoretically, the law requires a controlled range of audio levels, but this may not be the reality in the real world). The same clip was run again but this time engaging the Smart Sound algorithm which controlled the volumes to a more narrow range, as expected. This range can move up and down with the absolute volume level as well.
The Wall
One of the clear highlights of the Samsung booth was their new product dubbed "The Wall." This is a 146" 4K display composed of a series of modules (reported elsewhere as being 9.37″/23.8 cm – Man. Ed). The wall is constructed like a video wall for commercial use, except this product is aimed at home theater enthusiasts. No visible seams were easily evident in the display in the booth (although they were if there were reflections on the screen – see the image below which reminds us very much of the look of the Sony Cledis LED – Man. Ed.). No specifications on performance were disclosed (luminance, color gamut, contrast, viewing angles, etc.) nor a commercialization time frame (probably late 2018) or price point. However, it was clear that the images were quite bright and wide color gamut (probably at least DCI-P3). Naturally, this will support HDR10/ HDR10+ at a minimum when commercialized.
Just after CES, Samsung also revealed that it has now trademarked the name "Micro QLED" and "8K QLED", most likely in anticipation of launching the Wall and an 8K TV. This is a bit confusing, however, as we don't believe The Wall actually uses quantum dot technology – Samsung's definition of a QLED device. Perhaps a future version will.
The idea behind The Wall is that it will act as a multi-purpose media center. TV content along with other content from social media, web pages, your doorbell camera or baby monitor can all be displayed on this over-sized canvas to monitor whatever you like.
The 146" 4K is one optional configuration, but a 1080p, 8K or cinemascope format are all potentially possible as well. But it can also be a non-conventional pixel layout as well. No details on the drive system, calibration, lifetime or other specs were disclosed either.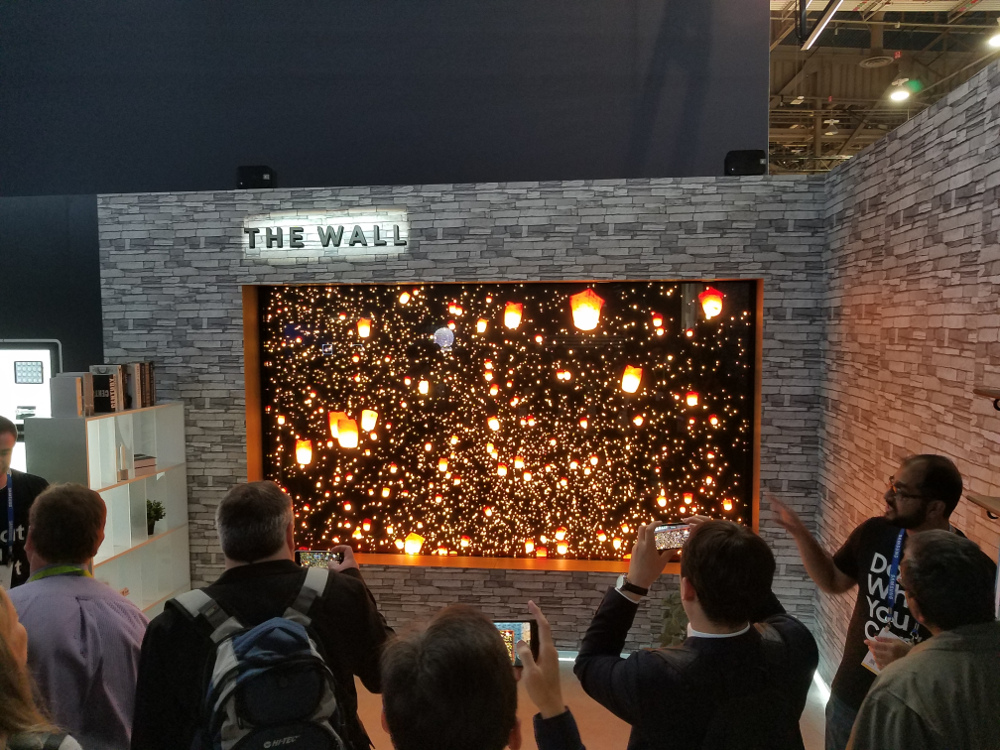 The demo revealed that The Wall has several modes, such as Art Mode, which displays works of art, and Wall Mode. As seen in the photo below, this mode makes it look like a wall with bookshelves and a TV; another example is a wall with a fireplace.
Micro LED displays offer some very compelling benefits compared to OLEDs and LCD displays – and in this size range vs. projection solutions too. Micro LEDs will have great black, high brightness, wide viewing angles, wide color gamut, fast response, no image retention, slim profile, etc. In other words, no particular drawbacks other than price.
Samsung expects to announce more details on specifications at its product launch events, typically in March.
QLED TVs
Samsung released surprisingly little on the makeup of their 2018 QLED TVs. We expect more details at the product launch events in March. However, it is certain that some QLED TVs will drop the edge lighting and move to full array local dimming for the 2018 models. This, combined with the above described innovations, will lead to dramatically improved performance.
Security
Samsung also reacted to the increasing concern about data sharing from Smart TVs and assistants, and said that it would would use its Knox security technology in all its smart TVs in 2018. The company also said that its Samsung Checkout payment service received PCI DSS certification by UL at CES 2018. The standard has been adopted by American Express, Discover Financial Services, JCB International, MasterCard, and Visa for payment processors.
Samsung Smart TVs since April 2017 have shipped with a new app called McAfee Security for TV which adds to the security provided by Knox.
Analyst Comment
Although Samsung wants to hijack the term, MicroLED, is it did QLED, the design at CES was just a very good looking version of existing LED technologies, very similar to the Sony Cledis. A quick calculation gives the pitch of the LEDs on the Wall as around 0.85mm – fine, but not significantly beyond the current level of small pitch or narrow pitch conventional LED walls. Pretty well everyone else is using the term MicroLED to mean LEDs of 100µ or below. I doubt if the Samsung devices are close to that small. At CES, Lumens of Korea was showing 'microLEDs' with a pitch of 0.8mm, close to that used by Samsung, and creating a 139″ UltraHD display based on LEDs from Korea's KIMM that are 300µm x 100µm. The company also had genuine microLEDs with an 8µm size, but these are for HUDs and AR, not for TV. Now, Lumens is reported to be a supplier of backlights to Samsung, so some collaboration between the companies would hardly be a surprise.
Samsung, like Sony, took care to organise the ambient lighting to make the display look as good as possible, and also had two burly security men, one each side of the display to limit close up photography, but careful positioning, a fortunate bright light from the video team of another news source and the use of a long zoom lens helped us to get the image below at the event before the start.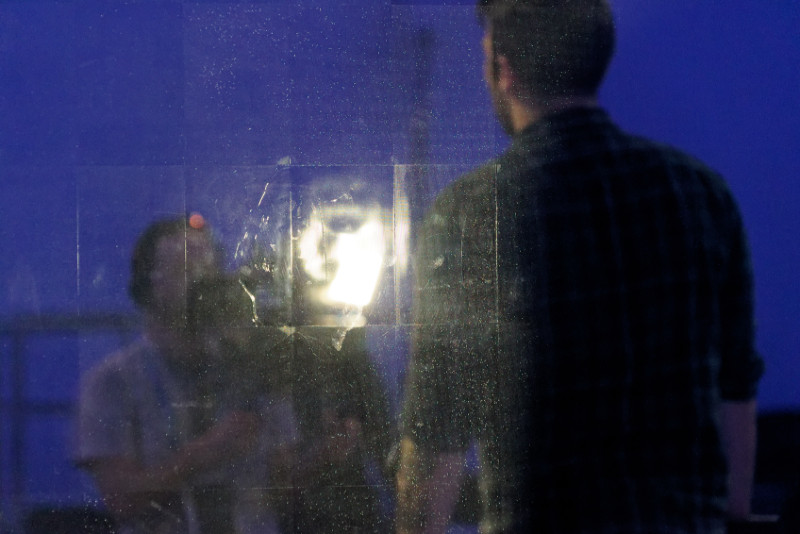 This extreme lighting showed the structure of the LED display through the reflections from a very bright video light. In the overall subdued lighting, the structure was not at all visible. Image:Meko
At the evening event, Samsung also showed the shot below, apparently based on the use of similar microscopes to compare traditional LEDs. Based on the calculation that the pitch of the LEDs on the Wall was 0.85mm, you can see that the LEDs are nowhere near the size of 100 microns. It also shows that the ratio between LED and black surface is much smaller than on the Sony LED, where the LEDs are surrounded by a big area of black. The image seems to show that the Wall uses fairly regular sized LED chips, but without the lens structure on top – i.e. chip on board technology. This is a useful and significant development, but nowhere near the potential of true MicroLED, in my view.

Samsung MicroLEDs were shown using a microscope, compared to regular LEDs.
On the positive side, like Chris and Ken, who attended the same briefing as I did, I was tremendously impressed with the work that Samsung has done to improve its FALD backlights, to the point that for only the second time in many years, I thought that the LCDs looked better than the OLED (from LG in this case) in a side by side comparison. The first was on the Eizo booth at IBC, but that Samsung could achieve this is a strong statement on the development of LCD. The key improvement, as with the Sony, was in the better saturation of brighter images – the issue of better colour volume with LCD. (BR)